This Christmas season we're teaching Felicity what generosity is all about. Though receiving Christmas presents is exciting we want her to know what it feels like to give as well. We want her to understand that we have been provided for and in turn we are a family who helps those in need. I've been researching charities and looking for more specific places to donate our gently used items to rather than taking them all to Goodwill and I wanted to share my findings with my fellow Charlotte readers.
Felicity's still so little but not too little, in my opinion, to learn about generosity. Though she doesn't quite understand what's going on I want her to watch from her car seat as I open up our trunk and hand someone items that they are in need of. I want her to hear the sound of their gratitude and pray that she carries that with her and seeks it out all her life.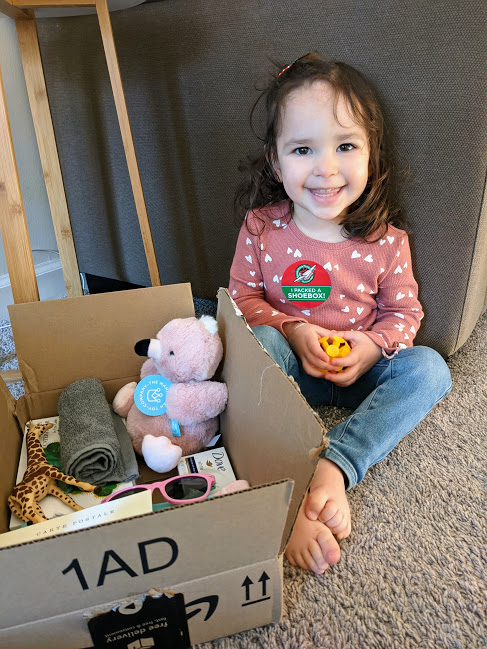 Operation Christmas Child – This was the first thing we so delicately put together and we're excited to drop it off this week. Felicity and I picked out a shoebox full of items for a 3 year old girl. I don't know if Lici understood what we were doing or not but I'd like to believe that I planted little seeds. While she sat in the cart at Target I asked her if we should get the elephant or the flamingo plush. "This is not for Lici." I said. "This is for a friend. Which one do you think she would like?" She pointed to the flamingo and hugged it before she sat it next to her. She actually made the process super easy by pointing to toys and goodies that surely any 3 year old girl would love. We added some things that Lici is crazy about including markers, a favorite book, animals and stickers. We also added a 6 pack of undies because when I saw that on their gift suggestions it about broke my heart in two. These reminders can do us all alot of good right now when we're so focused on the little frustrations these days. Somewhere out there there's a little girl who doesn't even have enough clean undies. Doesn't that take you outside of yourself for a moment and isn't it relieving to know that you can't make everything perfect in your life but you could provide a little one's basic needs somewhere out there?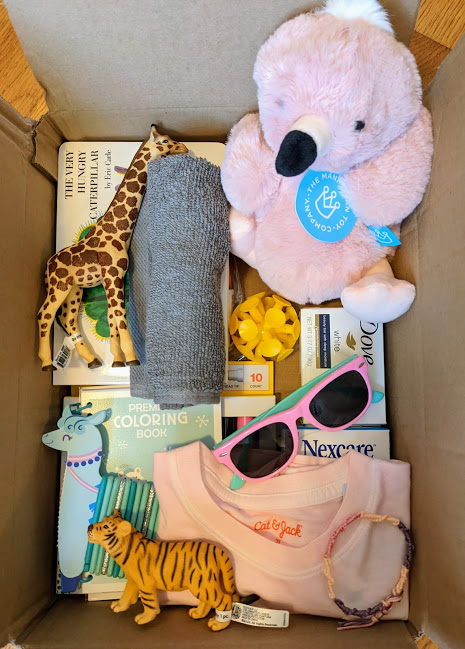 Lastly my most cherished piece of this box is the matching friendship bracelets I made, one for Lici, one for the little girl. Spending time putting this box together and thinking about/praying for another little girl has been a welcome distraction from the inevitable tension that this year has brought with it.
Humane Society Charlotte – There are lots of ways to give to the humane society. This year I decided to donate some of our old towels and blankets plus some other things they had on their wishlist. Trash bags and ziploc bags, detergent, peanut butter, food, etc. I asked my friend who has a special place in her heart for animals if she wanted to chip in some items and she blew me away with two boxes full of items both gently used and new things off of their amazon list. I've chosen to save all of the Amazon wish lists I've come across so they don't slip my mind for next year! The Humane Society has lots of ways to give. Their wish list, gently used items, spay it forward where you pay for a spay or neuter, or all of these ways to shop and save lives, including this candle. Follow the directions on their site for super easy drive thru donations on Saturdays 10am-noon.
Charlotte Family Housing – This organization is a shelter-to-housing program for families experiencing homelessness. I'm hoping to put a welcome basket together in the near future. They have lots of ways you can show support to get families back on their feet. They have an Amazon List to follow as well. Through Charlotte Family Housing I also found the amazing organization Beds for Kids where you can donate gently used beds and most furniture for families in need. You can also donate bed kits including new sheets, blankets and pillows. You can also send a monetary donation to furnish an entire home.
Ronald McDonald House – My aunt and uncle stayed in a Ronald Mcdonald House in New York while my cousin was receiving surgery as a child. Because of this I've always been on the lookout for them and found that ours has an Amazon list! They also have monetary donation brackets for things like covering the utility bill, or sponsoring a family for x amount of nights.
Foster Village Charlotte Swap – This was my newest find that I'm really excited to be apart of, to be giving through out the year. I hope and pray that foster care or adoption will be in our future. Though it's not right now I wanted to find more ways to get involved and help the current community. I've joined the facebook group I've linked off to and will be posting both some clothes and gently used items that Felicity has grown out of. On their page: This group is for the Charlotte community to post gently used items that they would like to pass to a foster family. This group is for foster families AND members of the local community so please keep this page only for tangible donations/swaps.
Loaves and Fishes – This is another great organization to donate to. Earlier this year Brandon and I had it on our hearts to find an organization that provided meals for families in need. We found both Loaves and Fishes and Cuddle + Kind. Loaves and Fishes was a great way to support our local community. They also sent a testimonial a few weeks later with a picture of a little boy on it and his parent's story. His father had been out of work due to Covid and they were in need. They shared how much the program meant to their family. I love for Felicity to see these things and explain to her in very simple toddler terms, "This little boy was hungry. He wanted a snack. Do you know how you go to the pantry to get a snack?" She nods. "Mommy and Daddy and Lici helped this little boy to get a snack so that he wasn't hungry anymore." She smiles. "We like to help people right?" and then she responded, "Right." ♥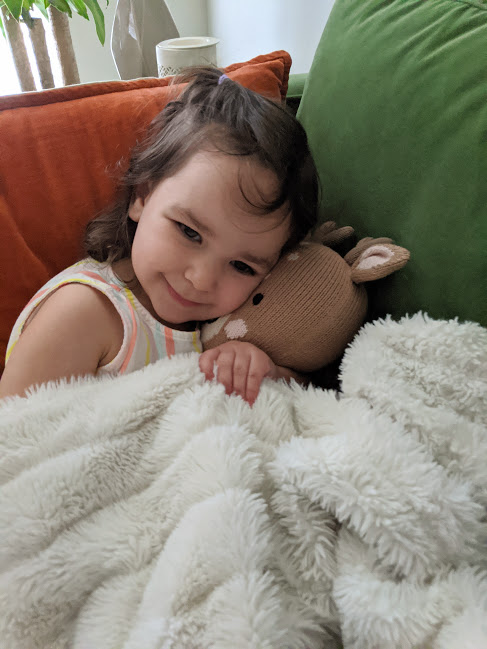 Cuddle + Kind – I found this company through this blog post. (Which was another great find this year in my hunt for more social good and ethical companies. We've bought a few other things as gifts this year from that list which I won't share because I don't want to spoil the surprise!)  In short, Cuddle + Kind makes beautiful handmade dolls that help feed children. For every doll sold they give 10 meals to children in need. Each doll has a bracelet sewn on that reads 1 doll = 10 meals. They're made by women artisans in Peru who are provided with sustainable, fair trade income. We bought Felicity the Deer this summer. Her name is Violet and as you can see she's great to snuggle. I love that as Lici grows this doll is a tangible way to explain to her, "We bought this doll, we supported the women artisans who made it (as a crafter I'm all about that.) and we helped to feed children."
I'd encourage you to look through their site! The family who started it has a great story. They have lots of adorable dolls both 13in & 20in. As well as some beautiful prints.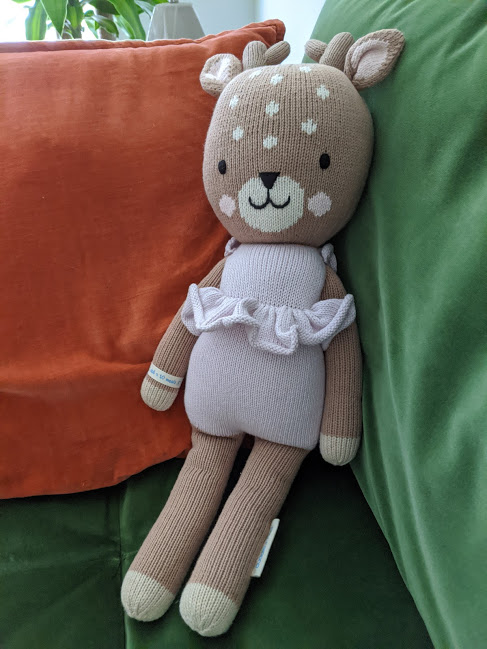 My encouragement to you this season would be to find something that you are passionate about. Animals, families, women, foster care, job training, children, whatever it may be, do some research and find a way to be generous to that this season.