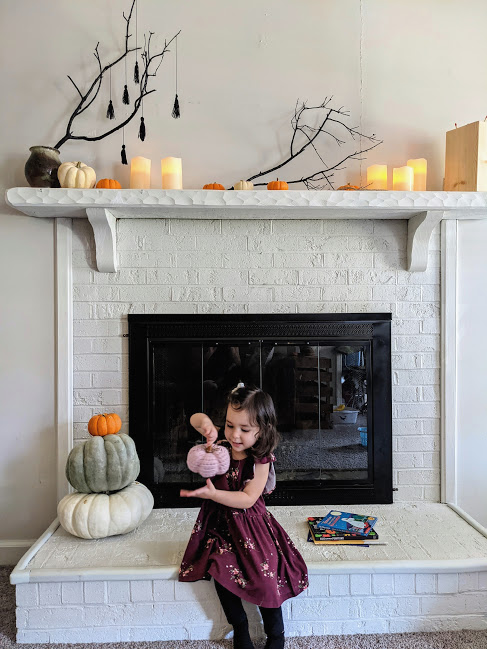 Let me start off by saying that I cannot take full credit for these ideas! I was inspired by lots of Pinterest photos, which I've linked off to at the end of this post. I've never decorated for Halloween in the past, nothing more than a Jack o lantern. But this year I wanted to decorate Lici's play corner in our family room. I went for classy spooky modern Halloween decor, sticking to a black, white and orange color scheme. Nothing scary, just animals and bugs, which she loves! Really this area is just a testament to how well I can copy Pinterest ideas.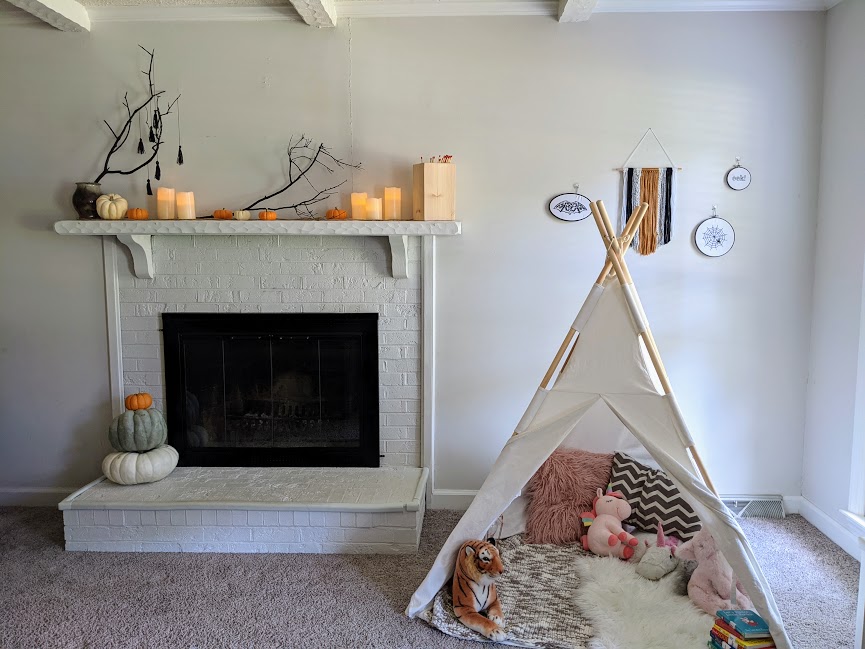 In the month of September I decided to put myself on a spending freeze. Purchasing nothing more than our family's essentials. Every now and then I like to rethink my priorities and fine tune my mindset. I couldn't believe how often I thought of something to look up and order on Amazon. With less time spent online shopping and a desire for some fresh decor I decided to get creative. I have too many hobbies and loads of craft supplies so I had everything on hand in these photos. Minus the oval embroidery hoop for the bat which I purchased in October. The branches on the mantle were foraged from our backyard and spray painted black with the same spray paint we had left over from our fire place cover. The tassels I made out of black embroidery floss.
I have my eye on a watercolor raven print from etsy that I'd love to put right in the center of the mantle but I think at this point I'll hold off until next Halloween! These end of the year holidays really creep up on crafters. There's so many other ideas I wanted to try but I'm too busy working on Christmas pieces now!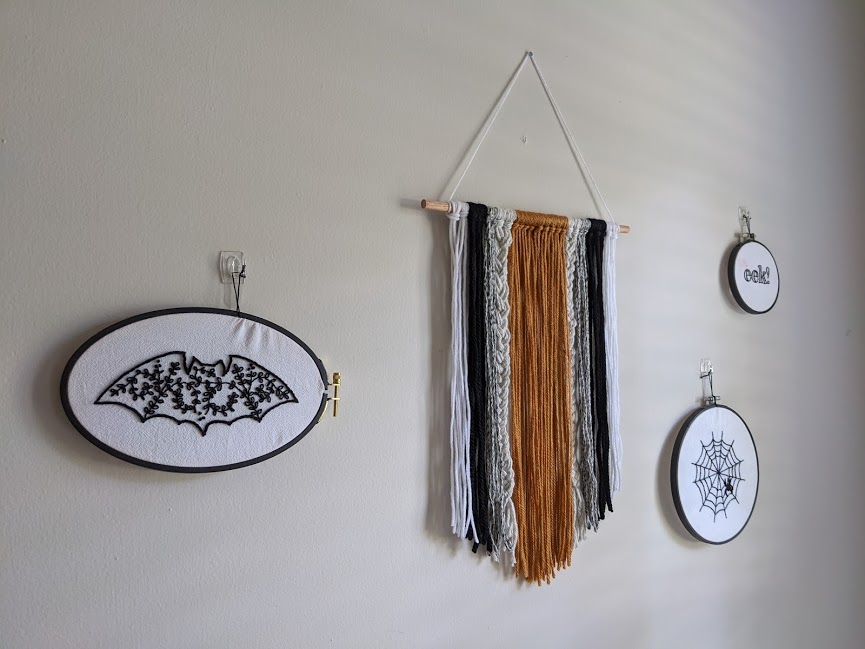 I love making these super simple yarn wall hangings. A few years ago I bought a pack of small dowel rods for a yarn hanging I made in Felicity's nursery. I recently helped my mom in law make one when we went to visit. She put hers on a sentimental piece of 40 year old driftwood which turned out beautifully!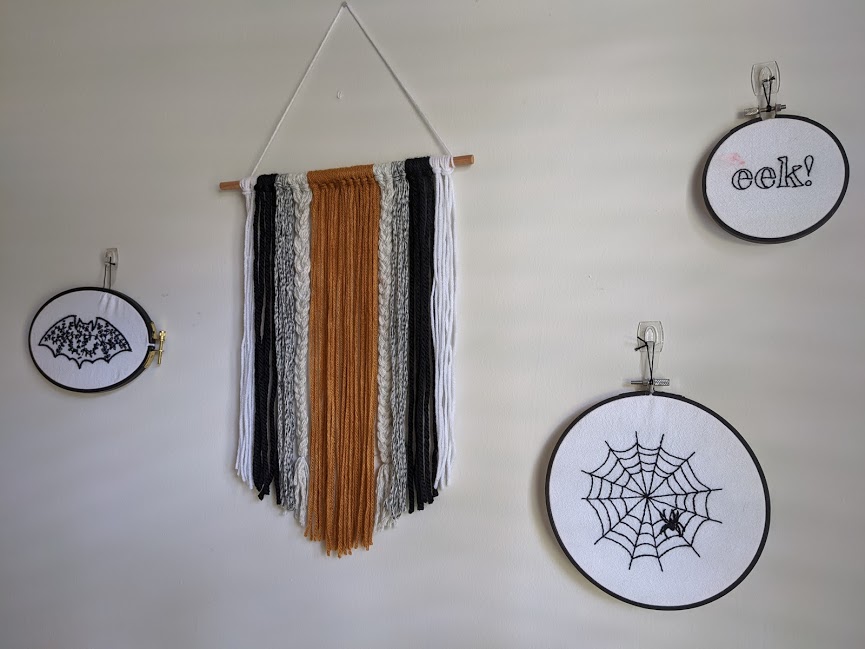 These lovely embroidered pieces cost me a shoulder injury. You guys, I really did injure myself from embroidering too much. I was so excited to get these done I was embroidering nonstop every free moment I had. When I picked up my fourth project (a tshirt for Lici) I felt pain shooting up my forearm. My neck and shoulder were so cramped it was hard to turn my head. Every muscle I used during that repetitive motion was sore causing me to put my needle and thread down for a full week.
I painted the hoops black with acrylic paint before hanging them. Now I'm dying to stain or paint the rest of my hoops just for fun! Not so secretly hoping my sister in law reads this and doodles on one for me for Christmas 🙂 ♥ Personalized hoops? Come on, that's the dream.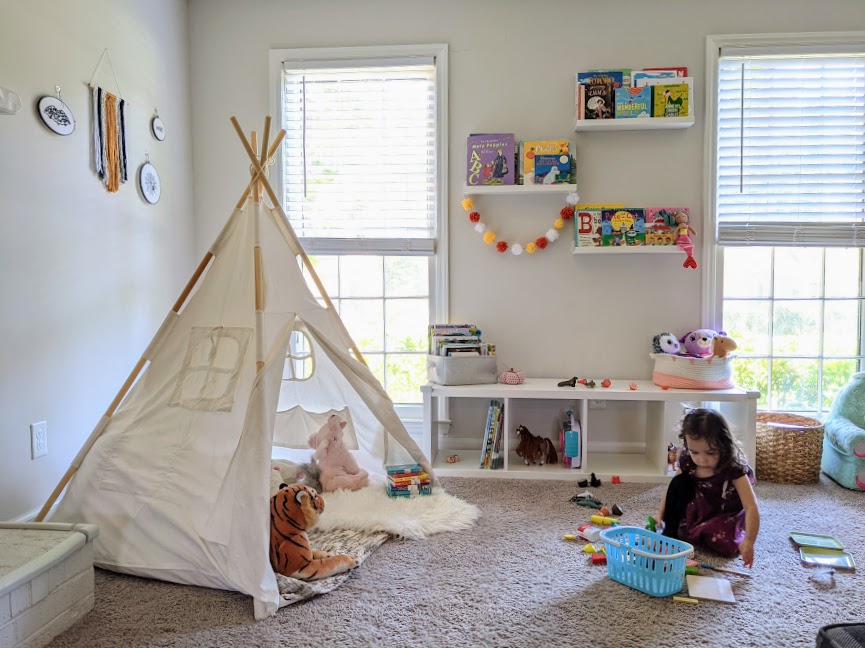 Pom Garlands are so simple and easy to make. I just wrap the yarn around my fingers, tie in the middle, cut the loops and trim until you have a perfect fluffy ball. I used a darning needle to string them on a piece of twine.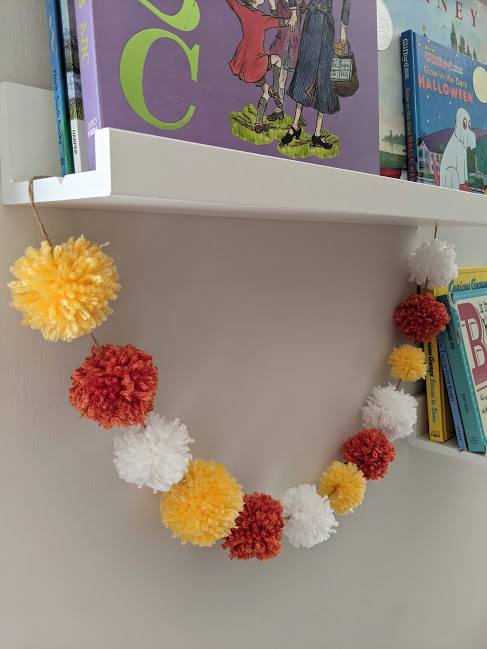 Last but not least, my sister makes these adorable cozy crocheted pumpkins. Keep an eye out on her shop for them in some fun new colors ♥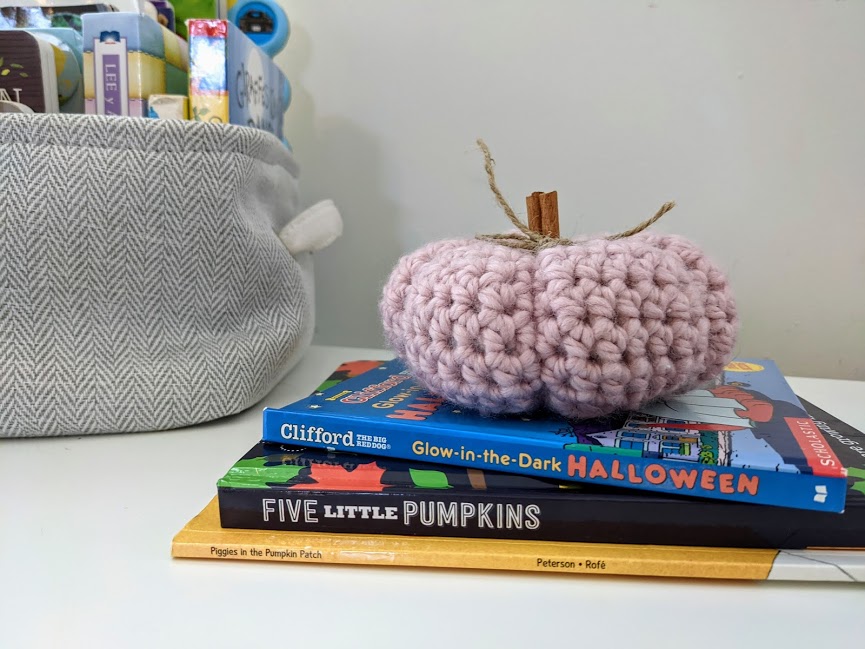 Inspiration