Who's idea was it to vacation in Charleston in this blazing heat?? Surely we weren't thinking clearly when we pushed our trip from May to June.
Hot, muggy, beautiful Charleston,
Thanks for the tan.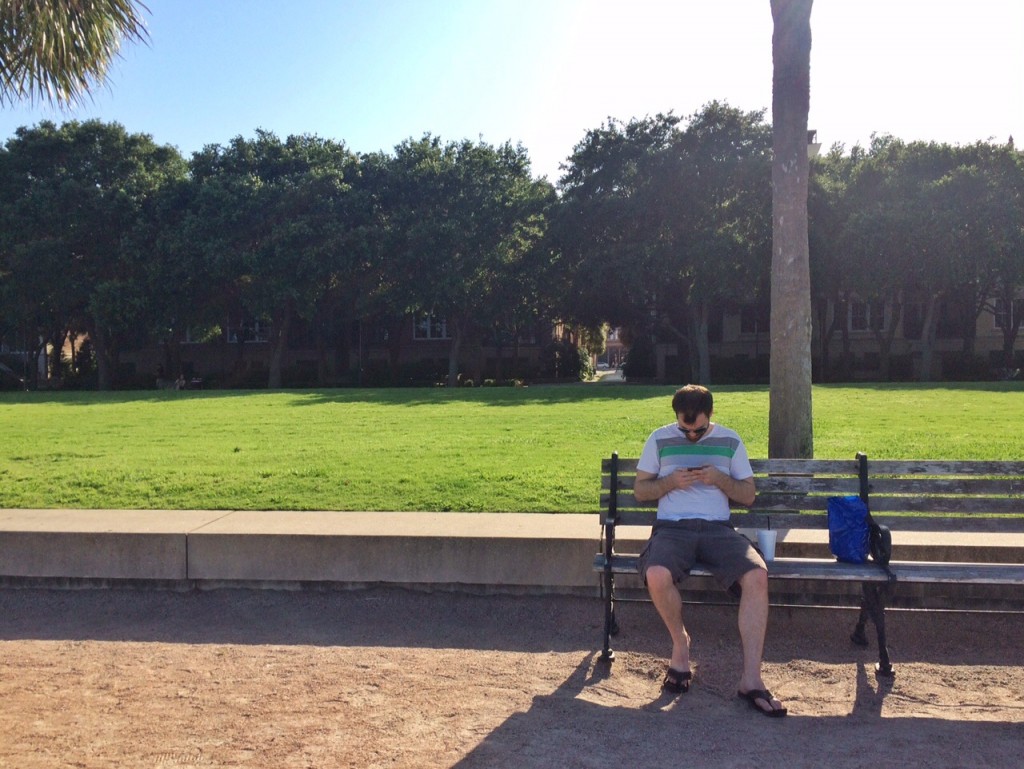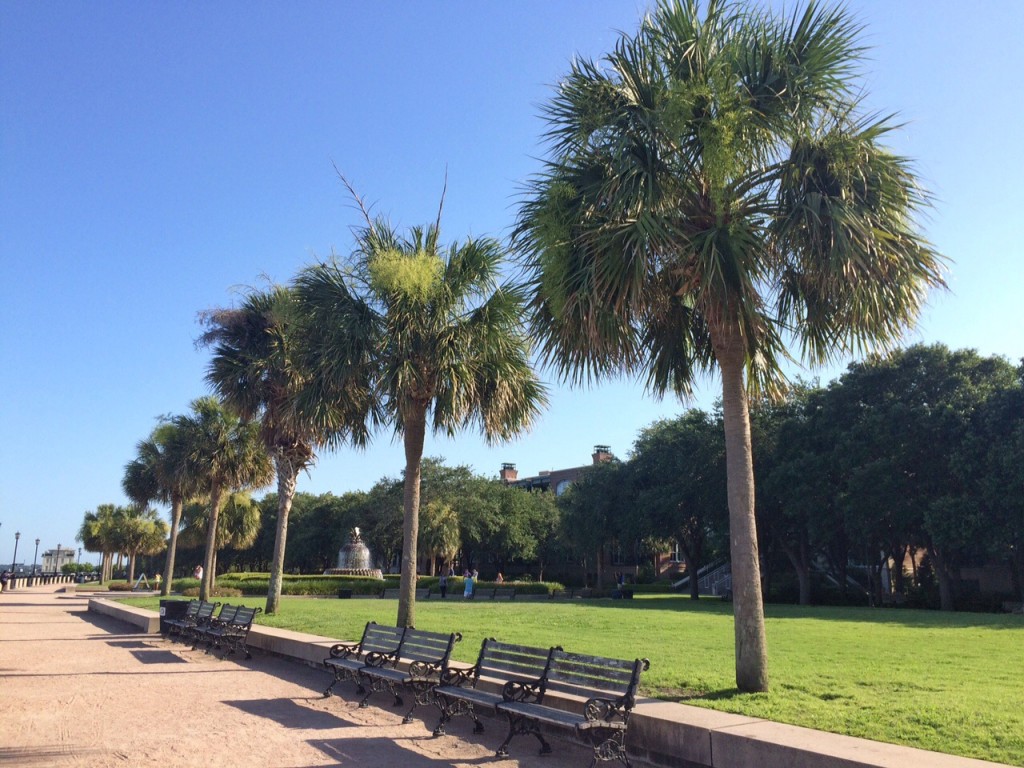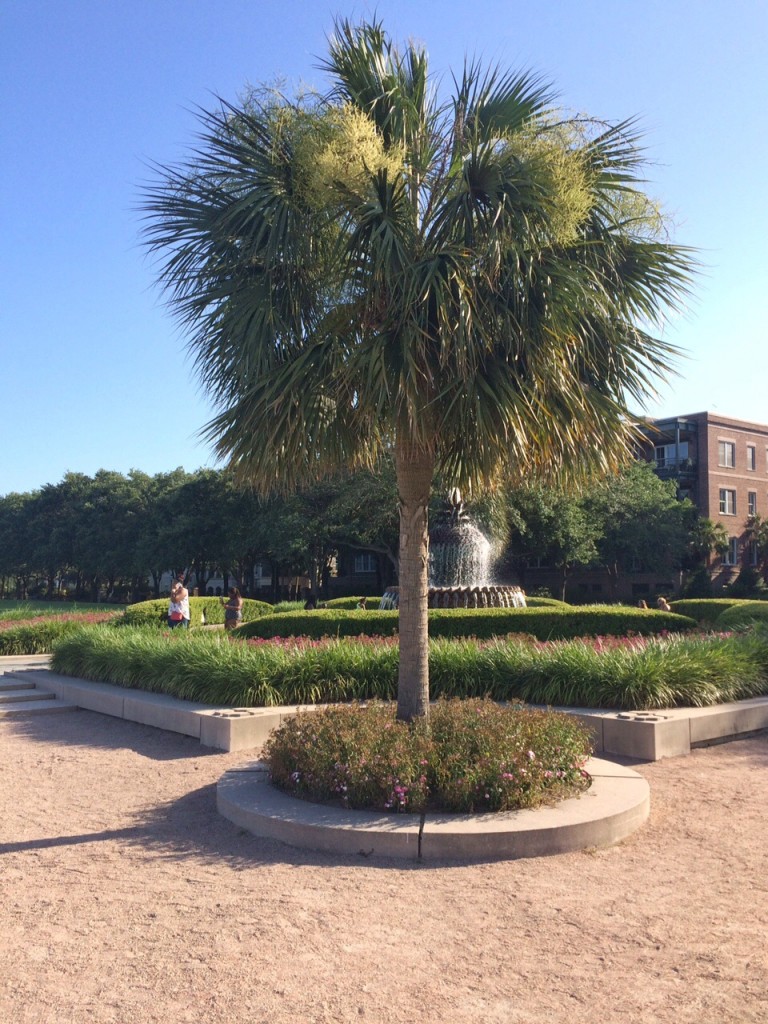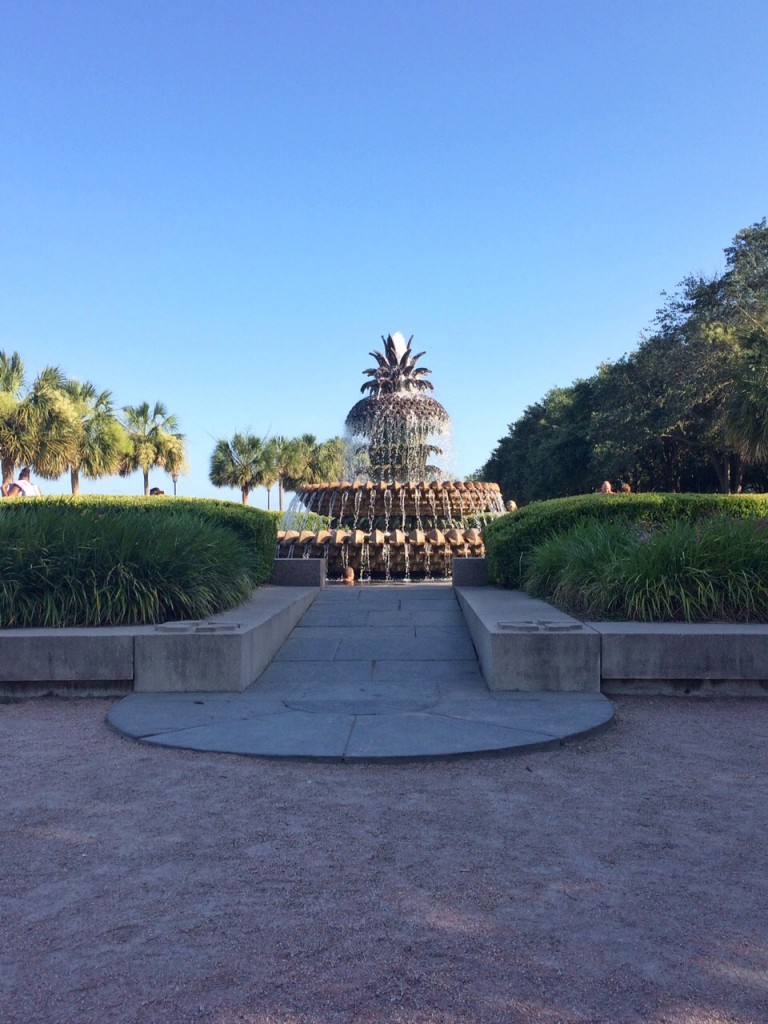 This trip was actually amazing now that I've had a moment to think about it. We like to vacation with no particular plan in mind. No scheduled tours, no itinerary, just a handful of bookmarked Yelp found eateries, and places we might like to see.
Which works out pretty well for our personalities.
We revisited an Inn in Mt. Pleasant which perfectly sat us twelve minutes from downtown Charleston, and twelve minutes from Isle of Palms Beach in the other direction. We stayed at this inn for our 1 year anniversary and loved it so much we decided to go back, and I'd highly recommend! Three years later and this place still had an amazing breakfast, and wonderful service.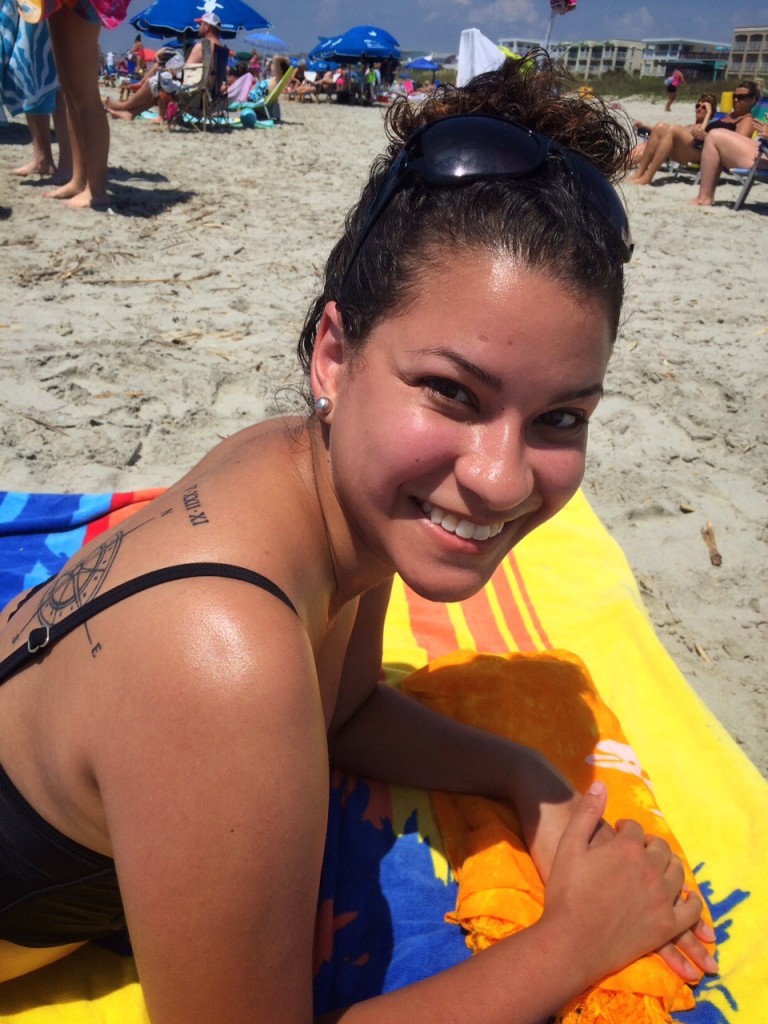 Also, this cooler bag is a must.
Through my sunglasses I watched as a younger couple argued in the sand. The man stood red faced next his cooler on wheels, as the woman pointed toward the shore. "Look, right over there." She said.
"If we just sit it on the packed wet sand, it'll be fine."
The man shook his head, clearly annoyed with beads of sweat rolling down his temple. "No, no no.. this thing's gonna tip. I don't know why we brought it."
And yea, unless I was providing a beach lunch for a crowd, I'd have left the rolling cooler behind too.
This ↓ thermal bag is a much more practical option. To be honest I wasn't sure how much I'd use it. Thinking it'd solely get it's use from the occasional picnic. But it's proven to be great for the beach, (as seen previously here) and road trips too. It fits a few ice packs, and several tall drinks. Plus.. it's personalized.
This is my Could we pretty please stop by that cute Cafe a few blocks up? face. Cause I was getting pretty sun tired. 

I know, I know. Rainbow Row. It's beautiful, it's iconic. It's a see it once, take a pano, and move along kind of place. We're the type of people who drove across the golden gate bridge, took a few pics from inside the car, and zipped by the vistapoint. Cause.. the experience had been had. I saw the golden gate bridge for the first time. The moment was over as quickly as it came. It wasn't going to do a backflip for me. It just was what it was. This magnificent structure that I had the privilege to see. And that was that.
Later, during that trip B and I had lunch at a restaurant near the harbor. The fog had cleared, and the top of the golden gate was just becoming visible. I peaked around Brandon to see the bridge standing ahead.
I remember the bridge pretty well.. but what's much more vivid in my memory is that moment spent with Brandon. That moment where we sat together discussing all the new sights we were seeing.
I had the same experience when I went to Europe with my sister. We sat at a table outside a cafe in the middle of Athens. And just to the left of Nem's head sat the Parthenon. It was such a surreal moment. We saw it up close. We toured it, and then there it sat in all it's ruin, while Nem and I sipped our iced coffees. The parthenon was pretty fantastic, but so was the time we spent together. Attempting to thank our waiter in Greek.
We saw the trevi fountain together, and I remember it being crowded. Everyone scrambling to toss their coin in, and get a picture. I remember that we hung back, stepped into a gelato shop instead, and devoured the creamiest italian gelato with the fountain in our peripherals.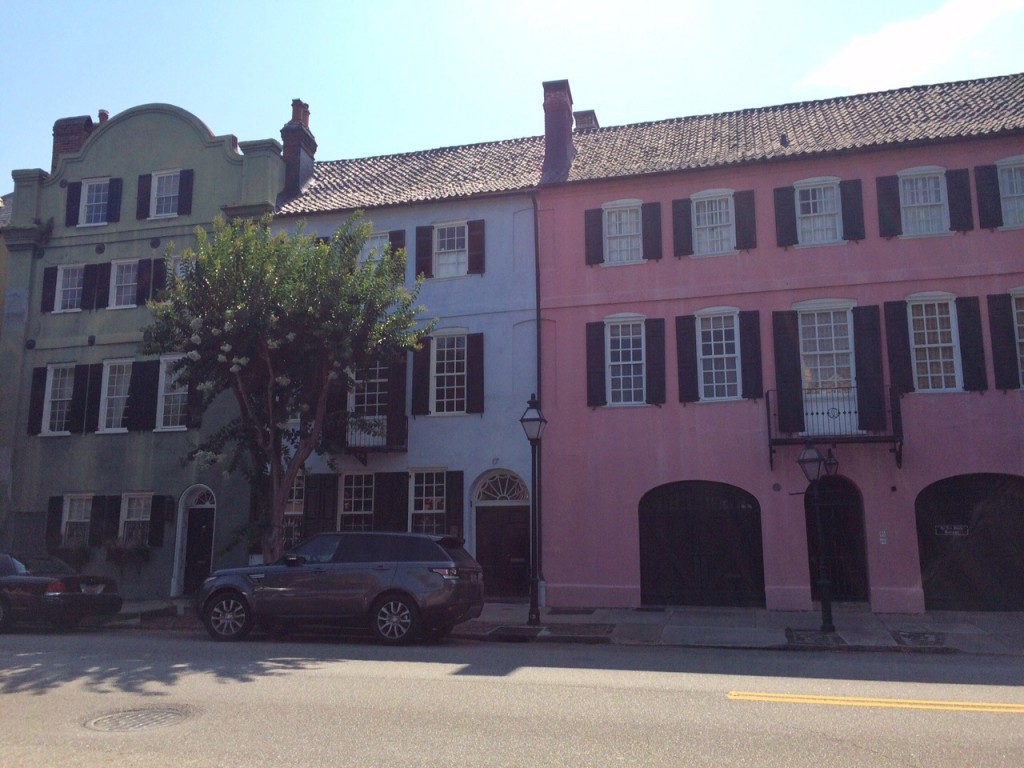 I like keeping it that way. Spotting landmarks, and stealing a moment to take them in, and then focus on the person I'm sharing in that moment with. That's what it's all about for me.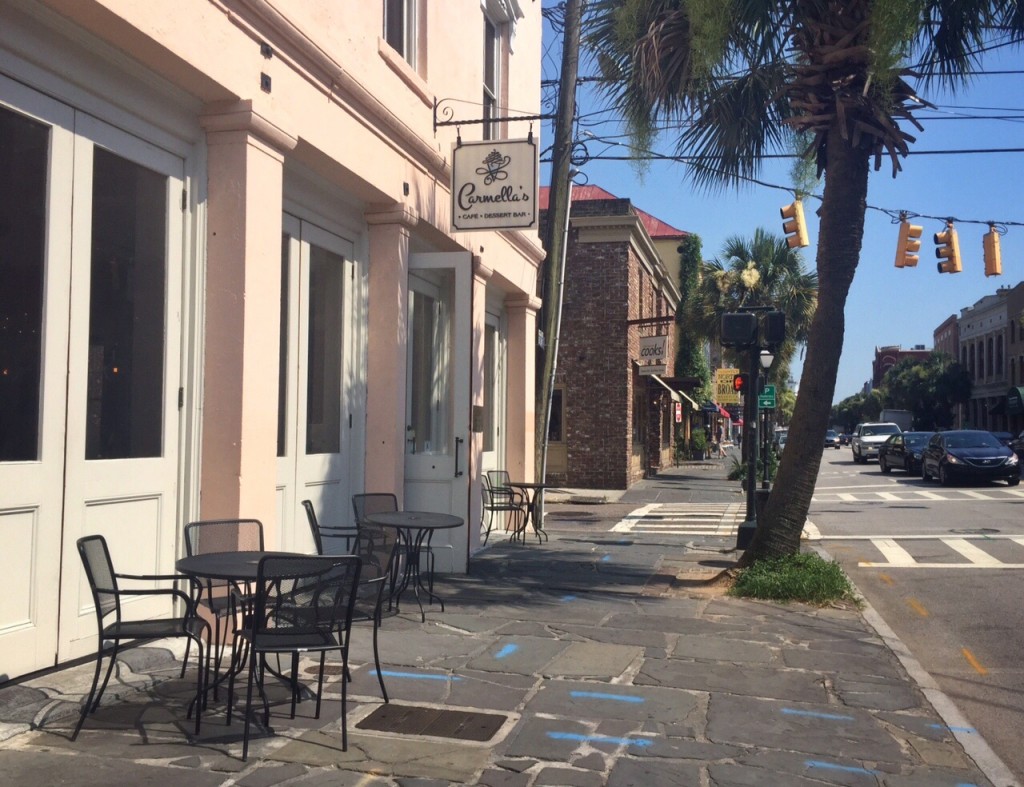 After rainbow row, we hit up Carmella's. The doors were wide open inviting us inside to the cooler air. The menu had italian ice listed at the top. Sold. After tasting a sampling of Coconut Cream I COULD NOT turn it down.
The woman behind the counter asked if we'd like a glass of water to which we exasperatingly replied. "Please, yes, please, thank you so much." Because we sweat gallons this trip, and being dehydrated makes you cranky, and no one wants a cranky spouse on vacation.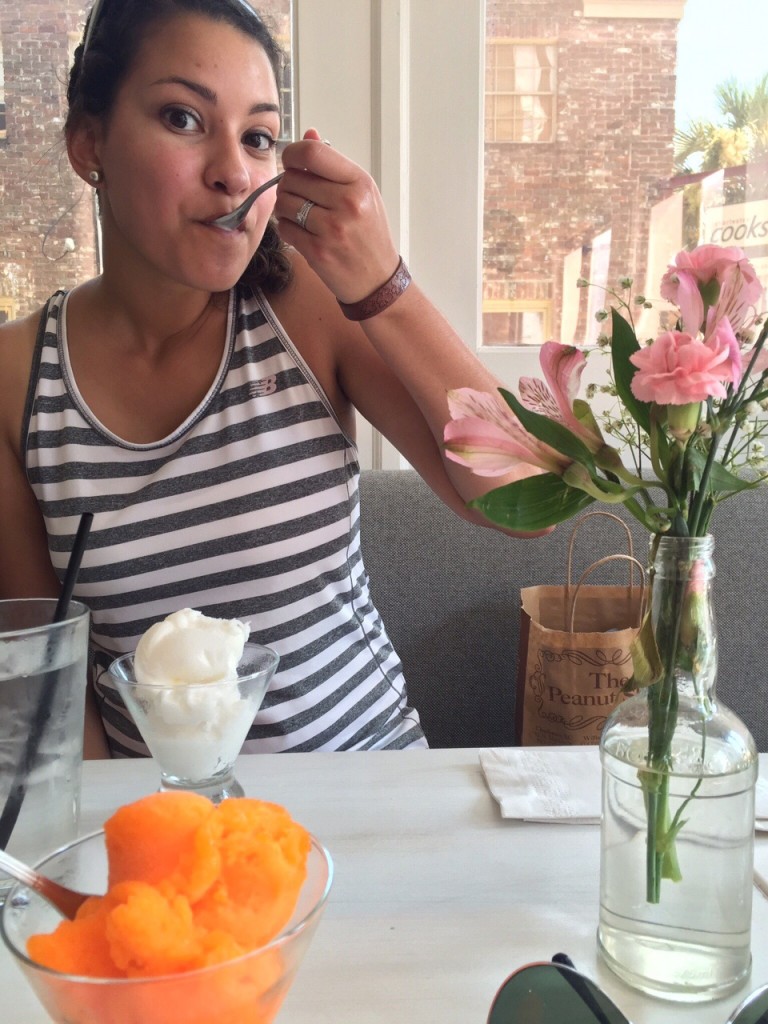 Rosy cheeks, and happy. That's what we were going for.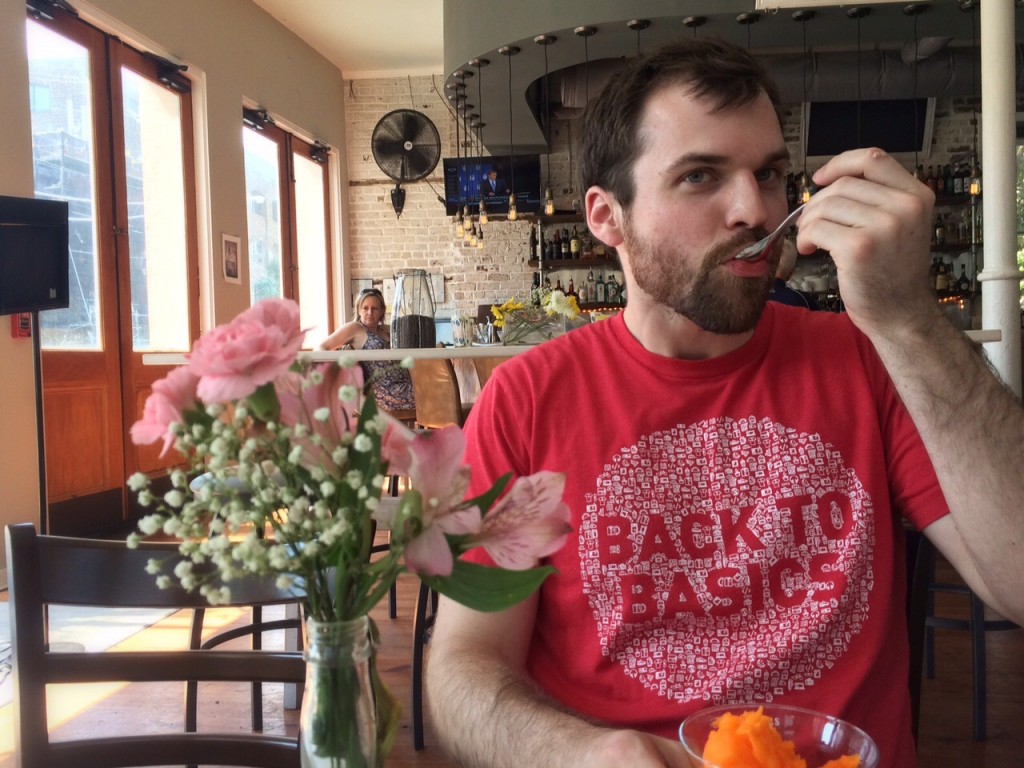 p.s. How can my husband still look so manly while eating tangerine italian ice with a baby spoon?
I love him.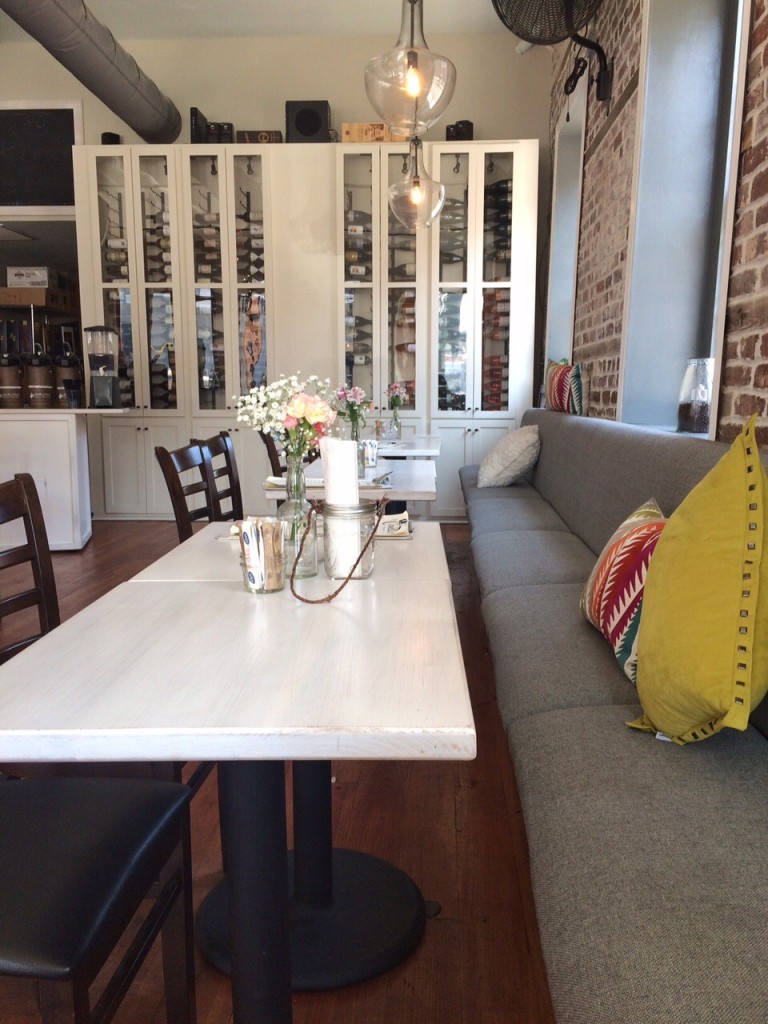 And that's how our trip went. Perfectly relaxing, and restoring. With a pleasant overdose of Vitamin D.