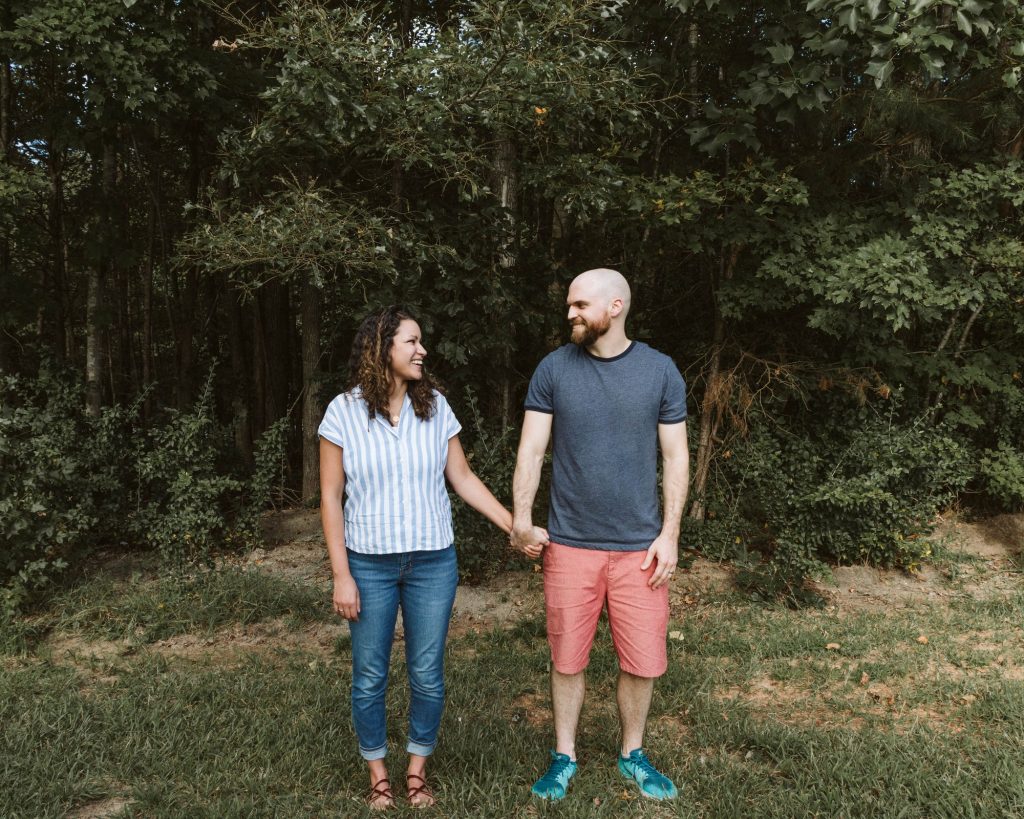 In the spring of 2016 Brandon came home not himself. I was busy with something that day not quite paying attention to the worry he'd brought home with him. Like an extra backpack he carried a weight he attempted to describe to me. But as I said I was busy, flustered by my own agenda I brushed off his concern. I wish I could go back to the Natalie in that moment to place my hands on her shoulders and say, "Stop what you're doing, he needs you right now." I wish I could have told myself to look in his eyes to recognize the defeat he felt and held him in that moment to tell him it was all going to be ok. But like all regrets in life we can't change our actions, we can only allow them to teach us to be present in every moment. You'll never know how big of a deal some conversations can be. 
Brandon kept trying to get my attention as he told me about the anxiety attack at work where he panicked and completely froze up in a meeting. During this time we'd been trying to get pregnant for months and he was up for a promotion. The weight of striving for more, a quality he's always had, came to a crashing halt when the pressure became too much. He said that he didn't know what to do or how to deal with the nervousness that his body now felt in social scenarios to which I told him, "You'll just have to figure it out, because if you don't then…" I trailed off insinuating that he'd better figure it out because he was responsible for our family. Oh that Natalie! She had no idea the road that lie ahead and how insensitive those words would prove to be in this grueling battle.
He shut down even more than before and that's when I realized what a pivotal moment this was. His mind was racing with anxietya feeling of worry, nervousness, or unease, typically about an imminent event or something with an uncertain outcome. and that wasn't something he could just fix overnight. It's taken years of adjusting our lifestyle and finding coping mechanisms to help him. When we attended our small group the week of the anxiety attack he was up to share his highs and lows for the week. This was something we'd done every week but never before had I felt him next to me tense with nerves as he was that night. He grabbed my hand to squeeze before his turn and managed to mutter how he'd been having anxiety lately. He looked to me to continue around the circle, hoping for the spotlight to shift, but still grasping my hand for courage. In that moment I looked down at my hand understanding that this was a serious struggle that would now become a part of both of our lives. I felt more like his wife in that moment than I ever have before. Sometimes love is not about all of the romantic sweet moments but the ones where we're called to be our spouse's refuge. I became his voice, to pray over him and for him whenever he felt seized up I had to learn to step up and be there for him.
We stopped going to small group because his anxiety couldn't handle it. We stopped going to several social gatherings, leaving only a small number of close friends who he could confide in. He spoke with his managers at work about this mental illness taking root inside him to which they were very understanding. He started going to counseling and I prayed for him fervently.
Since then Brandon has become much more familiar with his triggers and has discovered several coping mechanisms. I'm happy to say that he's much better and I'm so proud of him for his courage. Not only for everything he's overcome but also for letting me share his story! If there's any advice I could give to someone who has a loved one struggling with anxiety it's that you always have to expect it to come up even when you think it's gone. Anxiety, like a dragon in it's lair has a tendency to lie dormant until something wakes it. Over the years I've told Brandon that I don't expect him to just be over it. Not now, not even in the next five years will I ever tell him again to just figure it out. This level of support is what I believe helps someone with anxiety feel like they can be at ease.
Brandon hadn't had a bad bout of anxiety in almost a year. However at Felicity's baby dedication earlier this year we were to read a letter and pray over her. The plan was for him to pray but I knew in the back of my mind that he might feel those nerves again and the best thing for him is never to force him into overcoming those nerves. (When he did try that in the beginning it grew worse.) He told me he felt anxious on the way there and asked if I could say the prayer if he asked me to in the moment. After I had read the letter to Felicity in front of our family and friends I looked in his eyes the way I wish I had that first day. He squeezed my hand and I knew he couldn't do it. I squeezed his hand back, bowed my head and prayed over Felicity for both of us.
Carrying this weight together has been tough I'm not going to lie. But it has no doubt made us stronger as a couple. It's grown my faith, teaching me a boldness I never would have discovered otherwise. This anxiety has blessed us with slowing down. We've become more unified in our marriage, placing our trust solely in God when things were at their bleakest. I truly believe that God has used this struggle for his glory and we're happy to declare that today.
I want to share some of Brandon's natural remedies with you in case you ever come across someone who battles anxiety.
Coping Mechanisms for Anxiety:
Fidget Cube – I bought this for Brandon soon after his first anxiety attack. It can help take your mind off of your nervousness by discreetly focusing on something else.
Weighted Blanket –  Here's some info on the benefits of a weighted blanket specifically for anxiety. They're also beneficial for insomnia! Brandon loves his and has found it helpful. Though this isn't something easily carried around. It's more so for treatment at home. Choose the right size using this chart.
Stress Relief Gummies – I found these at Target for Brandon and he's taken them often.
Serotonin – In search of a natural option to fight off his anxiety Brandon discovered serotonin. Here's some info on the subject.
Breathing Exercises  – Alternate nostril breathing is a great practice not only for anxiety but for headaches too! Find a quiet space to close your eyes and try out this exercise.
Walking – Going for a walk can help shift your focus to a simple exercise. The key is not a full on workout that gets your heart rate up. Because anxiety typically comes with an elevated heart rate walking can be a good alternative to your typical workout.
Prayer & Scripture Memorization – This should be the first thing to run to but I'm adding it to the list because sometimes we quickly forget how important it is to add this to our daily routine. Surrendering your anxiety before each day and each night is key in overcoming the day to day struggles. Here's a few prayers to get you started.
Worship Music – I've linked off to a playlist I put together specifically curated for times when that anxiety just seems to wash over you. It's a bit Elevation Worship heavy. I'm biased!
Cut back on coffee – I'm never trying to knock coffee! Coffee actually has lots of positive benefits for many things. However, help in coping with anxiety is not one of them. Caffeine gives you a boost, too much gets you a bit jittery and we're trying to cut back on the jitters. That's all. Maybe try switching to half caff in the afternoon at least.
Counseling – This is essential. Talking to a third party can help you feel at ease and help you to identify the root of your anxiety in order to cope with it. Counseling can help you feel understood, especially if you are feeling ashamed of your mental state.
Keeping Warm – Keeping your body warm keeps any chills and shivers at bay. The colder you are the more likely you are to feel jittery. Brandon was always bundled up in a hoodie and hat.
Rehearsing – If you're feeling anxious because of an upcoming event or meeting rehearsing ahead of time can be beneficial. It may feel a little awkward at first, but it can help you feel like you've gained some control.
I hope this has helped you to not feel alone whether you're someone struggling with anxiety or someone who is supporting an anxious spouse or friend. Stay hopeful! There are definitely ways to still live a normal and happy life!