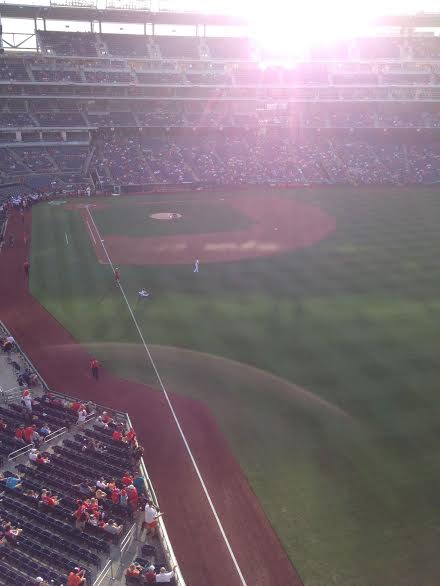 What's one thing that you can only ever experience once? Something that you can't go back and change. Everything in that moment captured in time. A first. They are my very favorite. Nothing else can compare a first. Your first steps, your first words, your first kiss, your first love, your first house, your first pet, your first car. Everything in our lives had a first. They're full of expectation, thrill, and curiosity, what's not to love! Ok you got me, there is the occasional first that is full of dread.  Like your first… things that have to do with puberty…, public presentation, job. Blech, those were no fun! But I like talking about the thrilling kind. Those moments that are etched in our minds for good.
This is a silly kind of first to talk about because it was just a baseball game. One random Sunday the Young's asked us if we wanted to tag along to a ball game where they could watch their beloved Braves crush our Nationals. On a whim we figured sure, why not? The tickets were very affordable, I had never been before, and we were in need of a spontaneous outing.
I had a blast! I so was not expecting much from the little trip and I was surprised at what a good time we had. When the 7th inning stretch came around I may or may not have belted out Take Me Out to the Ball Game with exuberance I didn't even know I had. Baseball is definitely a sport to be enjoyed live. It was so perfect to sit out in the night air. Looking into that large open field, chomping on our massive bag of peanuts as we cheered. I found that there is something about eating peanuts that makes you feel entitled. Tossing aside the shells as if you are too good to worry about trash. It was all part of the experience. I mean come on, you can't go to a baseball game and not have peanuts or cracker jacks right?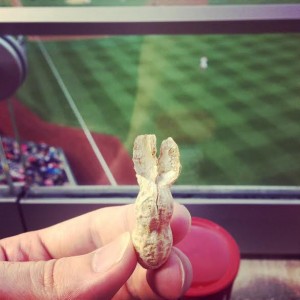 If you have never been, GO! I'm not even a sports fan and I loved it. Open your senses! There are so many firsts out there waiting to be experienced, don't let them pass you by!