All my life I had longed to have the companionship of a dog. Believing that dog's were simply too much responsibility my mom always seemed to settle with cats. The cats were alright, but they just weren't what I had always wanted. Brandon had grown up with dogs around and promised that the day we got a house we could have a dog. Disclaimer: there is a certain quality in me that I'm not necessarily proud of, but I cannot deny. When I'm given hope for something in the future I want it as soon as possible. The closer it gets the more frustrated I get, and beg to have it sooner than anticipated. B calls it 'light at the end of the tunnel syndrome'.
When the offer was accepted on our house we began our search for our new family member. One sunny Sunday afternoon we decided to go to Petsmart where the Orange County Animal Shelter was holding adoptions. That's were I fell in love with our Samson. I had taken a particular liking to him, and the volunteers must have noticed, as they asked us if we'd like to take him for a walk. We stepped outside and this big goof of a dog strolled about like he was the happiest dog in the world. There was no doubt in my mind that he was the dog for me. I couldn't resist his adorable big head that I could kiss all day long.
We went home and thought about our decision to adopt him. The closer we came to closing on our house the more we felt like he was the dog for us. Immediately after signing papers to close on our house we drove to the Orange County Animal Shelter to adopt our boy. The whole time we were there I was giddy with excitement.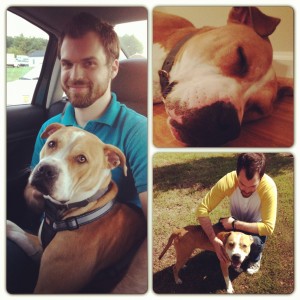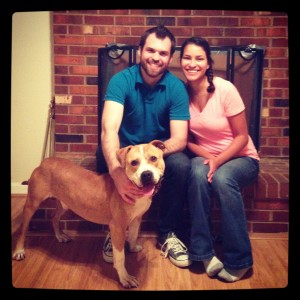 Our first family photo  was taken the day we closed on our house. I couldn't have been more delighted. He was my first dog in our first house.
Dog ownership was even better than I had envisioned. I loved having Samson around when B was out so I didn't have to be by myself. I loved the way he had to lay behind me while I cooked and washed dishes. I loved seeing his excitement when we arrived home from a long day. I loved how cuddly he got when he was sleepy at night. I loved waking up with blurry vision and seeing him there laying beside me, not a care in the world. You could see in his eyes that he was grateful to have a new happy home.
We gave Samson a chance, which is more than most people would have done. We did our research, and we found that we were up to the task of caring for a fun loving muscular dog. That's one of those things that I continually try to remind myself. We rescued him, and loved him with no judgement. I wouldn't ever change that even if I was granted the opportunity. I had my sweet boy for under a month when he was taken. It's a wonder how in under a month I was able to grow so fond of him. He had a chance to meet family and friends. He had numerous nicknames including Sammy Sosa which just kind of came out one day, and stuck. He was spoiled by my friend Chloe who saw no fault in him. He enjoyed multiple firsts with his new parents. Moments I'll never forget like his first bath, which was more of a wrestling match between the three of us…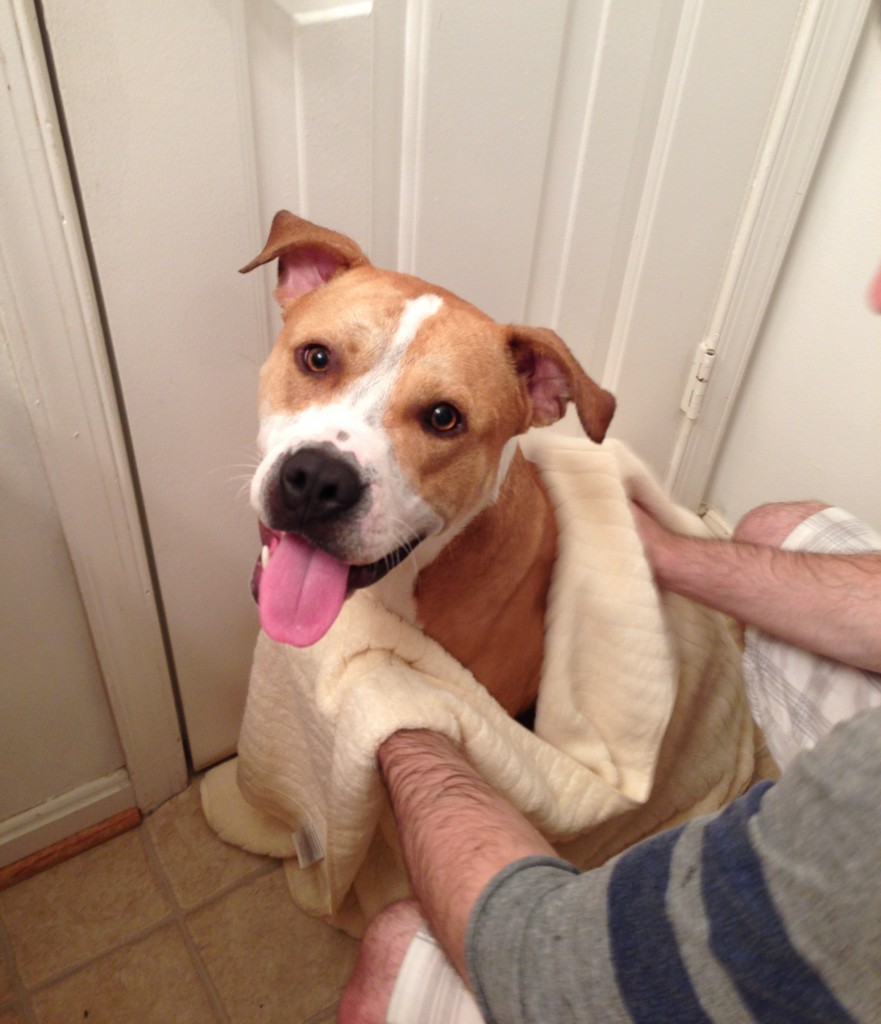 Look at that smile!!
So often we read the news articles and sympathize with the victim, with good reason. The innocent deserve to be sympathized. It is rare to ever hear the other side of the story. I feel as if it's time to tell it. Not just for me, but for all those who are on the other side. We sit in shame, and guilt, all the while accepting punches from others for fear of what they might say if we defend ourselves. Samson ripped a metal stake out of the ground right before my eyes, and bit another dog. It was a moment that will forever be stained in my memory. I understand the victim. Trust me I do. But I'm tired of pretending like I wasn't hurt in this situation. As B put it "How must the parents feel of the children who orchestrated terrifying school shootings, and threats. Parents of the victims are angry, and grievous. but the parents of shooters… how must they feel?" Will you sit back and deny the fact that they are grievous as well? For losing their own children, and feeling responsible. What I went through was so minuscule in comparison. I don't expect you to understand, I honestly don't. It's a difficult thing for people to accept the fact that those people are suffering as well. I do however urge you to take these words to heart.
We enjoyed every bit of this dog leading up to that traumatic day. My mind is full of 'If onlys' . It is full of regret. Not regret of adopting Samson, but regret for bruising his breed name. Regret of being in the front yard that day. Regret of not protecting Samson. Never did I ever believe I would have to go through such a difficult series of events. Until I find the strength to capture the memory of that day I will leave you with all I have left of him. My memories.