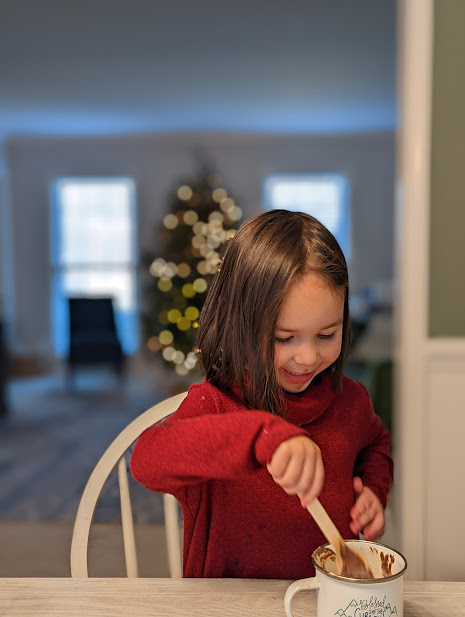 Something rolled out from the clothes that I was folding. I turned to find a letter X bead lying on the floor. It stared back at me beaming. I knelt down to pick up this little treasure. This little bead rolling out of my laundry.. it took me straight to yesterday morning when Felicity and I were making necklaces together with a kit she got for her birthday. She loads up letters and shapes onto the string in no particular order. Brandon and I wear them around the house. Sometimes Bingley even has one around his neck. The bead. These small reminders that I'm a mother. The candy cane jammies that I folded and set on the washing machine. The dirty clothes on the bathroom floor. The unicorn water cup that never seems to make it back to the table. The toys that are pushed to the edge of the playroom so that she and her daddy can play Saratops which is basically a very silly dinosaur head fight on all fours. The toy horse that she's always looking for that I found in a basket. The pink towel that was draped over the banister upstairs. I tidy up, put the letter X bead back in the kit, fold her towel and set it back on her towel rack. Motherhood.
A few more sleeps and it's Christmas. A few more sleeps and it's a new year. A few more sleeps and my baby will be grown. A few more sleeps and I'll be thinking about that letter X bead wishing it would fall from the laundry.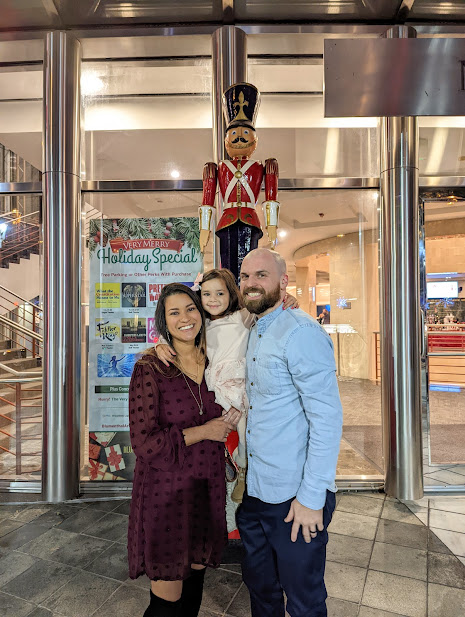 We're home for Christmas this year for the first time since we've moved to Charlotte and it's been the sweetest time. We've filled our days with cocoa, cookie baking, Christmas puzzles and movies. We've filled our nights with drives around town to see lights, Felicity's first nutcracker ballet, and a candlelit stringed quartet Christmas concert date night. "Is it Christmastime?" Felicity will ask me. "It is!" I tell her. She runs to the tree ready to open presents and that's when I tell her that it's not actually Christmas yet but Christmas time. A time to celebrate the greatest gift that was given to us in Jesus. A time to bake cookies, share them with our neighbors, a time to slow down, dance to Christmas music, warm our toes near the fire and eat too many candy canes.
We get asked alot if we do Santa in our home and the short answer is no. The long answer is that we don't ban Santa either. Felicity has been asked several times by strangers what she's asking Santa for Christmas. She has responded that she wants a horse that goes clip clop. Which sounds about right. We've told her that Santa is a story, a character based off a generous man from a long time ago. And while it is a fun story the reality is that Santa doesn't bring toys to all of the children around the world. Many children around the world don't receive any presents. That's why we give back this season. One night while we were sitting on her bed I said, "Felicity do you love your room?" She nodded. I said, "Do you love your bed? You're stuffed animals?" She kept nodding. "Your warm cozy jammies?" while I tickled her, she giggled yes. I told her that some little boys and girls don't have cozy beds to sleep in, or warm jammies or any toys. Some of them right here in our city. Sometimes I walk away from our little conversations wondering if that's all a bit much for a three year old. If maybe we should just let her live in the magical childhood wonder of Santa and her own little bubble. But though she is only 3 she is growing into an adult and I don't think you can just all of a sudden tell a teenager, "Oh yea, not everyone lives like you do by the way."
It's also not totally a foreign concept to her. She's seen me create sensory kits for the Foster village. On our way she asked who they were for. I told her they were for some other kids who didn't have many toys. She always comes with me to donation drop offs and I think it's so great for her little heart to learn. I hope that she grows up to do so much more than I was ever able to do. Yesterday I had a request for a sensory kit for a child receiving chemo. As I carried it outside to place in my pickup box Felicity asked a million questions. "Who's that for?" "For a little boy." I told her. "But why? Is there a lizard in there?" She asked as she peeked inside. "Yes, because he is very sick and this might put a smile on his face and make him feel better." She looked up at me, "Oh he is not feeling good?" I shook my head and gave her a snuggle and thanked God for her, her health and the opportunity to bless a family going through a tough time.
Santa doesn't quite fit in with what we've worked so hard to teach her. I didn't have a huge attachment to Santa as a child and that is a big part of it! I know alot of people did and they love sharing that with their kiddos and I think that is so sweet and I don't mind at all when people ask Lici about Santa. I'm just sort of here documenting to see all of our reasons written out. We want her to learn what it means to be generous. We want her to know what the birth of Jesus means to us and how we could never repay that wonderful gift.
Here's how we've incorporated Jesus's birthday this year.
Live nativity at the Billy Graham Library.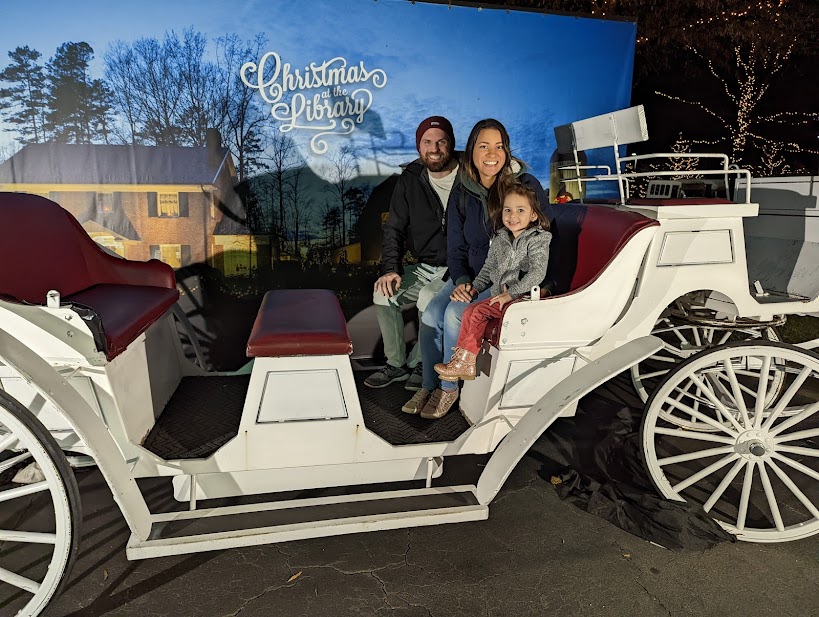 Scripture advent cards which I mentioned here.
Books, we have so many but these are a couple favorites. The First Christmas Night / Mortimer's Christmas Manger / Who was Born This Special Day? ←This one's perfect for little littles.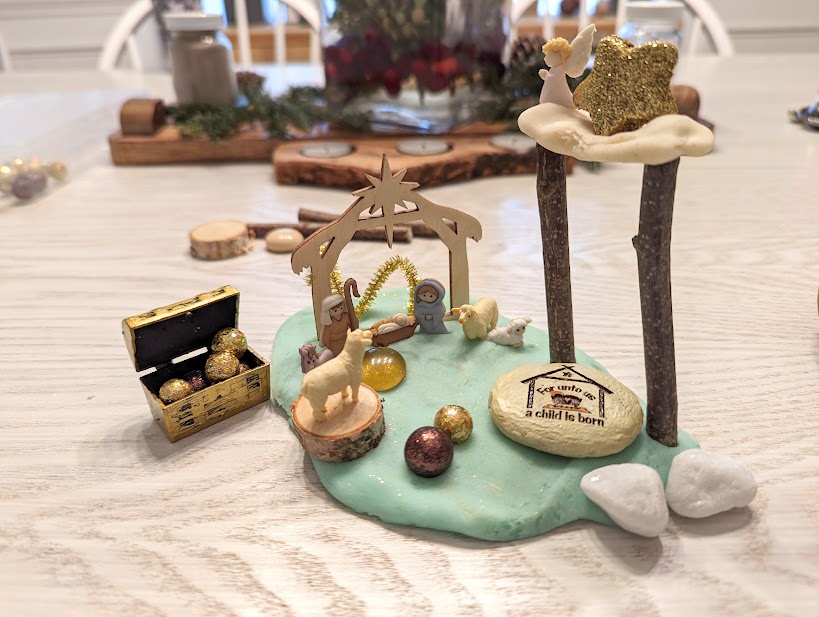 Nativity Play Doh Kit – I ordered this adorable nativity play doh kit from an Etsy shop. It came with so many pieces! Felicity opened it this morning and we had a blast placing all of the animals and following the wise man's journey to the star.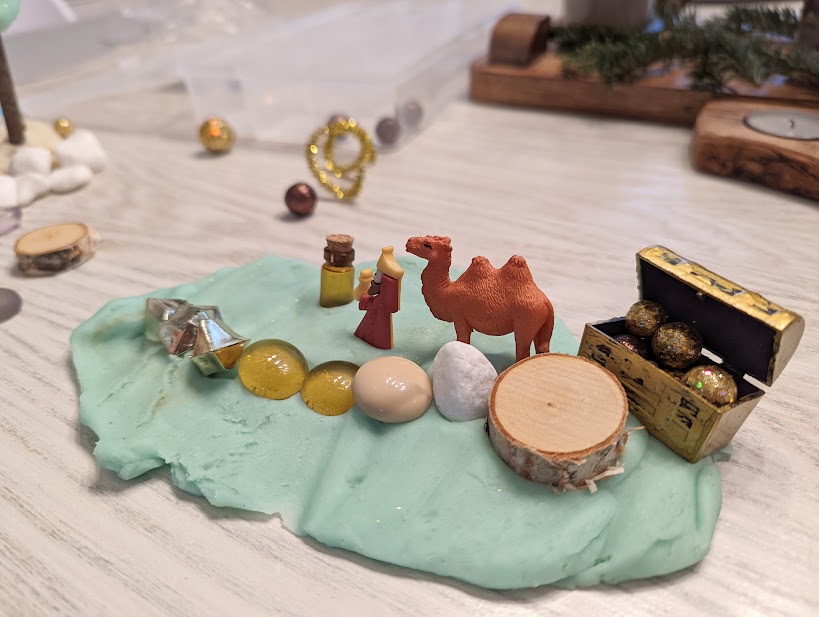 As always you should celebrate however feels right to you and your family. If you baked cookies for Santa with your family on Christmas Eve every year and it fostered a love for baking in you then you should totally keep that up. If you remember sitting up all night Christmas eve whispering to your siblings that maybe that jingle was Santa's sleigh and it sparked a sense of creativity and wonder in you that has carried through so many different aspects of your life as an adult than yes totally share that with your own kiddos. Everyone has their own story. When talking with a couple friends recently about how we handle Santa this season I simply said, "This is what we're doing, what we're going for and she may grow up and wish that we did Santa big." I shrugged my shoulders and finished with, "But she may grow up to wish that we did alot of things for her that we didn't do! So I don't know. You can't do it all!"
Merry Christmas to you and yours and anyway you celebrate Christmas to make it extra special ♥
Love all of you and thanks so much for your love and for following along on our family's journey.