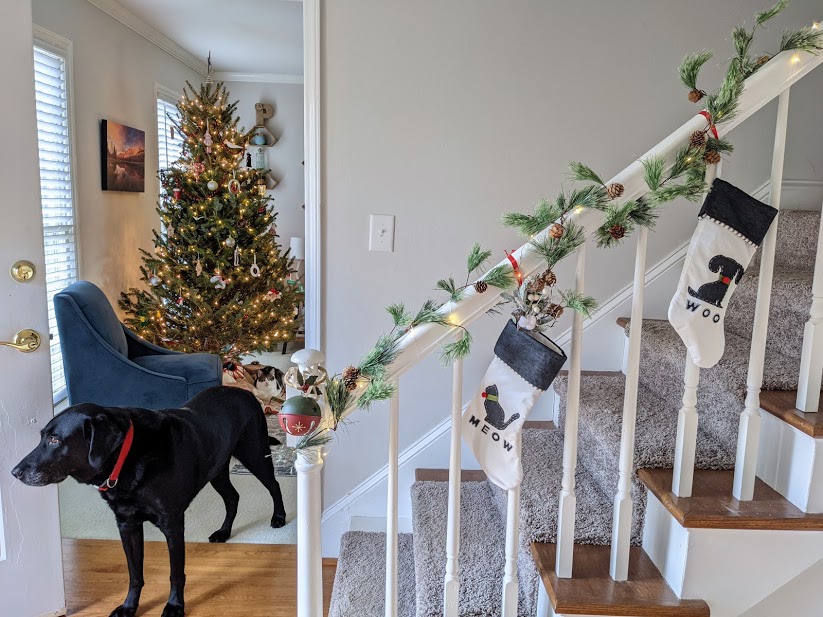 You know I couldn't let this season go by without some Christmas favorites! This year I've been into a variety of different Christmas music and I've incorporated more natural elements to our decor. I'm so happy with how it's all turned out and am excited to share these favorites with you!
Aren't Bingley and Zelda the sweetest in this photo with their stockings ♥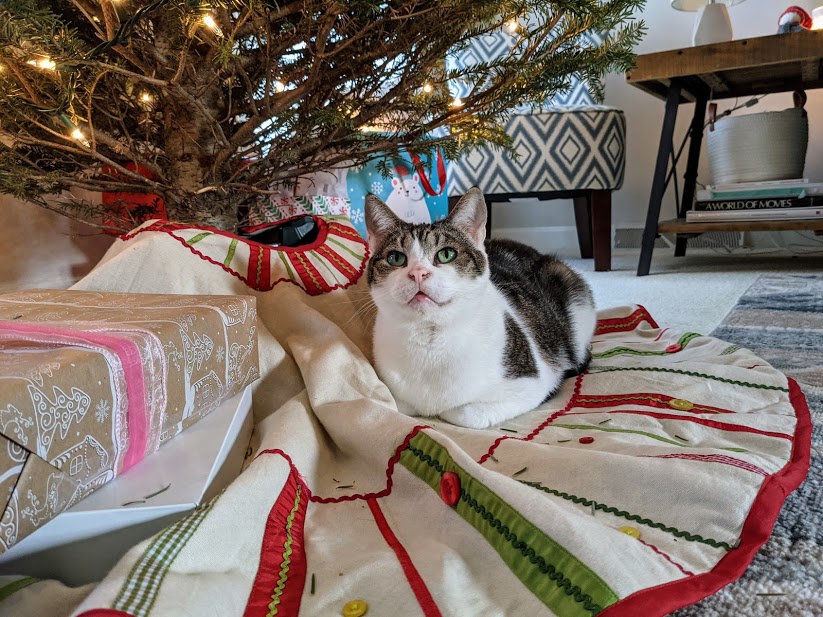 Put your best pair of cozy socks on and settle in. Christmastime is here!
Cozy Christmas Coffee Shop Playlist – If your husband is about done with Mariah Carey's All I Want for Christmas is You then it may be time to switch over to some jazzy Christmas music. This ambient video is complete with a crackling fire. I like to have it playing nearly all day.
Lo-fi Christmas Playlist – Brandon often listens to lo-fi when he's working, it's great background music. He played this album the other day and it was a nice change of pace from the Christmas classics.
Christmas Trap Remix Playlist – We love our Christmas classics but they can get a little old sometimes so we've really enjoyed switching it up with something different! This playlist is great for just after I've finished my coffee and we're awake enough to dance around the living room. We can only handle a few songs at a time since it's so high energy but we love jamming out to these songs for a bit, our favorites from this list are Rudolph, Dance of the Sugar Plum Fairy and Jingle Bell Rock.
Lindsey Stirling Angels We Have Heard on High–  I know this is alot of music suggestions but Christmas music makes this time all the more special! Once upon a time I was a violinist so I have lots of respect for Lindsey Stirling's talent! Her music is effortless and beautiful, really all of her Christmas songs are great!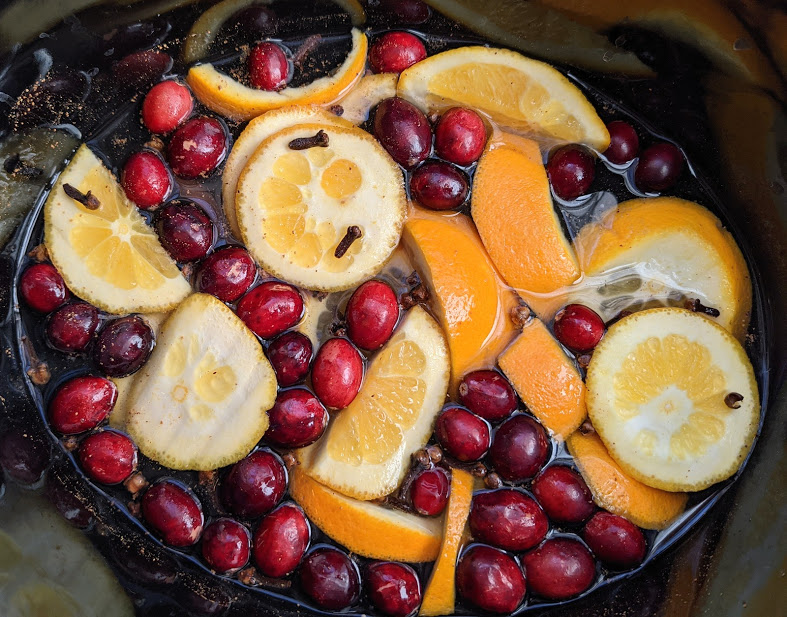 Spiced Potpourri – I threw all of my favorite wintertime scents in our crockpot for this amazing potpourri. These are rough estimates and really you could use whatever you have on hand. Turn your crockpot on high and keep on all afternoon!
2 orange rinds
1-2 cups of fresh cranberries
1 tsp nutmeg
1 tsp allspice
2-4 cinnamon sticks
1 tbsp whole cloves
4-5 cups of water (add more if it dries up)
Splash of apple cider (optional)
Nutcracker everything! – My oldest sister Nem took us to see the Nutcracker at the New York City Ballet when I was young. We sat very far away but it still remains a memorable experience. We made it a tradition to see the ballet every year that we could. Though it's been a while since we've all gone together we still all love everything about this magical ballet. I've been getting Felicity into it through books (which we snagged from the library before the Christmas rush) and the music. She may not sit for a whole ballet but she's been fascinated by this clip of the beautiful Dance of the Sugar Plum Fairy.
Hot Cocoa – My sister in law introduced me to Smitten Kitchen's amazing hot cocoa recipe a few years ago and it's hard to settle for anything else now! It is worth the time to make it! But if there's just no way you can see yourself chopping up a chocolate bar, these Trader Joe's hot chocolate sticks are a nice alternative.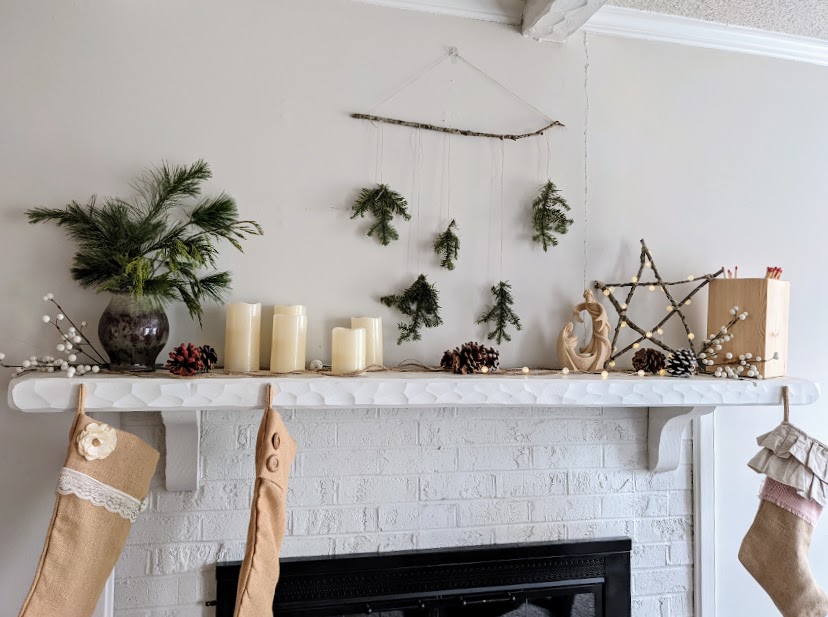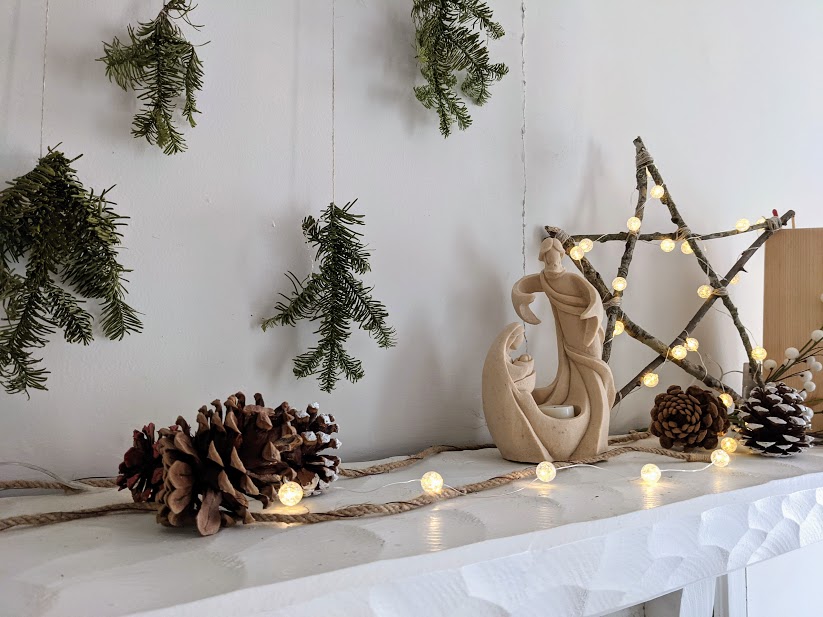 Natural Decor – I love getting my hands on natural elements and making things pretty around our home. I usually keep things very simple using cranberries, holly, twigs and live winter greenery. In search of a minimalist feel I went foraging for some twigs from our yard and tied a star together using twine. Then I wrapped some lights around it. The greenery in the vase and the pieces hanging are from a live greenery pack I snagged from Trader Joes. Then Brandon surprised me with pinecones! I actually enjoy decorating the mantle a little different each year. Using natural elements sort of helps with that since I use what I can find. This bookmarks the years for me, I love looking back at old photos and remembering how I decorated during different times in my life. It's fun to see how our style has changed and been shaped over the years.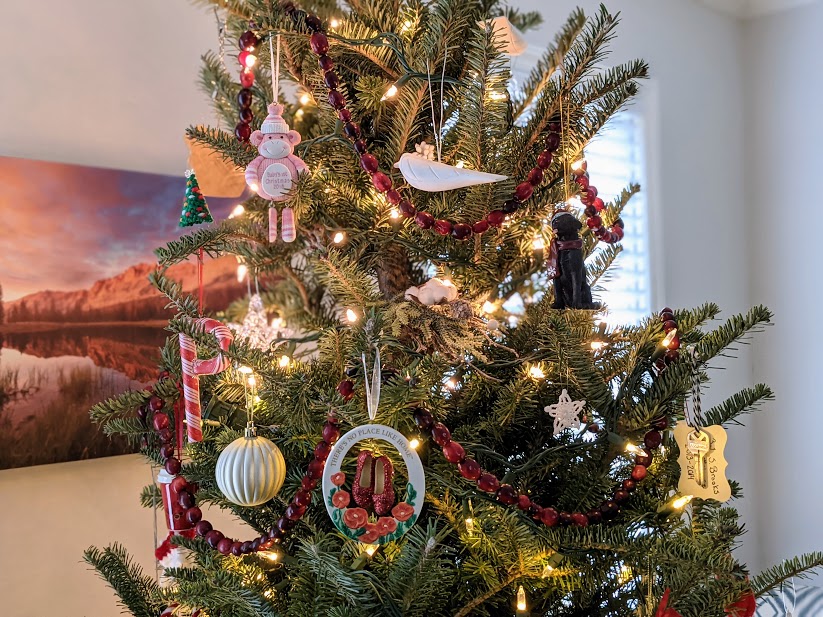 Cranberry Garland – Every year I've had a tradition with myself to make a cranberry garland. There's beautiful painted wooden bead garlands out there that would do the trick but I love putting on a Christmas movie and sitting with needle and thread to make this garland for the top tier of our tree. This year I had a friend help me!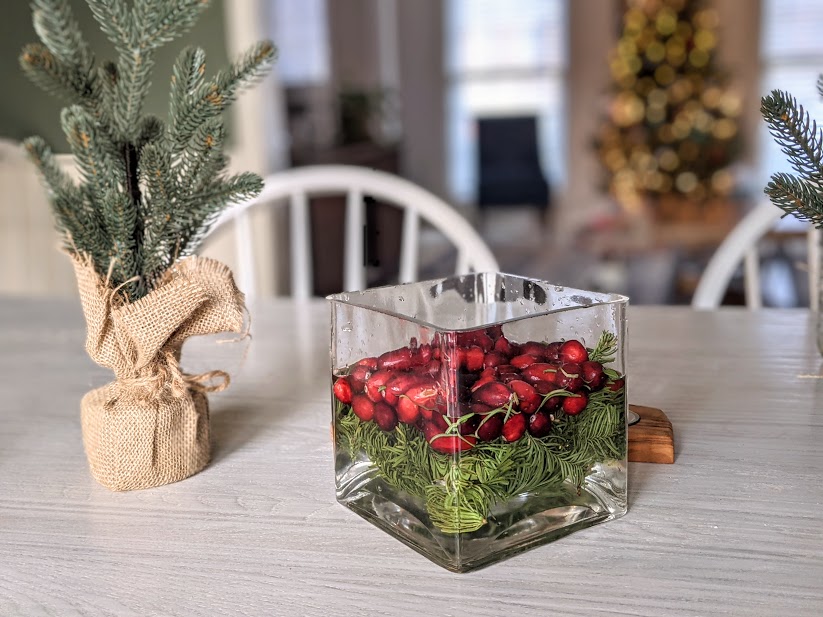 I had leftover cranberries from my potpourri and garland so I decided to make a centerpiece for our table. Usually when using natural stuff I find I have extra so it's always fun to come up with new ideas of what to do with the leftovers! I added tree trimmings to this jar with water, then topped it off with the leftover cranberries.
I hope you at least try one of these favorites of mine! As always please share your own favorites below! Merry Christmas to you and yours ♥