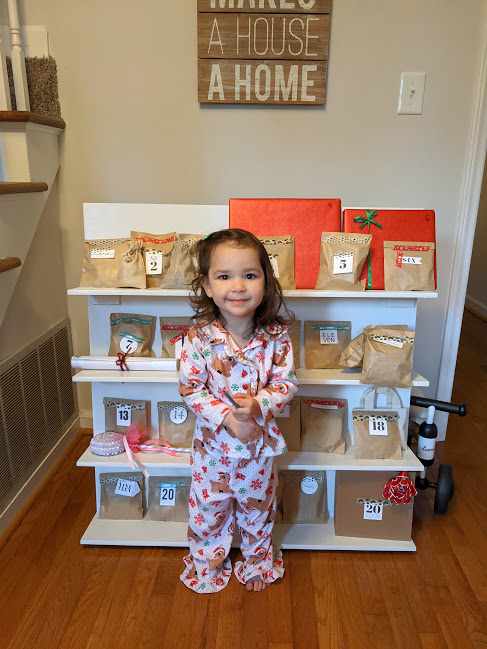 Happy December 1st! I hope you have your Rudolph jammies on for this.
I decided that this year called for more Christmas cheer than usual. Our Lici has been so excited about baby Jesus in the manger and of course all of the animals that were in Bethlehem that night. She's starry eyed over the Christmas trees, lights, reindeer, nutcrackers, snowmen, anything and everything Christmas. Last year we did the Trader Joes's chocolate advent calendar with her which she loved! This year we got her the same since the girl LOVES chocolate and we also went ahead and grabbed Bingley the dog treat advent since we knew Lici would love giving Bingley a treat every time she got one.
Years ago I had big dreams that I'd make an advent calendar for Brandon and I full of sweet things like making popcorn and cozying up by the fire. I also one year wanted us to read a Christmas Carol together throughout December. Though we did lots of Christmasy activities throughout our past Decembers I never actually made a homemade calendar. This year I was determined to finish one for Lici. I started planning a month ago and finished just in time last night! There's so many cute ideas out there it was hard to settle on one.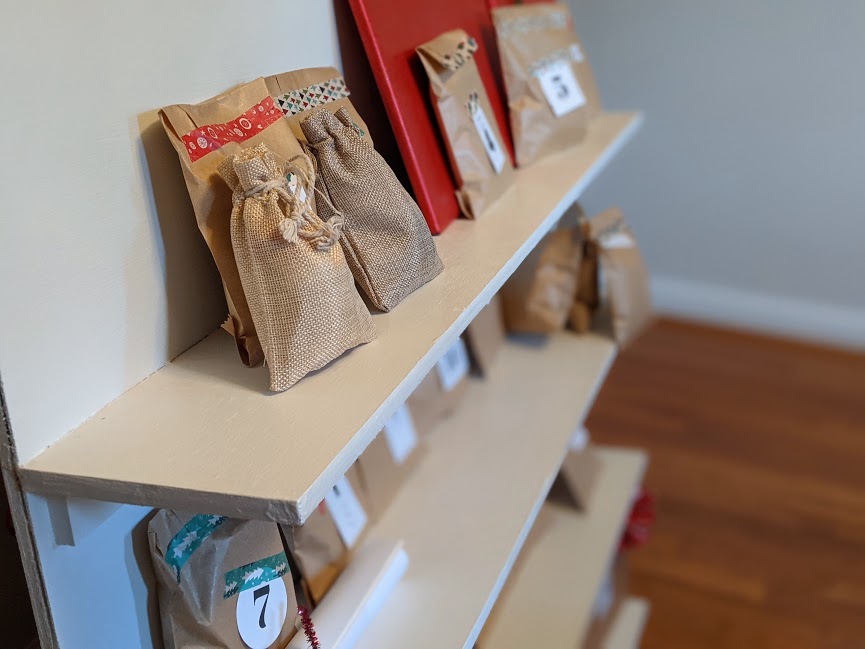 Ultimately I decided to fill treat bags with prepped activities to keep my busy girl busy! They're full of crafts, diy ornaments, experiments, puzzles, coloring pages, play doh mats and kits, books and even snack recipes. I taped them shut with festive washi tape and numbered them with these free printable tags. I was planning to toss them all in a basket but sweet Brandon decided they needed to be displayed and whipped up this shelf for us in one night! I love when we're able to use our skills together to pour love into something special for Lici. I'm beyond excited about this massive labor of love that I finally get to share with my girl!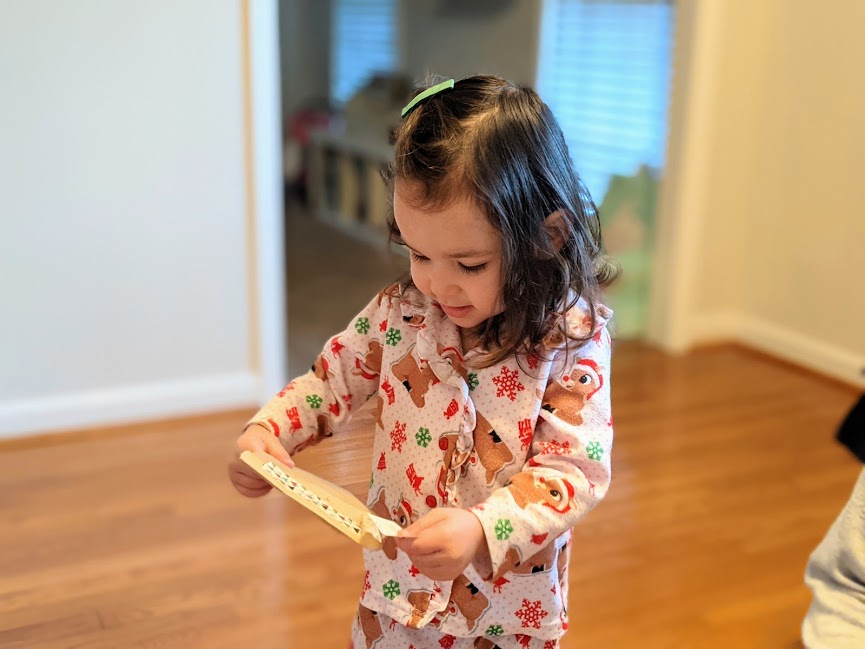 Here's a look at a few activities I put together. Lots of late nights and guzzling coffee while I worked through naptime. I have to admit that I find so much joy in crafting. Watching It's a Wonderful Life while I cut out all of these shapes was part of the fun for me!
I was really excited to find this adorable wooden advent scene at Target, which I added to each bag.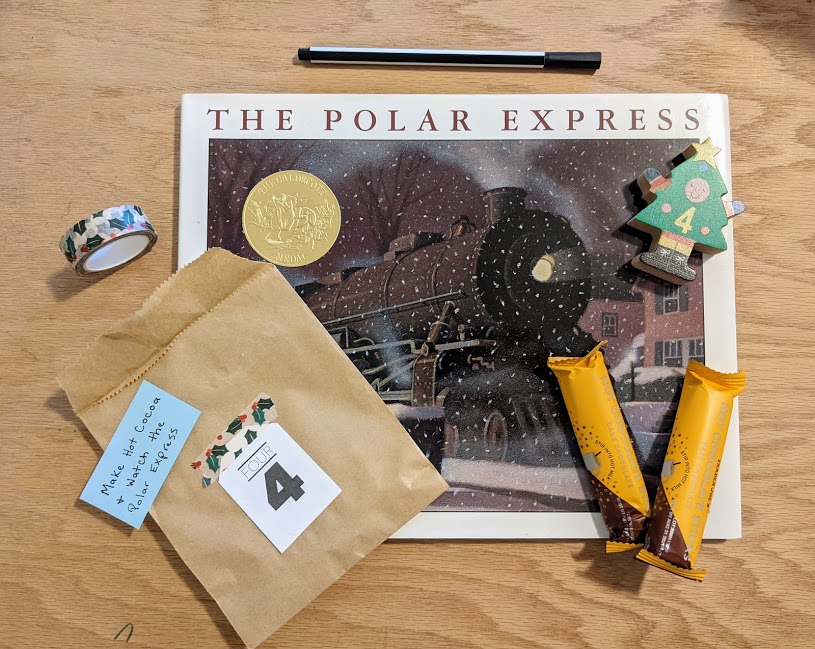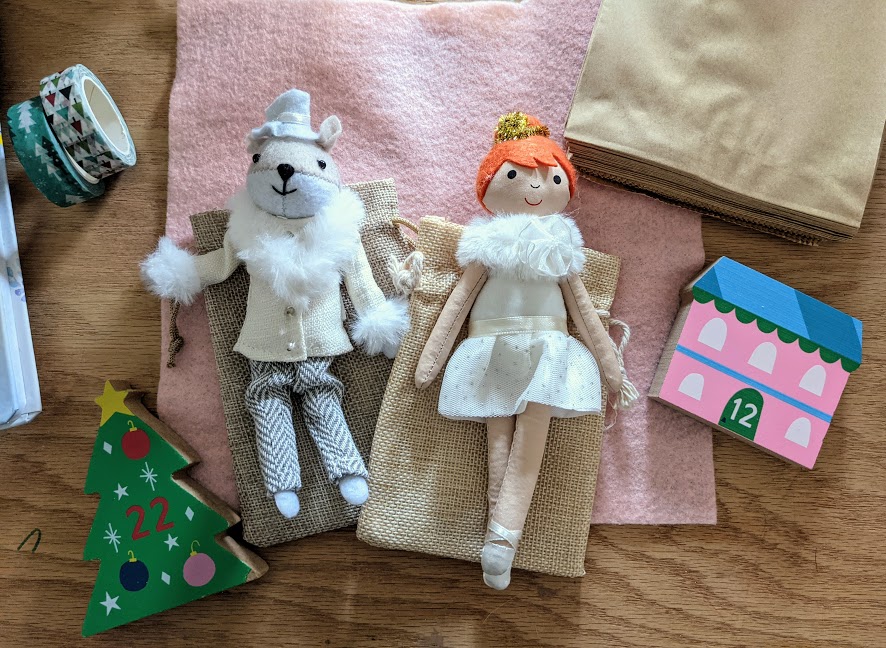 These cloth dolls were another Target find. I'd been looking for a set of cloth dolls for Felicity's dollhouse and found these as ornaments in the Christmas section which turned out to be much more affordable than most cloth dolls this cute! I cut off their string and they work perfectly!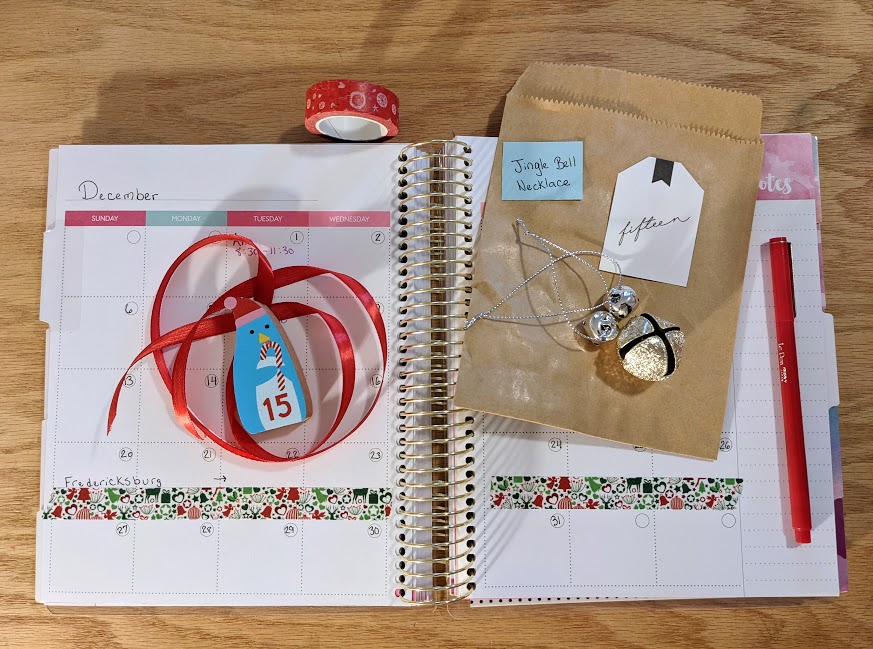 It was so hard not to get overly excited and remember that Felicity is two and has a shorter attention span for crafting. I tried to keep the activities really simple. Most of them involve easy pasting or scribble coloring which Felicity loves to do. I spaced the crafting out between snack making , baking and Christmas movie watching so she doesn't tire of it. Day 3 she will open her baggie to find a roll of Christmas tree washi tape for a little exercise I dubbed the Christmas hop. I'll tear small strips off and stick them to the floor in our entryway for her to hop from spot to spot. She's high energy so she loves stuff like that.. I imagine we'll be doing it every day after upon her request! We'll also stagger some strips for her to do a bear walk across the floor. Except I'll be calling it the polar bear walk 🙂 She gets a kick out of my bear walk demonstrations.
Because we are traveling Christmas week I made sure to package things we could bring with us. The activity for the day we leave for example is Watch Christmas movie of choice in the car. Which will probably be The Grinch or the Little Drummer Boy. Some of the activities have enough supplies for our nieces and nephews to enjoy. Lastly I had to finish it off with a Christmas sensory bin which I hope keeps all of the kiddos busy.