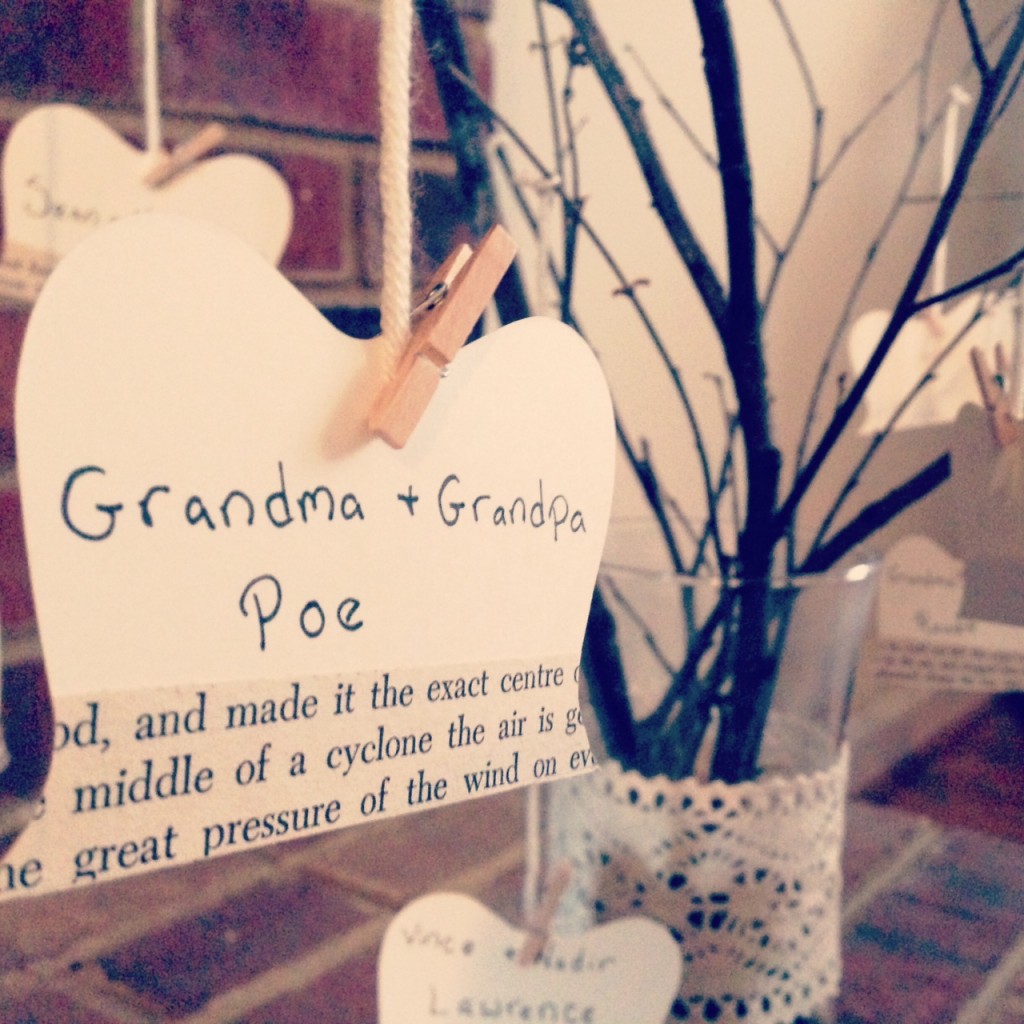 Many families choose have a gallery wall of family photos to display. I wanted to have something that incorporated our family in our home, but also fit well with our rustic theme. I came across this simple family tree on Pinterest.
The best part about this project was that I didn't have to purchase anything for it. Those are the best kind of DIYs. I have so many empty bottles and vases under my sink that I'm saving for some important purpose.Always good to save, you never know when they can come in handy.
Here's what you'll need…
Vase or bottle
Twigs from your own back yard
Yarn or String
Pictures, or Card stock to write names on.
Adhesive
Book Pages (Optional)
Pebbles (Optional)
Clothespins (Optional)
Decorate your vase however you'd like. I added a small piece of lace around mine. Toss your twigs in the vase, breaking off any small pieces that don't fit right. I added small pebbles at the bottom of the vase to help the twigs stay as upright as possible. Then decide whether you want to cut out pictures of your family or write their names on paper. I preferred the uniform look of names on paper. Yes, I am that OCD. The book pages at the bottom of the cardstock was a last minute decision and I love the way they turned out! Old books are also a great thing to keep laying around. There are so many crafts that can be given a vintage touch by adding book pages. If you don't have any books you want to tear the pages out of find out when your library is having a sale. Usually you can fill up a box or bag for chump change. Hit up Goodwill or a yard sale in the spring. My sister is a 4th grade teacher, and she was organizing her classroom's library when she came across a beat up version of the Wizard of Oz. She was about to toss it as I looked on eagerly. Well if you're going to toss it then I'll take it! I said. A nice classic book is always nice to have for craft projects like this because if anyone gets close enough to read the page there won't be anything odd on the cut outI'm speaking from personal experience of course.. If you are using book pages, cut them to fit the cardstock, and glue them together. Then punch holes through and attach the yarn. I used little clothespins I had from when I made my front door frame decor. If you don't have clothespins you can always glue or tie your string to your cardstock or photo. All you have left to do is tie the string to the top of your twigs and voilà! You have yourself a family tree.