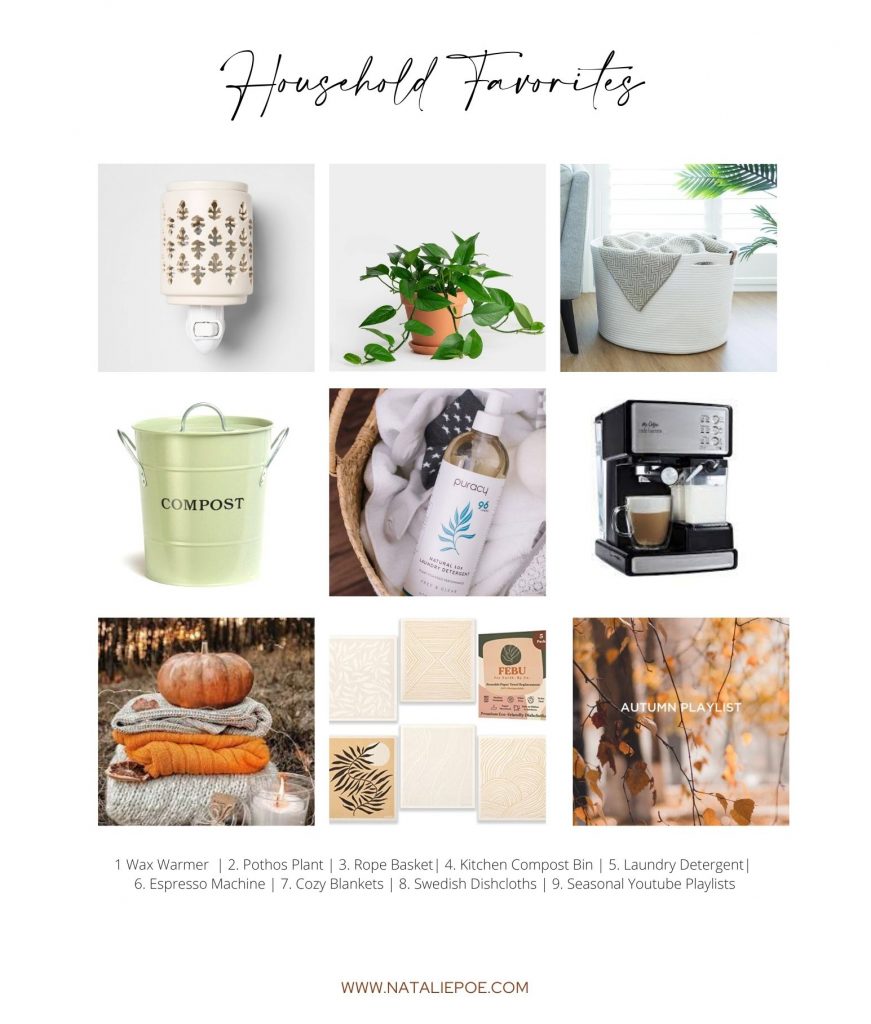 As much as I wanted to throw another set of Fall Favorites at you I figured I'd tackle household faves first. Most of these favorites have been well tested in our home and we can't live without them. Some of them are pretty fall themed let's be honest.
Wax Warmer – I bought this wax warmer in August and love the ambiance it adds to our kitchen in the early morning and evening.
Pothos Plant – These plants grow quickly and they're difficult to kill. I like to pretend like I have a green thumb but really I just have easy plants. I water them around once a week though my sister says I could space that out more. They get morning sunlight and a trim every year when my sister visits, or when Ana thinks the vine is too long and she propagates them for me!
Rope Basket – I have rope baskets everywhere in our home to store anything from yarn, to embroidery hoops, toys and clothes. I love using oversized rope baskets for laundry in place of traditional plastic laundry baskets. I have one that has lasted for a few years and that includes the wear and tear of Felicity jumping in it for a ride down the stairs in the laundry.
Kitchen Compost Bin– We started composting when Brandon built a compost bin in our backyard last year. I love turning our kitchen scraps into worm food! I keep our kitchen bin in the fridge just to prevent fruit flies. Because we keep it in the fridge I just bought this little grey bin from ikea which works perfectly.
Puracy Laundry Detergent – I started using Puracy a few years ago both for it's gentle ingredients and to cut down on plastic waste. This detergent is concentrated and only takes 2 pumps for a medium to large load of laundry. Once I run out, I order a refill for my pump.
Espresso Machine – Any espresso machine you've researched is good! We've had our Mr. Coffee machine for a couple years and it's still kicking, running at least 4x a day. We typically make an Americano (Espresso and hot water) in the morning but sometimes we steam milk for chai lattes or Lici's favorite fall/winter drink, steamed milk with a little cinnamon sprinkled on top ♥
Cozy Blankets – Do I need an explanation here? Cozy blankets just says home.
Swedish Dishcloths – I finally tried these a few months ago! I've been researching more ways to minimize our waste. One of the biggest areas waste comes from in the home is the kitchen. Compost helps with that, however I'd also come to realize that we were going through loads of paper towels in the kitchen. I started using these amazing little dishcloths for the kitchen counter tops. They come in cute prints and the best part is that they are machine washable. You can also toss them in the top rack of your dishwasher. Once they get worn down you can toss them in the compost.
Autumn Playlist – Last but not least I love having a cozy seasonal playlist on the tv, when guests come over, during quiet time, after dinner, when we're playing games, or just whenever you need a little light music to set the ambiance.