Once, I watched this terrible movie where a woman was abducted from a grocery store parking lot. Just packing her groceries in her trunk, and within seconds she was snatched up. I now refuse to go grocery shopping alone, especially at night. I much prefer for Brandon to be with me for many reasons.
Protection (Don't judge me. I have been hit on at the grocery store by meat packing men, true story.)
To keep me accountable from buying junk food.
So he can pick out all of the desserts and juice he wants. (Many a time I have come home with 2 juices in tow.) "Two juices that's it!?" He'll say. "I'll finish that in two days!" The boy has low blood sugar I'm sure of it.
The catch to having Brandon grocery shop with me is there needs to be a list. He speaks of nothing but the list. "Do we have a list?" (while we're on our way) "Where's the list?" (when we walk in) "I feel like we're not getting anything on the list…" (in the store) Well… that's because I just scribbled a bunch of things down so you'd think there was really a list. The majority of it is in my head. This was one of those moments in my marriage when I realized you're spouse is around to keep you accountable, and they force you to be a better person. You don't know how many loving discussions we've gotten into over chips, or string cheese. I finally bit the bullet and decided that if it's important B, it's important to me. I have now learned that the best thing for us to do before we tackle the task of grocery shopping is to communicate beforehand. Go through the house, figure out what we're out of, and write down anything we think we'll want. Steer clear of categories such as 'fruit' and 'snacks'. You'll be in those sections forever! This makes for a happy husband in the storeIf you're as bad as I am, and had him come along., and a much quicker shopping trip.
We recently went to Wegmans when apparently there was supposed to be a snow storm. We had no idea about the storm as it was 50 some degrees outside and sunny. Thank goodness we had our list prepared because I have never been in such a crowded grocery store. At one point I was walking down an aisle and a woman was bent over. She began backing up… several steps… without looking… what on earth? Don't people know not to bend over like that in public? You never know what some weirdo will do to you.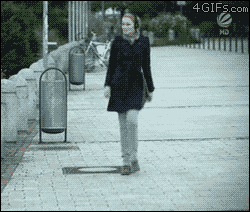 We later walked by a woman with her two preteen children in the cereal aisle. "Keep walking." she said to the kids. They weren't concerned about getting out of the way, they wanted their fruit loops. She proceeded to push the cart… into her children, causing that awful pain in the achilles. You know it, it's happened to all of us. Then you look at the driver of the cartMost likely a family member. and scowl. Apparently the worst side of people is brought out during a 'snowmagedon' or 'snowpocalypse' (which are two words I despise for some reason. Maybe because it's only 4-6 inches of snow and I will be driving the next day?) You are only snowed in for a day people. Do you drink 3 gallons of milk in a day?
Needless to say, we made it home where I was able to witness something once more. The attempt to carry every bag inside in one trip. Why can men not accept that there should definitely be 2-3 trips back to trunk? I can drop off a load of groceries inside, come back out, grab some more, and come back out again to close the trunk by the time he has loaded up one arm.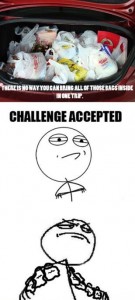 That is seriously what he looks like. An accomplished smile crosses his faces while he trudges into the house. Don't mind the trail of items that have wriggled their way out of that tangled mess. "Here babe." I say motioning for the spot I cleared out on the counter or table. Nope, couch looks like the appropriate place to set them down. Then he'll plop down beside it like "What? I just carried all of that in for you. Aren't you grateful?"
Truth is I am grateful. The dynamic in a marriage is so precious to me. B has his antics, and I'm sure he could tell you mine. Sharing your life alongside someone is such a gift. So the next time your man carries all of those groceries in at once smile at him, and say thank you.