A guide for the bride to be
---
With wedding season fast approaching I've felt an itch to do a wedding series. I figured I'd start out with some honest truths, then we can get into the fun stuff. I have found that there is nothing sweeter than a bride to be. She sighs and complains of her wedding planning as if it's a chore. But deep down she is ecstatic and has been waiting for this day all her life. Yes, I walked around with those bridal magazines that were a total rip off as they are mostly full of ads, and overpriced dresses. But I wasn't ashamed, I finally had the privilege of flipping through those pages, I was going to take it.
Every couple wishes for nothing more than an engagement that's full of sunshine and daisies. But unfortunately as some of us know all too well there are those brief moments where reality sets in. You know reality. That thing that comes along and squashes all your hopes and dreams. Nobody likes him.
When the love of your life becomes your Fiance you refer to him as such with perfect annunciation. You gladly retell your proposal story over and over while you hold your left hand out to be admired. You've decided where you are going to say your vows, decided what you will wear. And you've experienced all of those moments in between where you said yes, and made important decisions with your soon to be spouse. I would love to say that I took the time to sit back and cherish all of those moments. But no, like most brides to be I was completely overwhelmed. Mr. Reality crept his crummy little self in.
[Now Pause] You should know that I often find myself needing to share the thoughts people just don't talk about. Say what you will, but know that I cannot stop it. I have an unquenchable thirst to be a voice for the weak, and silent. An honest voice for those who are willing to listen.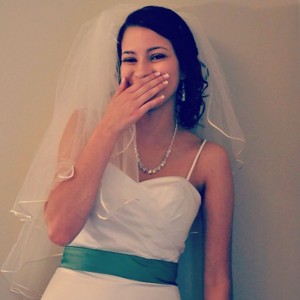 As planning commenced for our wedding I proudly stated that my mother would walk me down the aisle as if it didn't bother me. I hadn't spoken to my dad since before I graduated high school. He hadn't even met Brandon. But secretly I felt just a bit sad all the way to the aisle that I had no Dad around to walk me. I'd love to say that our wedding was all planned flawlessly, and I got everything I wanted. But I settled for my dress, because it was the only one in budget. I cried after my bridal shower, because I had a head cold and felt so ill, all the while trying to smile. I felt blessed to have so many women shower me with love but I was so exhausted by the end of it all I didn't know what else to do but cry. I hauled all of our gifts into the apartment while Brandon watched happily, and once I saw him I just lost it. One night I even panicked, and desperately considered elopement. Bride to be, don't fret. Reality gets to the best of us, and I'm pretty sure most couples consider elopement at some point. Back me up?
By no means do I share this information for pity. I write this post for those who are desperately attempting to piece their weddings together while plans crumble, and dreams are simplified. People will let you down. Things will fall through. Limitations will close you in. Don't lose sight of what your wedding is all about. How you and your Fiance handle those situations will show how the two of you will handle such shortcomings in the future.
So dear Bride, it doesn't matter what you wear, or who is at your wedding. It doesn't matter what comments have been made, who you are possibly offending, or whatever fell through. It doesn't matter that a bridesmaid let you down, or your hair was not what you pictured. What truly matters on your special day is who you say your vows to, and why. You know this, I'm certain you do. But do you believe it? Because beautiful bride, if you don't you should.