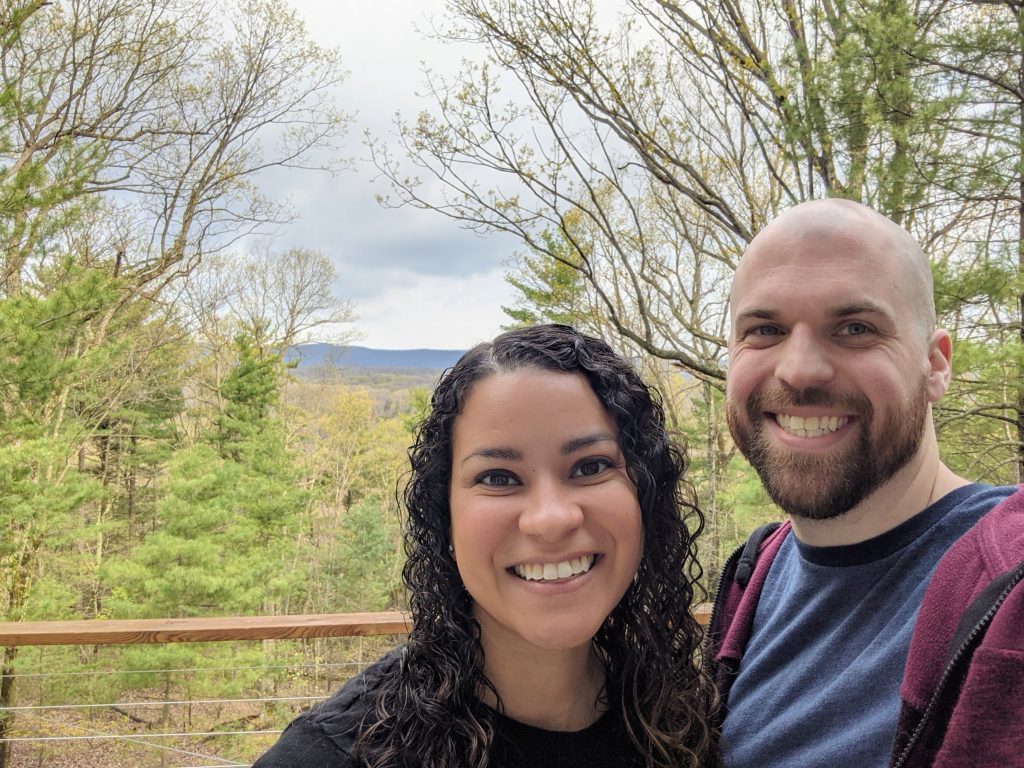 Brandon and I can officially say we've been married for a decade on Saturday! We grew up together, built a life, went through some hard stuff, good stuff, grew a family and we continue to grow together and be blessed by our marriage daily. We celebrated a month early and went to Mt. Jackson VA for a cozy cabin retreat. For the first time ever we both separated from our dear girl for 3 restful nights! She had a blast with her Nana and Grandpa. We're so grateful that we had this opportunity to sneak away and give the Poes some quality Felicity time. Her cousins came over after her nap each day to play. I know that she cherished that time together because the next couple weeks after we got home, when I lay her down for her nap she'd say, "Aunt Ashley, Mason and Everett coming?"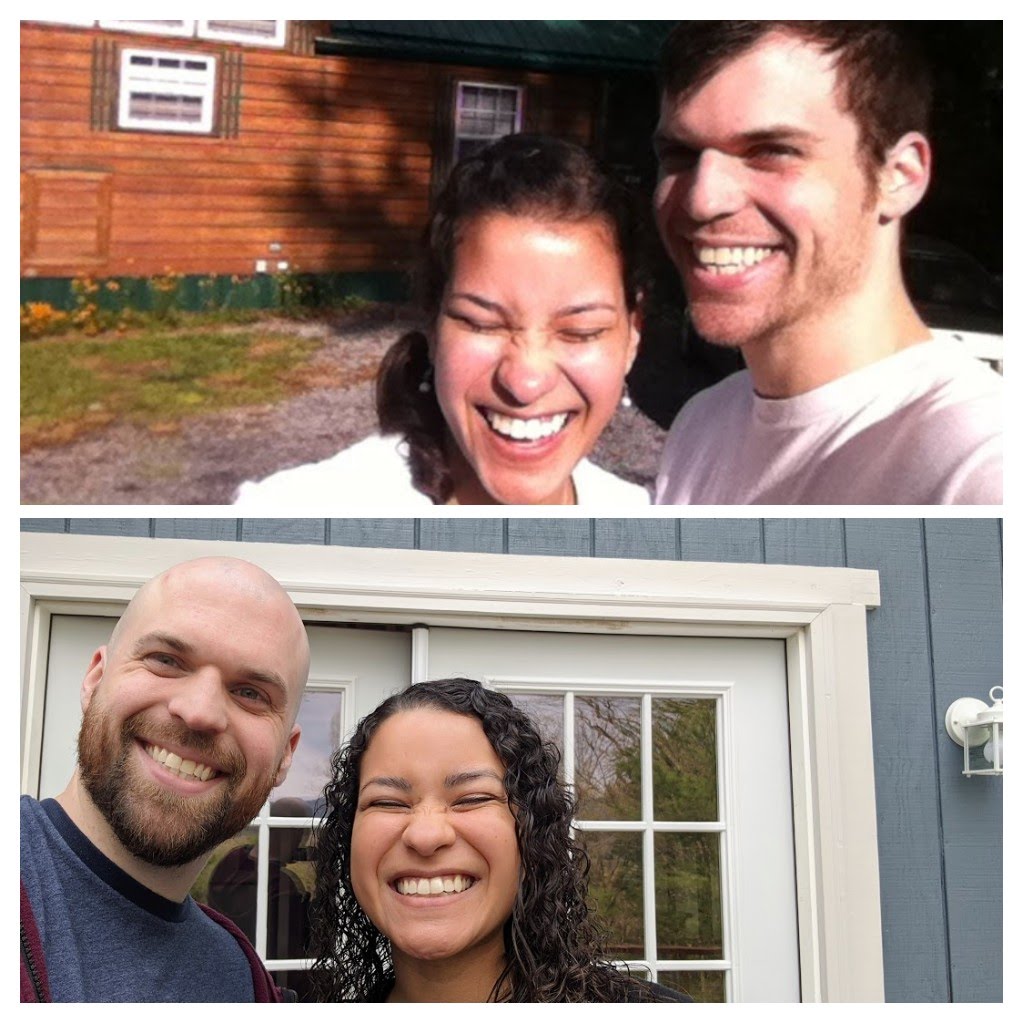 Can't resist a 10 years later photo! The top photo is from our honeymoon!
---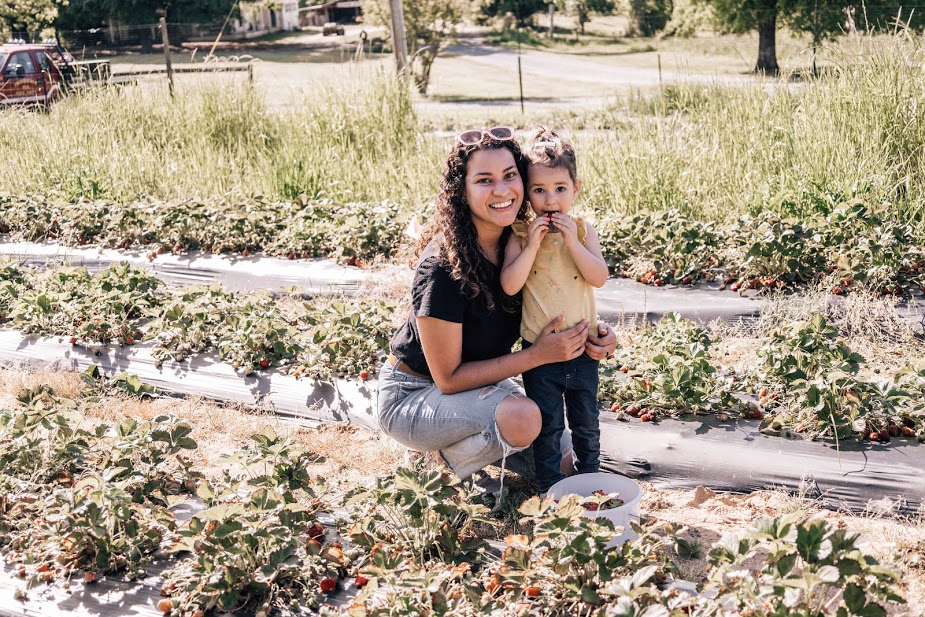 We took Felicity strawberry picking one afternoon in April at Hunter Farm, a few minutes down the road. She loved picking berries and eating them! We so often wrestle with the idea that she would make such a sweet farm girl. But alas we love our house in the burbs. After we picked strawberries we picked up some angel food cake and whipped cream. Felicity pulled her learning tower right up to the sink at home to wash the strawberries and we put them on our angel food cake for dessert. I loved sharing that small farm to table experience with her. Moments like that remind us to slow down. It's so important to remember where things come from and the work that goes into things as simple as our food.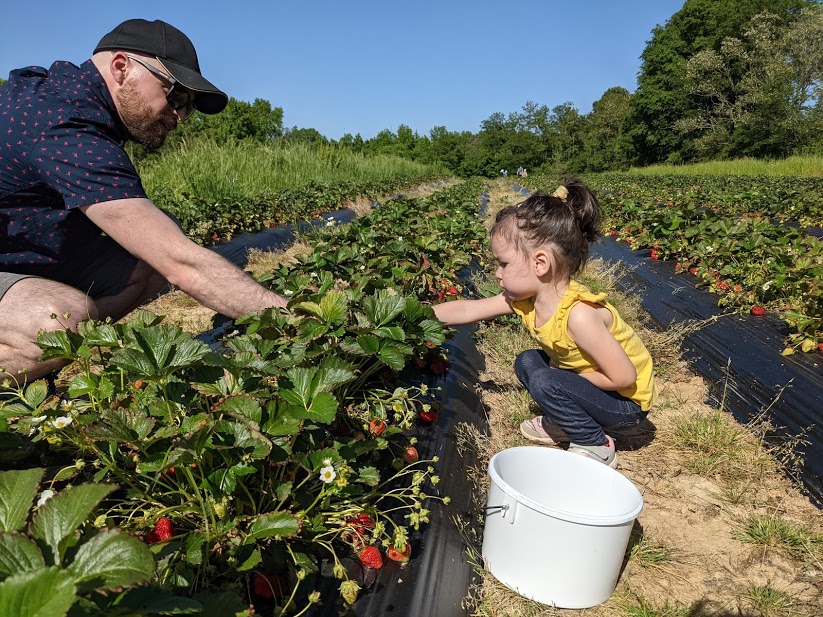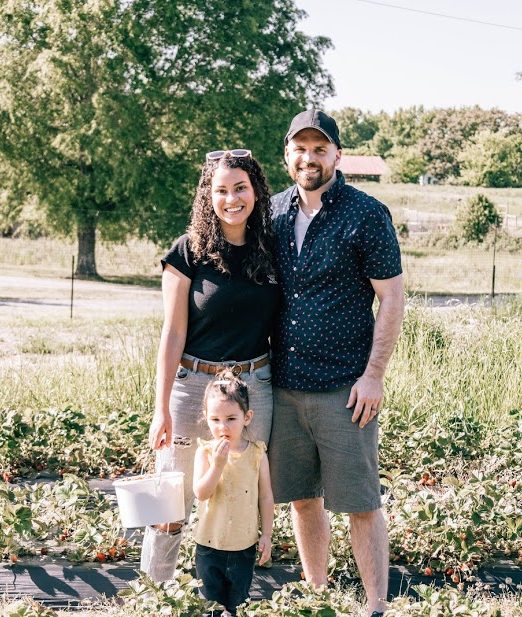 ---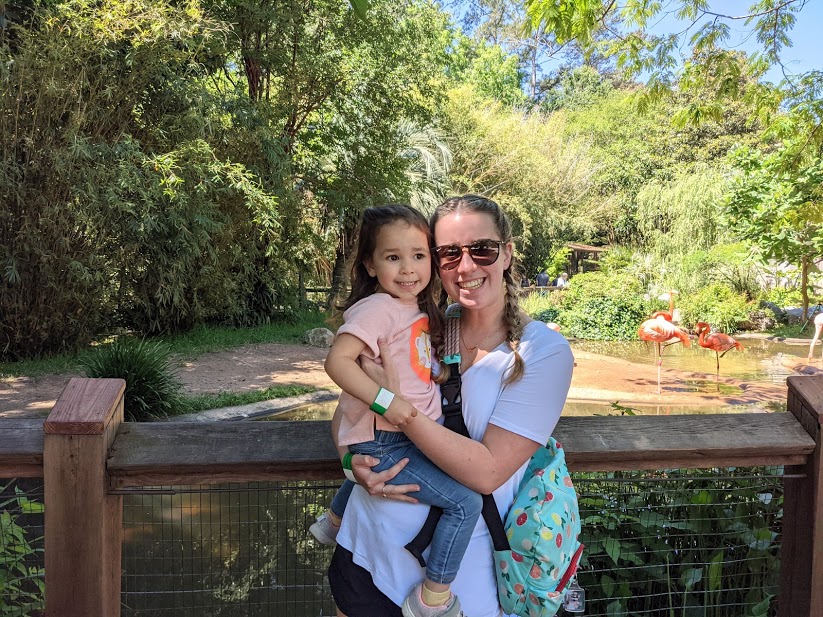 We brought Ana to the zoo last Friday. Lici loved having both of us there, squealing up and down for Ana to pick her up. She was so excited to show off her favorite animals. For many years I shared my experience as a nanny. I had no idea that one day I would end up sharing my experience on the other side, having a part time nanny of our own. Ana has been an angel with Felicity. Often I drag my laundry basket downstairs and the two of them are baking in the kitchen. She wrangles Lici on the playground and has poured so much love into her. Felicity is either beaming or worn out by lunchtime!
Felicity is registered for preschool this fall 3 days a week. In effort to get her around more kiddos, after a year of little socialization, we're putting her in summer camp a few mornings a week at her preschool. As much as we know this will work well for Lici I'm having the hardest time with the transition. This has been our schedule since the end of last year. Ana entertains Lici Tuesday and Thursday mornings while I do my devotional, yoga, clean, grocery shop, blog, and work on things for my shop. Brandon takes Saturdays to work on house projects or catch up on life stuff. Sundays we grab donuts, listen to a sermon in the car, do Felicity's bible story coloring book when we get home and have a family day.
I struggle with transition. I was terrified of Charlotte when we first moved here. When I stopped working for the Coggins family and started working for the Ervin family I cried and had a difficult time adjusting. It took time for both of those big transitions to really feel comfortable. In effort to keep Ana in Felicity's life she'll still be our go to babysitter. I'm grateful that when she is available she's willing to still care for Lici an evening a week while Brandon and I go out for a date night. Which is something that we have been missing for so long. You may catch us even just walking around Target. Alone. Not picking up a flip flop that Lici threw out of the cart. Maybe we'll be holding hands, maybe we'll be giggling like our younger selves with our new date night freedom. As a former nanny I feel quite lucky that my daughter is able to have that extra person in her life to nurture her and help her grow. We love you so so much Ana!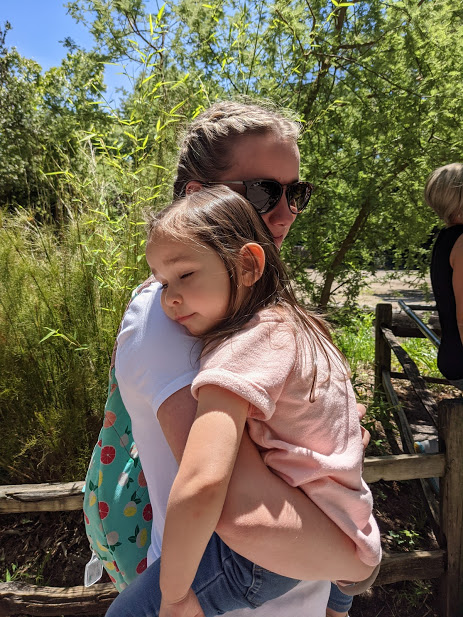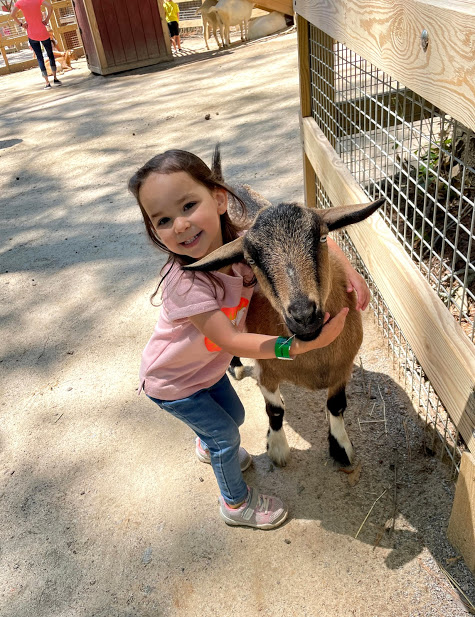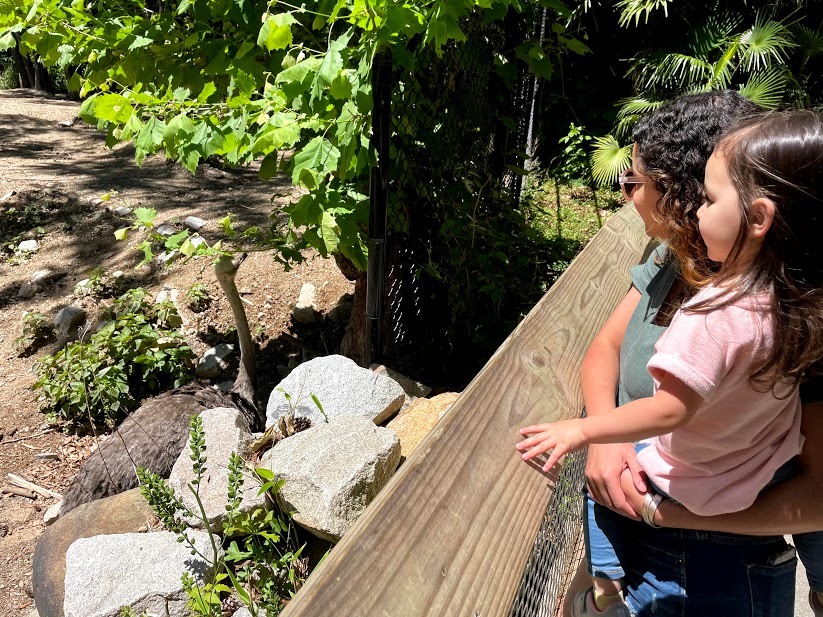 ---
Brandon is officially the king of house projects. In the past couple of weeks he's built Felicity a bed frame, installed a new fan and put wall paper up in her new forest big girl room. With Ervin's help he replaced our counter top and sink in the kitchen. He also scraped the popcorn ceiling off in Lici's old room!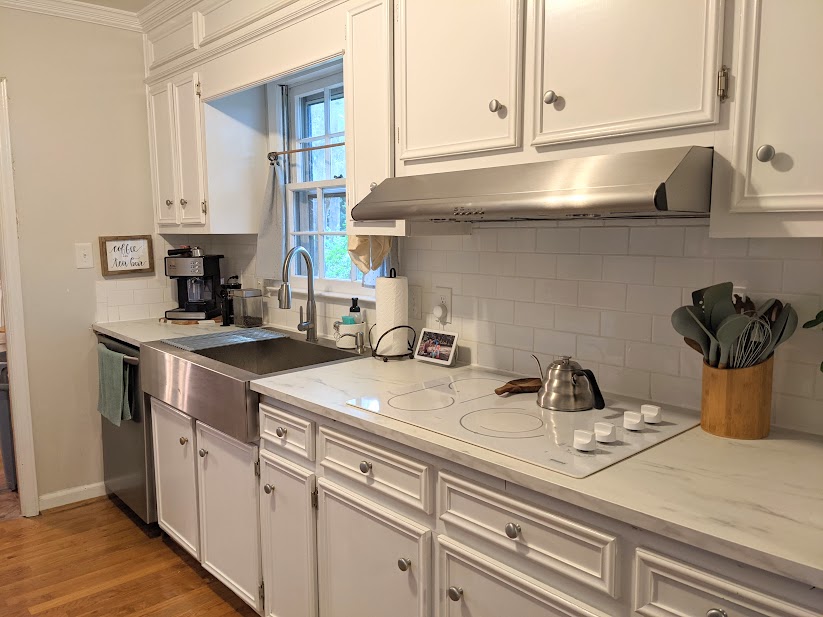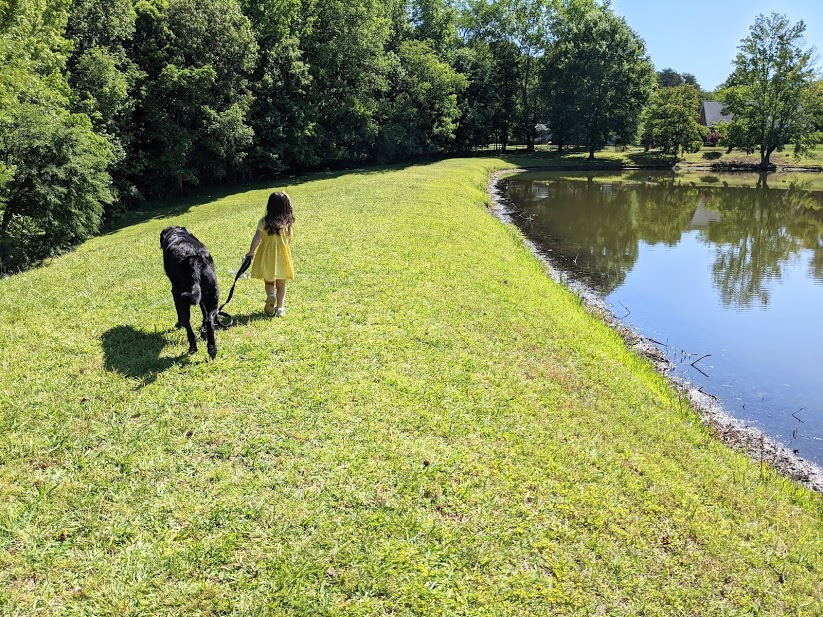 I usually walk Felicity up to the neighborhood pond while Brandon is working on house projects over the weekend. She's taken to walking Bingley all on her own around the pond. Bingley often looks back at me to make sure I'm still there. Even he knows the two of them can't be trusted on their own.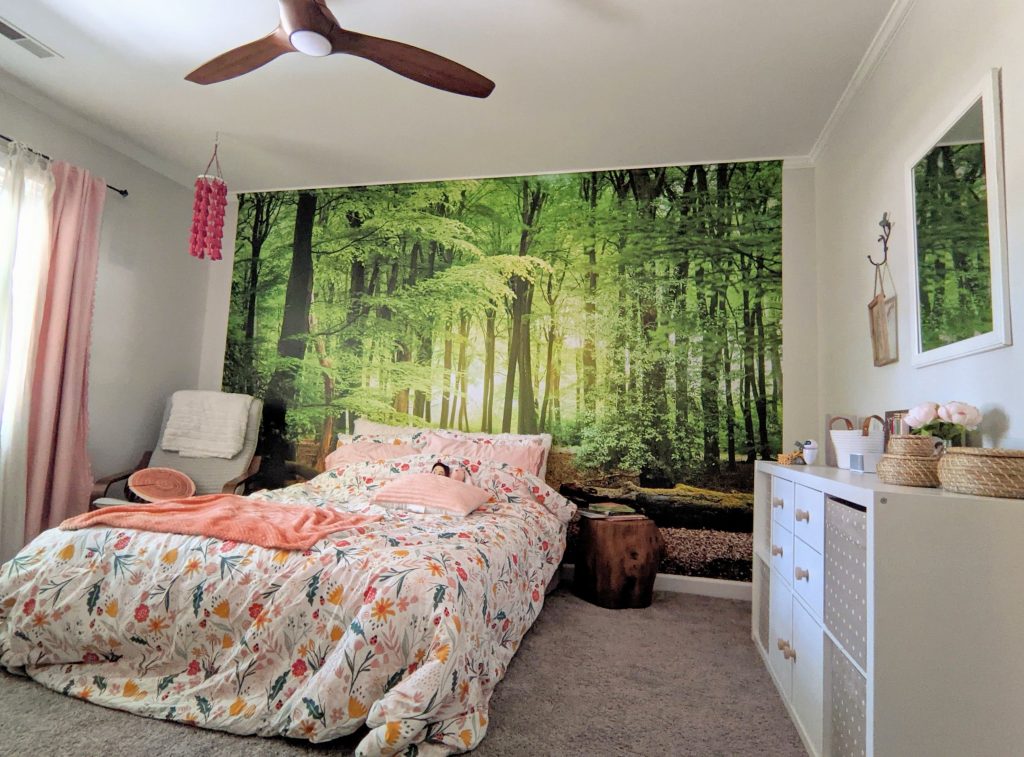 Lici has been telling everyone about her new bed that has bugs in it. Her comforter has a flower, leaf and ladybug print. So, she's not completely wrong, there are bugs on her bed. She's been doing great in her new room, we're all in love with how dreamy it is! She's growing up so fast I can hardly handle it. It seems like I was just zipping her up in her swaddle as she closed her eyes to sleep, now we snuggle up in her bed together to read bedtime stories. Each night we say a prayer, usually about how grateful we are for everything we did that day. She's sure to add things if I forget. "And for the trampoline" she'll say after an evening jumping on the neighbor boys trampoline. "And for Ana." on a day when Ana spent the morning with her. Plus we always pray for God to keep her safe and help her to be obedient and have a good rest.
---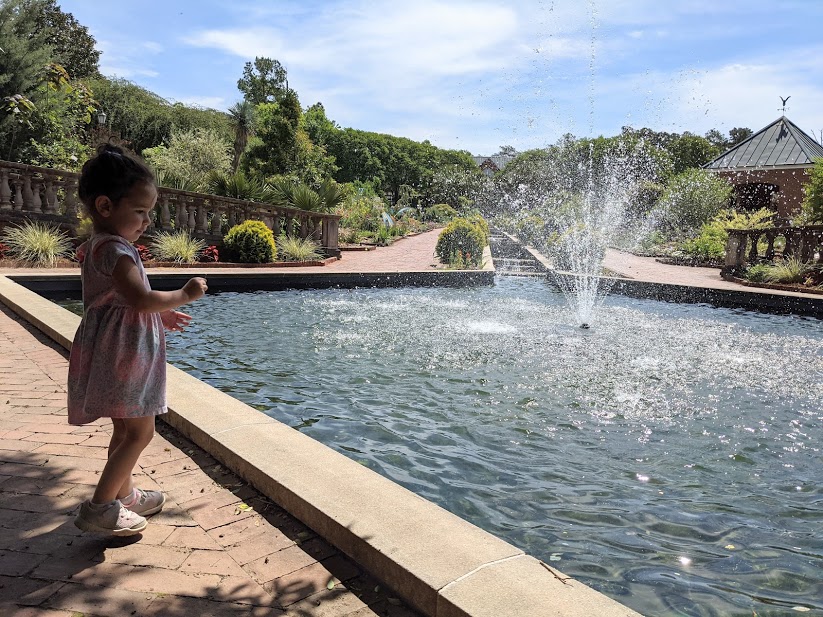 Felicity is still full of energy as she quickly approaches 3. She insists that she can do everything herself, from getting dressed to putting her shoes on, buckling her seat belt, going potty, opening wrappers, locking Bingley in his crate, anything and everything over here it's, "I do it myself!" I'm trying to focus on the fact that it's great how capable she is now. She can get her own plate, help me put dishes away, put her clothes in her hamper etc. It's just that sometimes we are in a rush, and we don't have time for her to do literally everything herself. We're trying to teach her that though we're proud of how much she can do, it's ok to ask for help. We tell her that even Mama and Daddy help each other. But toddlers need lots of convincing so meltdown after meltdown it will be for a while.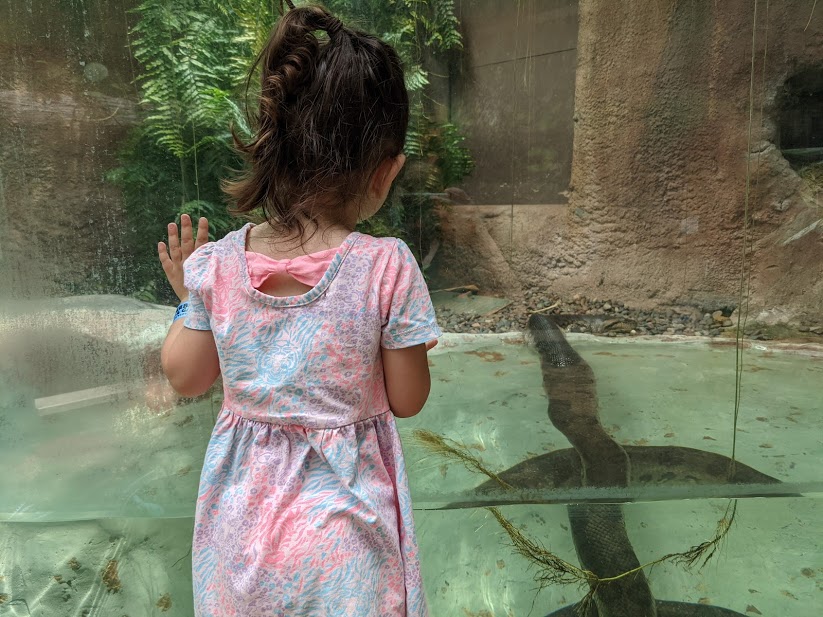 She still adores animals and I believe always will. Our family is currently obsessed with the Irwin family. We can't get enough of the show Crikey! It's the Irwins. We excitedly sit together on the couch to watch a new episode and see what's happening at the Australia Zoo. One evening when Lici saw Robert swimming with a reticulated python, she ran to get her library book. A coiled python graced the cover, she opened up to the page with a reticulated python, "LOOK!" she shouted. "Yea! It's the same snake!" I told her, fascinated by her ability to recognize the snake's pattern.
I recently read Steve and Me, Terri Irwin's memoir written just a couple years after Steve's death. He was incredible, they are incredible. Her story was gripping, heartbreaking and a comfort all at once. She often mentioned that when they were apart from one another they felt vulnerable, that Steve had an unmatched work ethic, as if he was trying to work double time for he knew his days were numbered. "Steve lived for wildlife and he would die for wildlife. He came by his convictions sincerely, from the bottom of his heart… he was my hero." She wrote. It seems like they both sort of knew deep down that what Steve did for a living could cost him his life. Conservation of deadly animals is quite obviously dangerous. But to him it was worth the sacrifice. He had a heart for people to fall in love with animals, for he knew that falling in love with them would cause people to save them. He didn't want to end whaling by showing what a grotesque practice it was, he wanted to end it by getting up close with whales, bringing them into our homes, teaching us about them so we would fall for them as he had and advocate for them.
We've also started watching old episodes of the Crocodile Hunter. "Isn't she gorgeous?" Steve said about a tarantula one episode. He crouched in the middle of a cave admiring this arachnid, I mean truly admiring her. His loss was a sad one for so many people, I know this is old news but, we're just in awe of the Irwin family and Steve's legacy. It's been fun to share the Crocodile Hunter with our own little animal lover and teach her that he is helping animals. "They're bad guys!" Lici said one day concerned when Steve jumped a croc. "No, no, they're good guys!" I said. "They're helping the crocodile. They're going to learn about him and let him go." She was reassured.
Feeling inspired, Lici and I came up with this crocodile sensory bin for Lux. In honor of the crocodile hunter himself we named one Steve and one Wes after his best mate. Coupon code CRIKEY15 for all of you faithful readers ♥ I can't believe you made it to the end of this post!