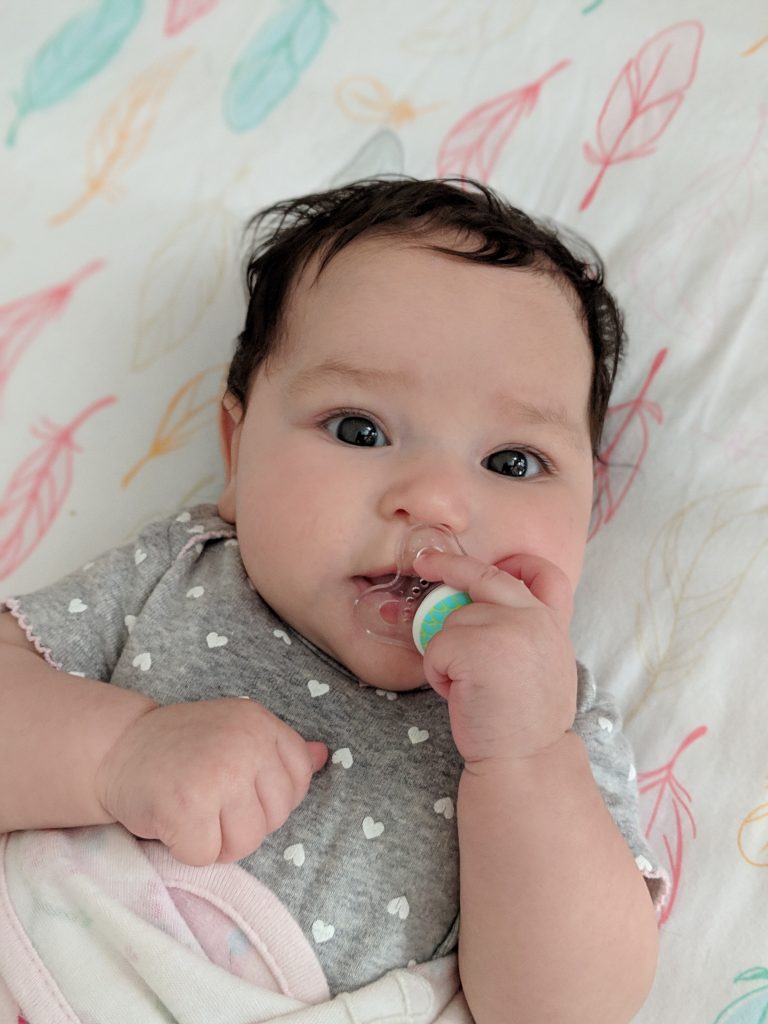 Look who's three months old!
Felicity has learned how to grasp things now. Anything from a rattle, to her pacifier, her bib, or my hair. She laughs but you have to work real hard to get one out of her. She gives out smiles often if you make a silly enough face. She's most talkative in the evenings after a bath. We babble about our day as I massage lotion on her. I can only imagine she is explaining everything she saw and did that day so I take the time to rest my elbows on the changing pad and listen.
She wears mostly hand me downs from her older cousins which is just fine in my book because I still wear hand me downs from my sister. She loves to sit up and stand up. Everyone always comments on all of her hair. The poor girl has my curls and cowlicks. Headbands make them worse I promise you. She's curious about this world outside the womb and I love watching her explore. In the afternoon light we catch the shadows dancing on her dresser. When she's getting restless we throw a ball for Bing. She loves watching him run past. She also loves flying around the house with Brandon.
Monday we were browsing around The Home Depot as usual, this time in search of extra large trash bags. We have about a bagillion gorgeous old trees in our yard. Brandon has his work cut out for him with the leaves this fall but he had an excuse to buy a fancy new leaf blower and I think that's always exciting in a man's book. Felicity and I were seeking entertainment in our evening hours this Monday night so we sat out on our front steps. Felicity wore a cotton white dress patterned with pink roses.
We watched Brandon blow the leaves around the yard. Felicity was perfectly content! She either loved the sound, or watching the leaves blow around, or sitting in my lap, or maybe even all of it all together.
Moments like this one make me want three children or four. Three and two dogs? I don't know. It's been three months and I'm already imagining more.
This time we're in right now, it feels like my peak. I'm on the cusp of my dream of being a stay at home mother and it's already going by so quickly.
Suddenly I want lots of children. I can imagine holding a babe with a paci in their mouth while I rinse off the lunch dishes one handed. I go to clean off a toddler's face from lunch. Preparing a snack for Felicity before she gets off the bus and bringing up soup to the little one sick in bed. Too much? My sisters say I'm the dreamer of the family. Perhaps they're right. We'll probably have two and be quite settled. But maybe our hearts should always be open to more children whether they are ours or not.
I came here to talk to you about growth spurts. I got derailed.
We were browsing the Home Depot. Grabbed our trash bags and slipped into the Local Scoop. Our ice cream shop conveniently located outside of Home Depot. A woman with a 2 year old girl asked how old Felicity was. "Three months in a couple days." I replied. Then I ordered a scoop of birthday cake and a scoop of dutch chocolate ice cream.
She said "Oh, that's right around cluster feeding time." I laughed not really thinking about another big growth spurt. One day shy of turning three months old Felicity laughed for the first time. The next morning three months old to the day she CLUSTER fed. Like clockwork. We sat down for nearly twice as many feedings as she usually does in a day and hardly slept. I'm glad I heard that woman's warning before this day hit because I would have been out of my mind. I was pinned in the nursery all day long. The growth spurt lasted the whole week before she started to trickle off. Every two days or so she'd take a solid day to take long naps. Stock up, then sleep.
Currently Felicity is going through another leap in her mental development. For a few days she was a little more fussy. Awake most of the day and night which left Brandon and I completely exhausted. I spilled coffee on her pants. Don't worry it was lukewarm coffee. Come on, when was the last time I actually enjoyed a full cup of hot coffee? It's been a while. I also told her 'Bless You" when she spit up. I was all out of sorts. We aren't used to being awake at night anymore. It's all normal and we're reminding ourselves that it means she's a healthy growing girl.
She went from sleeping 10-11 hours at night to 6-8 at a time. She's been slowly getting back into her rhythm. But I'm anxious for the 7am wake up to return instead of the 4:30am one. This morning after I tried putting her back to bed several times I pulled up the sheets and threw the monitor on Brandon. Oh man. No one has nice words to say after sleepless nights. I'm really grateful that we can laugh at each other's actions over breakfast instead of holding a grudge.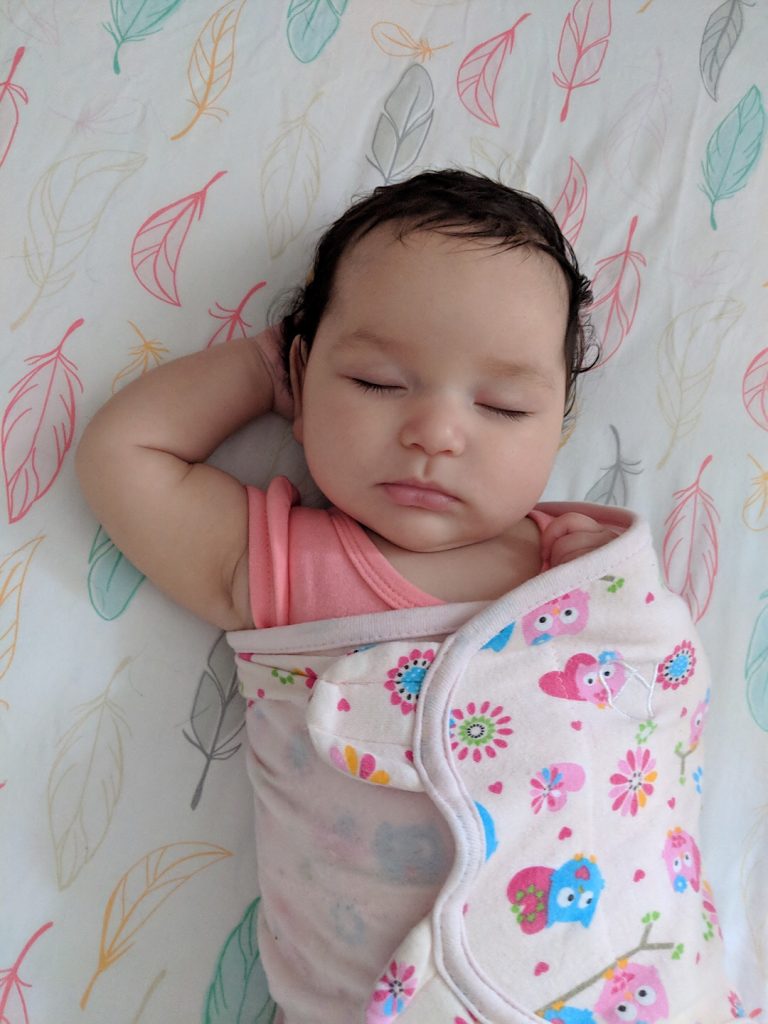 Before I leave you I wanted to mention that there's an extra chair in our nursery. We didn't plan that it just sort of happened. Partly because I felt bad that Brandon would lay on the floor during middle of the night feedings and partly because we had so many visitors when Felicity was born. I wanted everyone to have a comfortable place to sit. Sometimes the chair is occupied by a friend. Sometimes it's family. Sometimes it's even Bingley. At night it's usually Brandon. He'll sit there while I feed her before bed. I put her up on my shoulder to burp her. Every night Brandon turns the sound machine on, turns out the light and asks if I want him to take her to place her in the crib. Every night I press my cheek against her forehead. Rub my hand on her back. Her hand is curled up by her face. I tell him no. That if I put her down to sleep she'll grow. Then she squirms and I pop her in her swaddle before she wakes.
I love our extra nursery chair. It represents how much we need people. Every time I look at it I think of every person who has sat there. All the encouragement they've given. All the smiles and love shared. I can't help but think everyone should have a second comfy chair in their nursery. It's proven to be just as important a piece as our glider. You always need someone to sit with you. That's my philosophy.