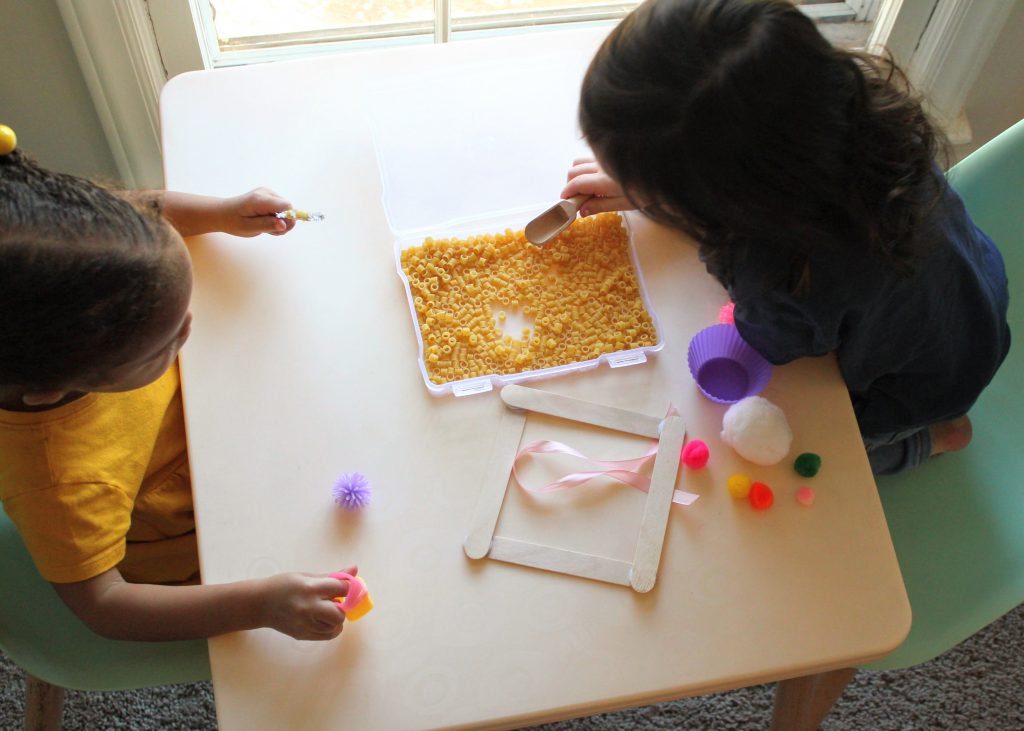 I'm giddy to share this exciting news! Many of you dear readers already know about this new venture. On February 28th I opened an Etsy shop! It's been a dream of mine for years! I have so many hobbies and such a love for multiple crafts, that I was never quite able to hone in on one. Last year when I was discussing this dream with Brandon he said, "Why don't you put together sensory bins?" The only trouble I had with his question was, why didn't I think of it first!? As you may have seen here, and here, I love putting sensory bins together for Felicity. Once during a playdate, a friend's kiddo asked, "Where is that box with all of the Easter eggs and stuff?" I was surprised that he remembered Felicity's Easter sensory bin. It was mid summer and I had since put it away.
I was first introduced to the complexities of the sensory system when I worked as a rehab tech at the Children's Hospital of Richmond. My time there was brief as we moved to Charlotte only 8 months later. But I learned a ton about working with children with disabilities and sensory processing disorder. My altruistic heart thrived while I stood alongside physical, speech, and occupational therapists and their patients. Under their guidance I gained loads of knowledge about the importance of integrating sensory for development. When I became a nanny soon after to two boys with Fragile Xa genetic condition that causes a range of developmental struggles including learning disabilities and cognitive impairment. I quickly adapted to Caleb's sensory sensitivity and Ryder's sensory seeking nature. Caleb preferred to get into comfortable clothing the minute he got home from school and he'd often choose long sleeves and long pants for himself. Ryder on the other hand loved tight hugs and crashing into things, sometimes even his brothers. Sensory seekers like Ryder are often labeled wild or high energy. They'll do anything to get that proprioceptive inputProprioception is the body's ability to receive input through receptors in the skin, muscles and joints, and transfer the information to the brain through the nervous system so that the body can sense itself. Essentially it is the sense that tells the body where it is in space..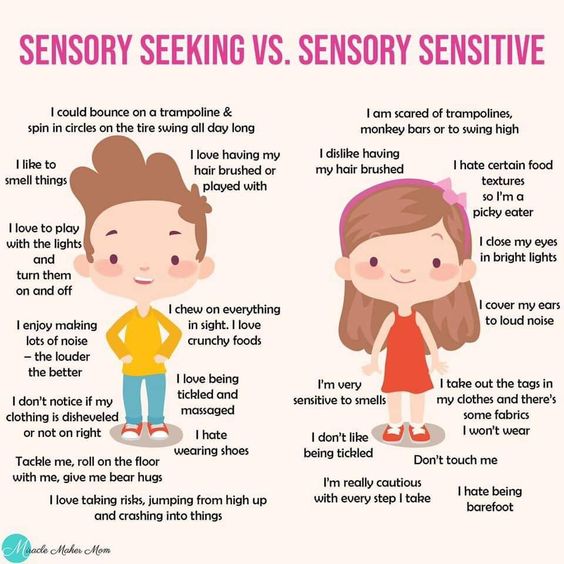 Felicity is a sensory seeker. She loves discovering new textures, tight squeezes, heavy work, and anything that involves being active. We often call her a daredevil because jumping from her dresser to her glider is completely natural to her. Though these daredevil acts are not exactly encouraged, Lici often finds her own ways to get that input that her body needs to feel balanced. I'm constantly brainstorming safer ways for her to get that input, but when those activities are lacking you can certainly find her stomping both feet at a time down the steps or pushing a laundry basket around the house that I did not need moved.
I think it's important for parents to understand the sensory needs their child may have. Meeting these needs can help children be their very best! Not to mention a child may be labeled as something that they're not necessarily. The girl who seems hyperactive may just need more appropriate proprioceptive input. The boy who has "bad" behavior, may just need assistance with sensory integrationinvolves specific sensory activities to help a child appropriately respond to light, sound, touch, smells, and other input. Generally offered by a trained OT. The kid who seems like a picky eater, may simply have some tactile defensiveness.the reaction that occurs when someone is very sensitive to touch There are a multitude of reasons why children may struggle in these areas, some even genetic, however sensory can be a part of it, and I think sensory is worth exploring because like any big problem there is no solving it until you are at the root of it. I believe that there are many struggles children have that may be sensory related and some parents may know absolutely nothing about it!
---
I'm not a professional. Though I have worked alongside OTs and done my fair share of research on the sensory system I am mostly speaking from my own experience as a tech, nanny to children with multiple sensory needs, and as a mother. If you feel that your child may have some sensory red flags, I would highly encourage you to seek an evaluation with an Occupational Therapist. I am happy to answer any questions you may have to the best of my ability.
I am simply someone who has seen the difference that the right sensory diet can make. I truly believe that the sensory activities I have done with my daughter have catapulted her development. Plus, they're just good fun!
---
Felicity and I brainstorm ideas together and Brandon often discovers new ways to play with everything that I would have never thought of! I throw some ideas together like creating patterns with our poms and Lici comes up with ideas like throwing feathers in the air. The bins are so versatile, kiddos find endless creative ways to play with them. To get a jump start on play, I've added a companion web page for my larger bins, with ideas on what to do with everything. I know it may just look like some jingle bells and bubbles in the baby bin, but I share some great info on language development and other skills that the baby bin can help with.
This new venture has developed into not only a shop, but a resource center as well. As much as I love creating I also love sharing my experience, which you probably know by now! Brandon helped me build an amazing website where I'm excited to share more info and some sensory tips. I don't know everything there is to know about sensory, but I'm quickly learning and eager to share our experiences. I'm here to help those kiddos, who are struggling to communicate what their needs are. I'm here to help those parents, who are exhausted. I'm here to share my experience to help you and that friend you know with that wild kid, with that picky eater, or maybe just for some easy sensory fun!
I've added a newsletter signup to my website which I'm so excited about! Lici and I are often finding new sensory activities to do, so I figured, why not send out a cheery monthly email to brighten your inbox with our latest sensory activities? Plus I'm throwing in some freebies and other resources I've come across just to make your life easier! This is great for those who are new to sensory play and looking for more info on the subject. It's also great for anyone who's simply looking for some fun activities to do with their kiddos. Summer break is fast approaching after all! Go sign up!
Since my shop has opened I've become much more emotional than I expected. I'll admit that it's nerve wracking to put these ideas together and then watch to see if kiddos will enjoy them. When they do, my heart could burst. When they start shouting out colors and naming things, giggling over the tickling feathers and staring in wonder at the bin before them. I could cry every time! The more I talk to people about what sensory play is and the more they ask questions and share their own struggles, the more I feel the pressure to push my shop in the right direction. I hope that through Lux Sensory I'm able to meet the needs of children and help parents. I have such a heart for children's development, which is a strange thing to type out, but it's true!
The inventory for my shop sits in the closet of my craft room, in separate containers, as protected as possible from our pets! I often open the doors and pray over everything in there. That God would use me, that He would spark my creativity and use everything in front of me to help the children they're going to. I have already seen God bless this venture so much and I'm grateful to everyone who has helped make this possible.
---
Commence the thank yous! This would not have become what it is without all of these wonderful people. To Brandon for planting the idea in my head, sacrificing so much of his time to help me. And streamlining my spreadsheets to make keeping track of inventory easy! Thank you to my wonderful friends Jamie and Chelsea who allowed me to photograph their beautiful daughters for my site. Thank you to my Mom who encouraged me to look into ASQ

ages & stages questionnaire

child development. To my Mother and Father in law who helped me brainstorm shop names! To my sister Nem, who is the ultimate cheerleader and encouraged me when I felt unqualified. To my sister Nadir who taught me all there is to know about Etsy and answered at least 100 of my questions. To my Aunt for my very first sale. To Ana, our two morning a week nanny who has kept Felicity entertained while I brainstormed, photographed bins, researched and wrote everything up for this business. To Sarah, the Occupational Therapist I worked with who sent me some wonderful resources. To my nanny boys Caleb and Ryder. To Jack who had a million questions about the world which encouraged me to make my first sensory bin with his dinosaurs. To all of you readers for reading this to the end! Thank you for coming along with me on this journey. Musings is still my happy place and I plan to still share here often.

Please feel free to share my page with friends and family⇓ or share this post. I would so appreciate it as I pray this reaches as many people as possible. Also, favorite my Etsy shop to stay updated with new bins!