I love when friends ask what Lici's favorite books are. I've grown fond of dozens of books over the years, so today I'm sharing a list I've broken up into four different categories! Favorite picture books of all time. These are our constants. The books that Lici often picks up and memorizes. Books that teach lessons. I'm not only hoping to raise a reader by surrounding Lici with books. I'm also hoping to teach her about the world and teach her how to be kind, share, be courageous, be a good friend, to be conscious of caring for our earth and dozens of other lessons that can be learned through reading. Books to sing to your child. Perfect for those soothing nighttime lullabies. Books to diversify your bookshelf. My all time favorite genre of fiction is Asian literature. I find it so captivating and find alot of cultural similarities to my own Hispanic culture. I want Lici to read books about children in different cultures, partly to instill a love for travel in her and partly for her to see that we're all the same inside though we may look different or eat different. I've learned a few things myself through searching for more diverse books and we both find it so exciting to read about and try new things that maybe someone in our story does.
I'm linking each book title off to Goodreads. We're such big fans of our library and used book store that we'd love to encourage people to look for these books there. Under 'Get a Copy', Goodreads makes finding books super easy by providing links to Amazon, Libraries and Barnes and Noble. Using Goodreads also allows you to easily search for more books by the same author.

My favorite picture books of all time
Love You Till the Cows Come Home – Adorable for little ones.
The Pout Pout Fish – You've heard me talk about pout pout fish before! A wonderful rhyming book.
The Little Blue Truck – There are several Little Blue Truck books and we love all of them! Especially the Holiday ones. The original teaches a great lesson about the importance of friendships.
Squeak – For the animal lovers! Full of great big animal sounds from the chipmunks to the mountain goats to the bears, as they all wake each other up.
The Wonderful Things you Will Be – An encouraging and beautifully illustrated book about the wonderful things our children may grow up to be. I love asking Lici questions about her interests and encouraging her to think about her future in a way she understands. I think it's great to put career type books in front of kids to give them a picture of different careers they could aspire to be one day. Maybe you should fly a jet, maybe you should be a vet by Dr. Seuss is another simple one.
Brown Bear books – Lici knows all of these books by heart! Who doesn't love a good Eric Carle illustration?
Bark Park – For the dog lovers!
All Aboard the Moonlight Train – This is a newer book! It's so whimsically illustrated. About a girl who hops on the moonlight train full of wild animals.
There Was an Old Dragon Who Swallowed a Knight – A funny take on There Was an Old Lady Who Swallowed a Fly.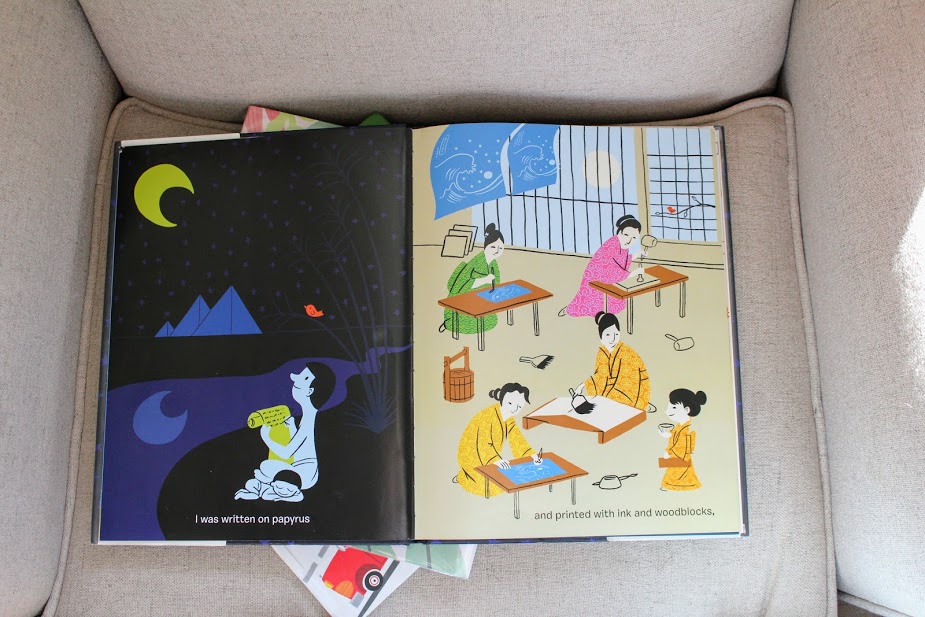 I am a Story – I never would have thought to personify a story itself. This book does a wonderful job following how stories came to be, that they were told around campfire, then written on walls, then on scrolls, etc. Takes a peek at how different cultures share stories too which is really fun.
Who's Hiding On the Farm – A simple but memorable lift the flap.
Race Car Dreams, Fire Truck Dreams & Bulldozer Dreams – These books are really sweet. Each vehicle goes through their nightly routine, then dreams of whatever they do best, for the bulldozer, it's building a park for children.
Calling All Cars – Big cars, small cars, let's call all cars! Great rhyming and use of opposites.
Some Pets, Some Bugs – For the animals and bug lovers! We love both of these books and their message.
Books that teach lessons
Bear Says Thanks – We love all Bear books by Karma Wilson, but this one's a favorite simply because bear has such great manners and says thanks!
How Do Dinosaurs Stay Safe? – This has helped us in so many situations! There's lots of great How Do Dinosaurs books. This one is perfect for reminding our little one, Is that how dinosaurs stay safe? When we're in a parking lot and she needs to hold our hand, or when she's doing one of her daredevil stunts.
Llama Llama Time to Share – A Lici fave! Spoilers! Nelly Gnu comes to visit Llama llama and he has to figure out how to share his fluffy llama toy. When he doesn't share, he and Nelly each pull one side and rip the toy. What I love most about this story is that mama llama doesn't fuss over the drama, she simply fixes the toy and sets it aside. She then gives Llama llama the choice to pick it back up only when he is ready to share it. I think it's great to tell a child before their friends come over that there will be other kids who are coming to play with their toys. That they need to share their toys and if there is something very special to them that they would not like to share with a friend then they are welcome to set it aside in a safe place to avoid a meltdown. Not that it can prevent all sharing mishaps but it can prevent some!
People Don't Bite People – Written in a sing song way, this one's great if you have a biter!
People Share with People – Written by the same author as People Don't Bite People, but with a focus on sharing! I love that this book touches on things that we should share, like toys and fun as well as things we shouldn't share, like germs.
How Kind – A simple story about the power of paying it forward.
Betty Confetti – This book was a gifted to us. It's such a sweet story about how God turns our imperfections into something beautiful. The pages are glittery, which Lici loves! The illustrations are so beautiful and bright!
Crocodiles Need Kisses Too – A great story which teaches children that though they may throw tantrums and make mistakes, they are still deserving of love.
God's Great Love for You – Beautifully illustrated and written in a simple way for kiddos to understand God's great love.
Goodnight Little Blue Truck – This book has gotten us through many a thunderstorms. Little blue truck and his friends hunker down together during a thunderstorm. They quickly realize that it is just a noisy racket and nothing to be scared of.
Kindness Makes Us Strong – A bright and cheery book that teaches the power of kindness.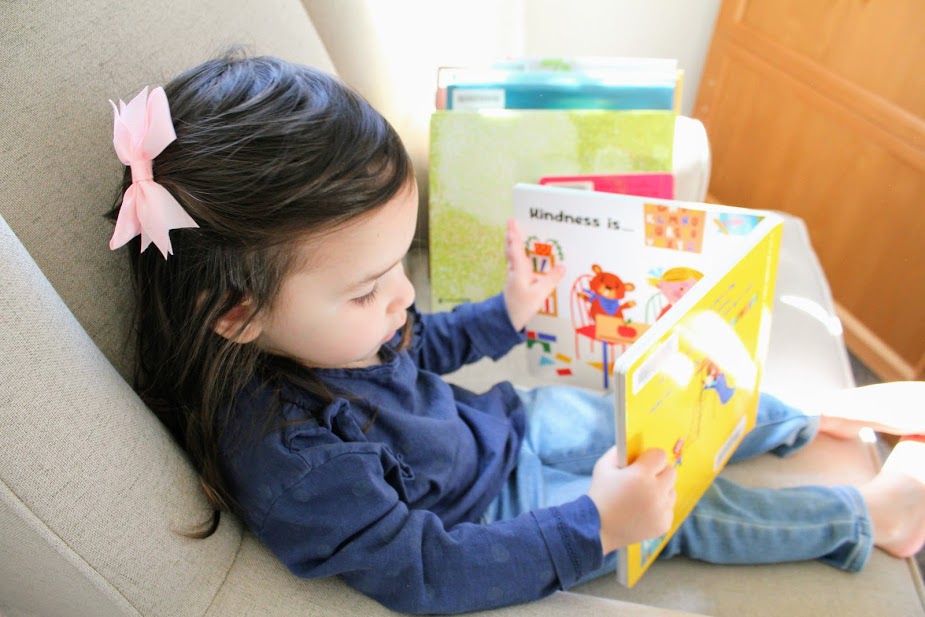 Books to sing to your kids
What a Wonderful World – A cute little board book that follows Louis Armstrong's timeless song.
Rock-a-Bye Romp – Lici adores this one, it's so sweet. Sung to the tune of rock a bye baby, you find out what happens to baby when he falls from the tree, he falls into a nest, then a farm and meets all sorts of barnyard friends until he is finally returned to his cradle.
Love Me Tender – Who doesn't love a good Elvis song!
Ain't Gonna Paint – This book is hilarious. Sung to the tune of It ain't gonna rain no more.
The Napping House – This one's more sing songy rhyme, but a story time favorite nonetheless.
Mary Had a Little Lamb – A cute little board book revamp of the nursery rhyme. Where Mary is followed by wild animals.
Barnyard Dance – Who doesn't like a good Sandra Boynton book?
This Land is Your Land – This lengthy book puts pictures to the famous Woody Guthrie song.
Books to diversify your bookshelf
The Snowy Day – The history and reception of this book over the years is really interesting. You can read about it here. All I know is that it became one of Felicity's favorites this winter. We received it from the Imagination Library and found ourselves watching the Amazon Prime special almost every Saturday morning in December.
Hello, World! – A cute little board book that teaches kiddos how to say hello in different languages.
This is How We Do It  – This book needs to be on every kid's bookshelf. It's a day in the life of seven real kids around the world. They share what they eat, where they sleep, where they go to school, what they do for fun, and so much more! I love the author's heart behind creating this book. Here's a sneak peak.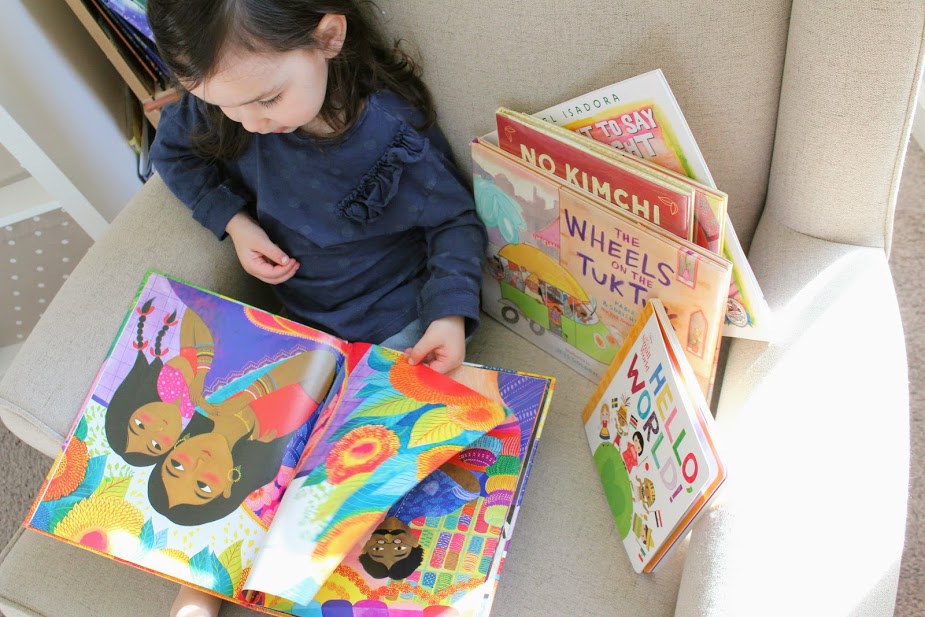 A Gift for Amma – This is a sweet story about a little girl in India. She goes to the market in search of a gift for her mother. It's full of color and vivid descriptions of the sights and scents at the market.
The Skin you Live In – I love the fluid rhythm in this book.
I Just Want to Say Goodnight – I'm sure you're no stranger to a kiddo who stalls at bedtime! This is the story of Lala, a girl who lives on the African plains who insists to her mother that she just wants to say goodnight to all of the animals before bedtime.
The Wheels on the Tuk Tuk – This book also belongs in the books to sing list. It's a new favorite of mine for how fun it is! Sung to the tune of wheels on the bus, you'll transport your child all the way to India for a ride on the tuk tuk.
We're Different, We're the Same – You can't go wrong with Sesame Street! A great book on diversity explaining in simple terms that we may have different noses, skin color, hair color, etc. but we're all the same.
Maybe Something Beautiful – Based on a true story about the urban art trail in San Diego California. It's a lovely story about a community coming together to create vibrant and unique murals.
No Kimchi for Me – A cute little story with some sibling rivalry and a grandmother who knows just what to do. I love teaching Felicity about different cultures and allowing her to try food from different cultures. We didn't end up making kimchi pancakes from the recipe included in the book, though I'd love to try that sometime. But we did snag this quick dinner at Trader Joe's to pair with the book.
Marisol Mcdonald Doesn't Match – A colorful story about a Peruvian, Scottish american girl.
Our list of favorite books is always growing! Please share your favorites with us!