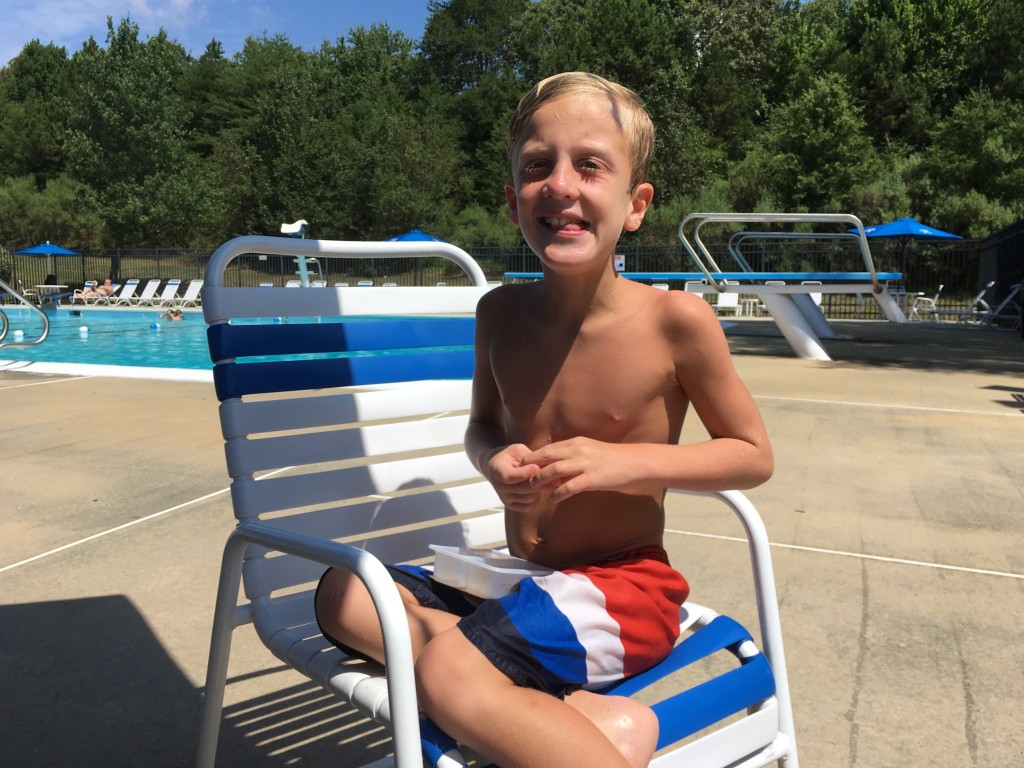 Can I be transparent? It was a really hard summer this year. The boys had about three times my energy each. Even with the triple espressos I'd sometimes put in my coffee each morning. One shot of espresso for each boy. That's how to do it.
I started out with grand plans of fun filled summer activities and games which were quickly thrown out the window in week 3. These boys wanted to tumble, wrestle, swim, climb, hop, yell, slide, and play their way through summer, not color and make construction paper olympic torches. It was a sacrifice for me. I'm good with it.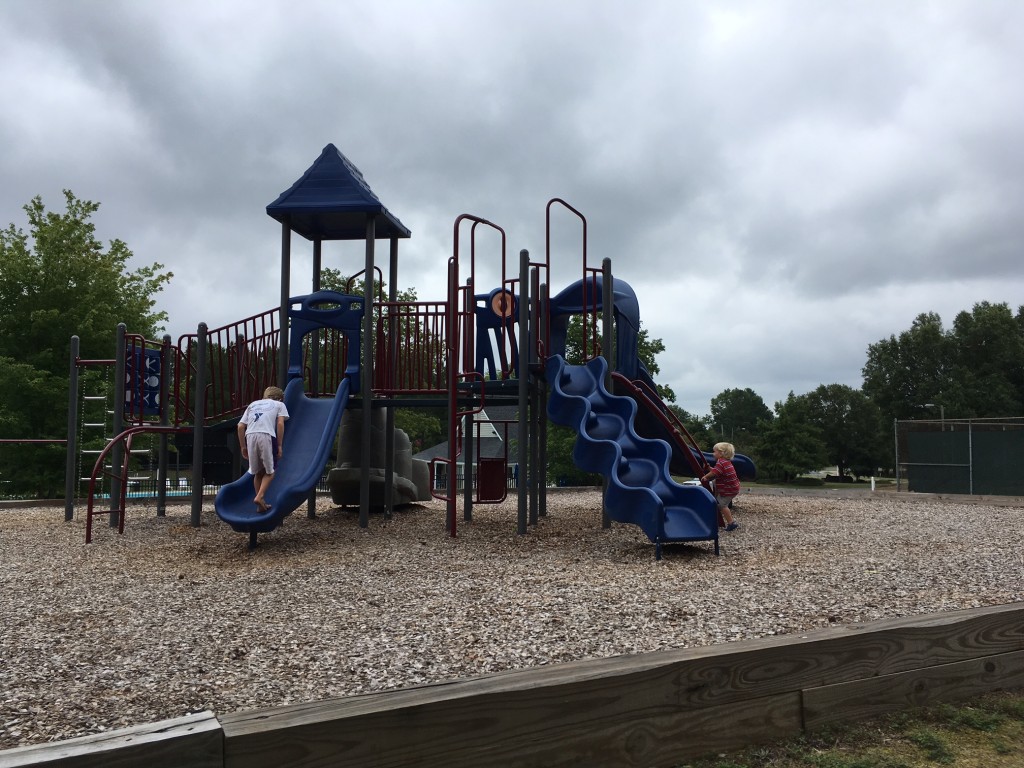 Sometimes they got along adorably together, and other times the sibling rivalry was unreal.
Sometimes we'd have really sweet moments, and the next they were destructive, loud, rule breaking little wild things.
The amount of boundaries that were tested this summer was no joke. We all had to have alot of patience with each other and take alot of deep breaths.
Once every other week this summer we'd meet up with Brandon and take the munchkins to Chick-fil-a together for lunch. We'd park at Brandon's work and wait for him to come out. Caleb would shout from the back seat, "I see him, I see him, it's Bandon! Yay!" And I could take a solid sigh of relief for an hour.
Brandon had a great reserve of energy to wrangle up the boys when my energy levels were depleting.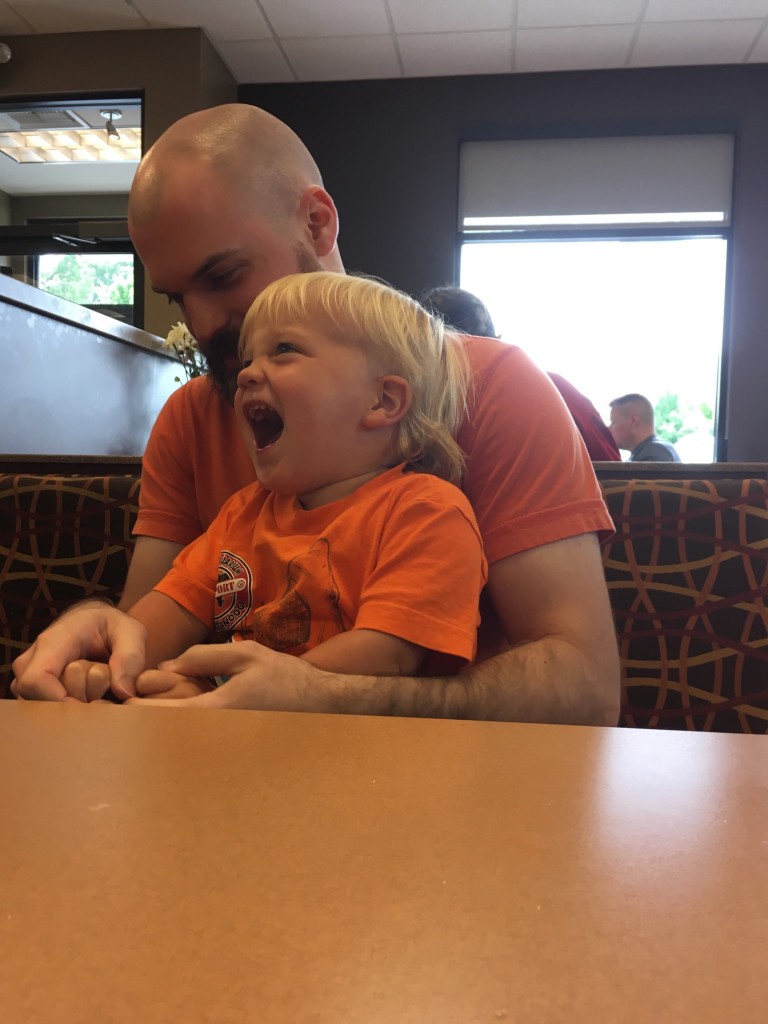 We went to the pool a ton which was just fine because they're total water babies.
---
Nannying can only be as great as the parents that you nanny for. They'll make or break your experience.
Two years ago I sat on the Coggins couch. Caleb was kicking a soccer ball around the house. Ryder was hiding behind the coffee table, and Grant was a tiny little 3 month old laying in Mandy's arms. They asked me questions about my experience. They were in search of a nanny, and I was in search of a job. First impression, I had a good feeling about them. I thought they were such a cool family and I totally desired to be a part. I had one more interview with another family and told them I would get back to them. They respected that, but as I left Jacob still threw out there, "I'm pretty certain you'll want to choose us."
Look at that. He was right.
I met up with Brandon on his lunch break the next day. We parked on the street in front of a sandwich shop, and ran inside from the autumn rain. I told him how eager I was to work for the Coggins. I frantically checked my email, and lit up when I saw something from Mandy saying they'd love to have me as their nanny if I was able. That night I accepted and have been unable to tear myself away from the family that has so graciously let me in.
Jacob is most like the big brother I never had. From helping us move to poking fun at me when he came home one day to find me knitting at naptime.
When Mandy gets home she takes the time to meet my eyes, and ask how I am. All in the midst of the boys begging for that much needed mommy attention. That, and the snacks in her bag, definitely the snacks in her bag. She always catches me off guard, as I'm watching their interaction and usually in a daze, having only spoken to children all day.
I once burned my gums with a hot dinner and told her about it a couple days later when a painful sore began to develop and kept me from chewing on that side. She gave me a numbing gel and later asked how I felt. "This area is actually starting to feel tender," I said, pointing under my jaw, "do you think that's related?"
She looked to where I was pointing and said, "that's your lymph node baby. It may be your body fighting an infection."
She calls the boys baby. Surprisingly that was all the comfort I needed. One affectionate word that made me feel taken care of. Like a family member. Like one of my big sisters was standing there concerned for me.
One day Mandy even texted me that I seemed defeated the day before. She offered to have me drop the boys off during her lunch break, so I could get away for an hour. I went home and slept. The second I walked in and hit the couch my mind shut off. My ears rung with silence and my eyes quickly saw the backs of my eyelids.
---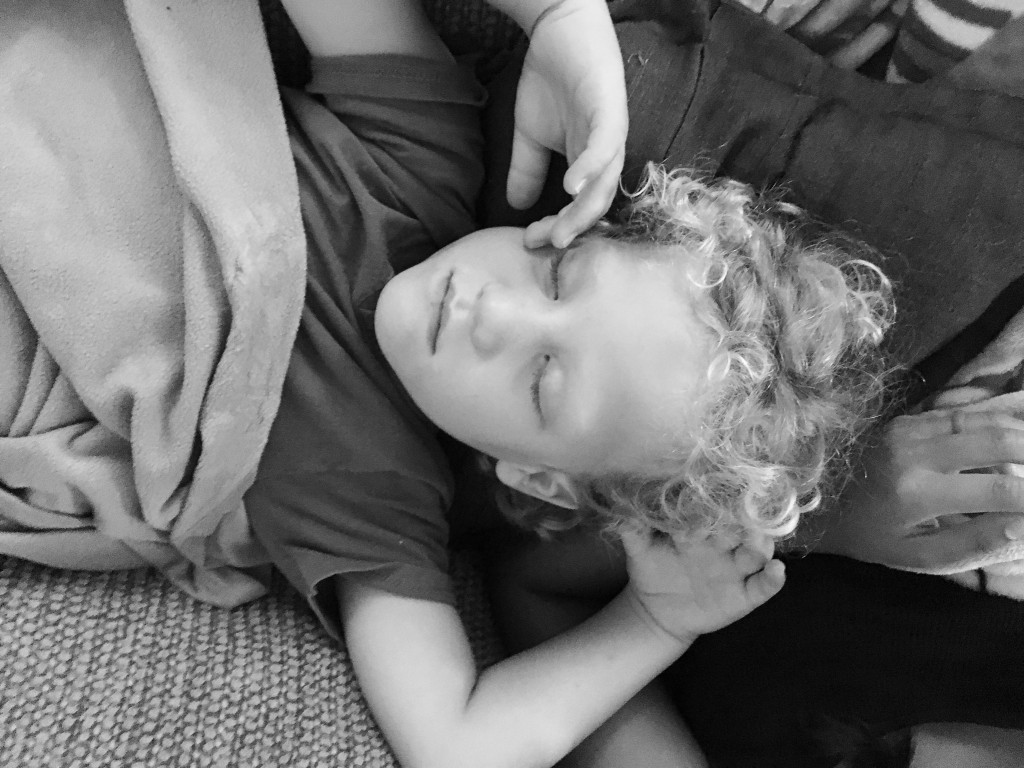 Consistency with kids is ridiculously important.
If you care for kids all day and their parents are not consistent with the same rewards and consequences, your work is all for nothing. When consistency is lacking kids learn to make it through the day just until their parents come home and they can have their way. I'm so thankful that Jacob and Mandy are not that way. It benefits everyone involved when all parties are consistent.
While the boys may grow anxious toward the end of the day for Mommy and Daddy to come home it's only because they legitimately miss them and are ready for their evening routine. The kiddos understand that I'm the one in charge and they're good with it. They know that if Mommy and Daddy get a good report from me they'll be praised. It makes our days smoother.
Caleb is totally aware of these end of the day reports. When he gets off the bus each day and gets inside he'll point to Grant and say "Matalie, how was he today? Where'd you take him? Has he eaten a snack yet? Did he nap good?"
It's pretty sweet what kids pick up on.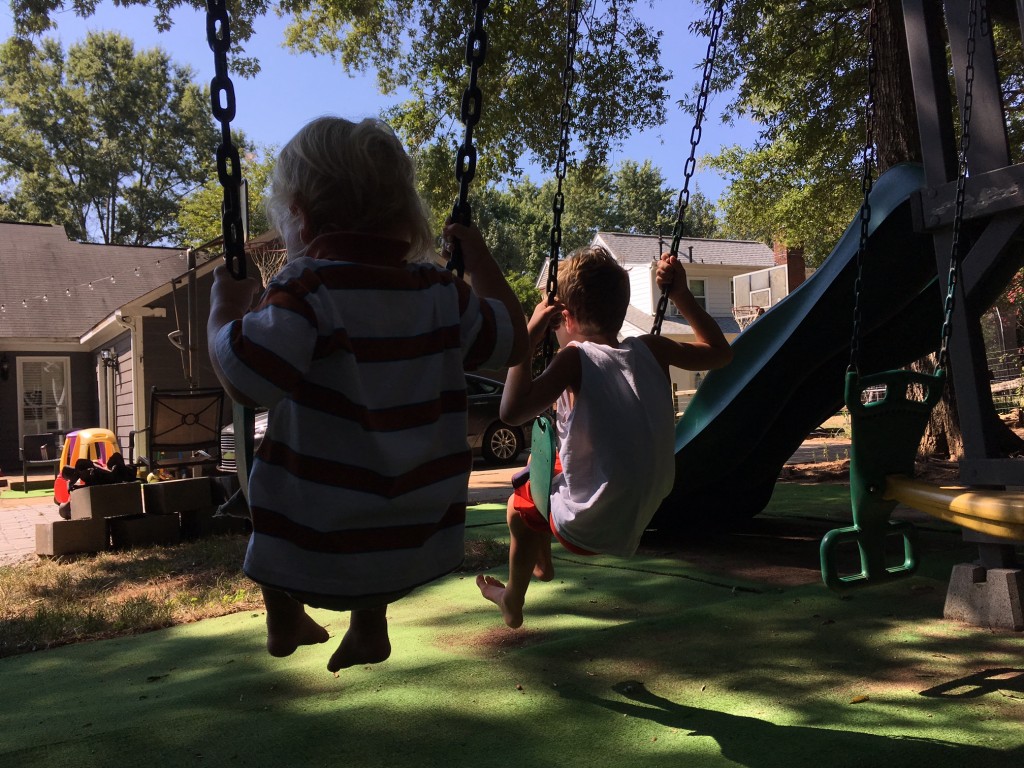 The ends of my days this summer left me sweaty, bruised from flailing legs not patient enough for shoe tying. I had chlorine filled frizzy hair and I was exhausted beyond words. When people would hear that they'd ask me how, and why I still did it. Why I didn't find a new job. But this isn't just a job to me anymore. This is family. The only answer I'd have for them was that the boys had amazing parents and if I seemed to have my hands full, my heart was even fuller.