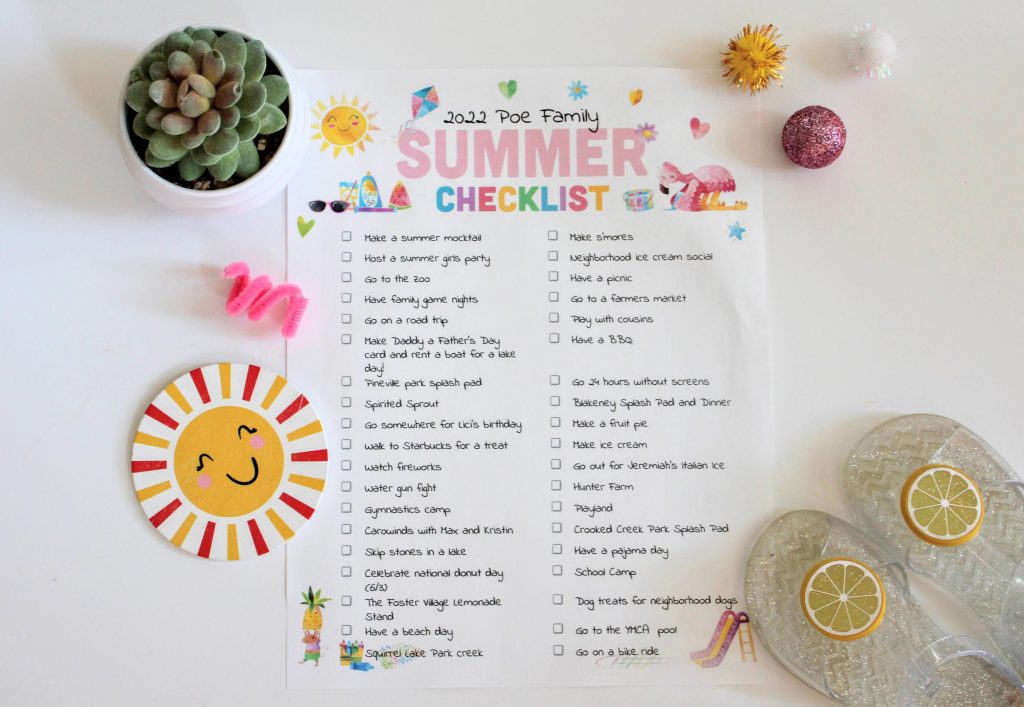 We have 14 weeks in our summer. Just 14 weeks of impromptu water gun fights with the neighbor kids, splash pads, juicy watermelon and play dates. That's about a hundred summer break days and I'm packing in as much as I can! We only have one summer with Felicity at this age and I want to make sure that we had an absolute blast each year! Friends have been asking what we plan to do all summer. The truth is that I probably have way too much planned! I've shared some of the big things but here's a list of everything in between to give you some inspo! A life well lived is a life with intention♥ That's our family motto.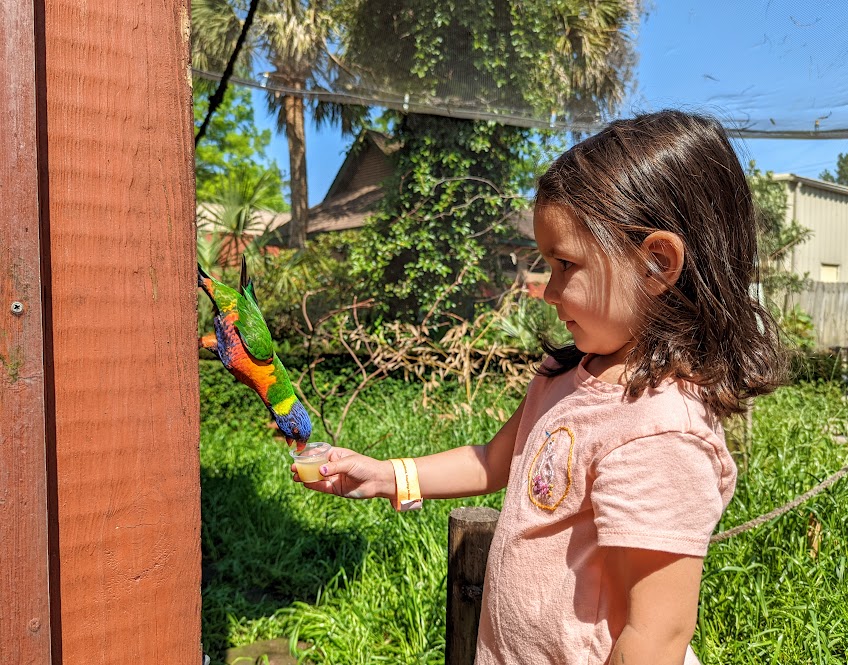 On the larger scale we excitedly renewed our zoo membership to Riverbanks Zoo. It's become our happy place. Wave hello to the seals, feed Bruce the giraffe, find the komodo dragon, feed the lorikeets, grab an icee, brush the goats, ride the carousel, eat our packed lunch in the car, grab a coffee before heading home and cue Felicity crashing. That'll take care of at least one day a week or so. We're also planning to join the Y for a couple months so that we have pool access. Felicity is signed up for a few weeks of camp at her preschool and a full week of Gymnastics camp to finish out her summer!
Ana, our sweet nanny, turned date night sitter is turning nanny again this summer for us. She'll whisk Lici away for a few hours two mornings a week which is essential time for me to be able to work on my shop stuff, write and take care of some general house management. Every now and then  Brandon and I will be able to sneak away to some lunch dates at our favorite Taco place while Ana's out with Lici. Ana time means that we're all our better selves.
To keep track of our plans I used this Summer Bucket List printable from a favorite Etsy shop. It's easily editable and looks adorable on our fridge. I love these seasonal checklists because a. I love a good list and b. It keeps us on track. I may go into more detail with this checklist on another post. We'll also be doing a summer reading log. I found this fun travel reading log and this ice cream reading log. There's so many ideas out there with reward systems for summer reading, definitely add that to your list. If our Nashville trip taught me anything about vacay with kids it was to HAVE A PLAN.
I keep finding fun things to do for summer like these sidewalk chalk ideas, ways to get organized, and massive lists of general summer fun. In effort to keep track of it all I thought I'd come up with my very first free printable for you guys! Who's guilty of pinning a bunch of ideas and forgetting about them?? I created a 12 page Summer Planning Pack to help get you organized. Complete with a reading log and bookmarks. If you don't do a checklist, at least jot some ideas down with your kiddos to give you a loose plan for Summer. Felicity and I came up with a whole bunch of summer ideas after we made our checklist. The more the better! Worst case we can save them for next year. I hope this helps you get your summer plan in order because I had so much fun putting it together!
Can you believe I have more Summer prep ideas and it's only mid May? I came up with the grand idea this year to have a Summer Bag. A bag separate from the backpack that we usually haul around. When Felicity and I go out I either bring a larger water resistant back pack or her smaller backpack that she can wear. We usually keep a snack, a change of clothes, her water bottle and hand sanitizer in there. Somehow though, last summer it always seemed like we were missing something. She got a scrape and the band aids were in the other bag at home. Her sunglasses were mysteriously missing, or I forgot to bring the sunscreen for reapplication. Too many times a friend and I would take the kids to the playground not realizing the splash pad was open or that there even was a splash pad where we were going and the kids would beg to play in the water. This summer I want Felicity to have a swimsuit and a towel in the car at all times! This summer we'll still bring our normal backpack, but I'll always make sure that the summer bag is in the car as well. That way we always have the summer specific essentials and Ana can take it in her car when she and Lici go out.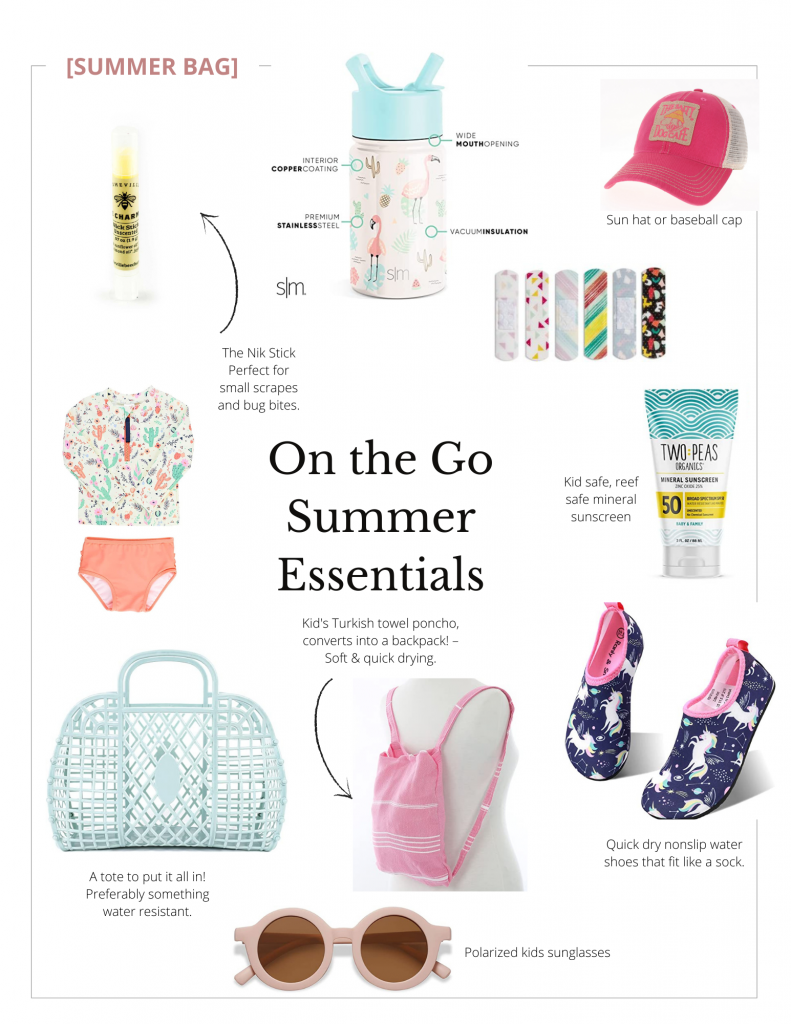 Links for the Tote l Water Bottle l Hat l Swimsuit l Band aids l Nik Stick l Sunscreen l Towel l Water Shoes l Sunglasses
The Simple Modern stainless steel water bottles are my fave for kids for a few reasons. They're no spill, have a hard spout for kiddos who tend to chew and they're easy to clean! » I have seen my fair of water shoes with preschool kids! These slip on sock style water shoes are the best! They're the easiest water shoes to take off and put back on when wet! There's nothing worse than trying to get a tight wet water shoe on wet feet! Felicity has pink unicorn ones that she loves! We use water shoes for splash pads, sprinkler days at camp and creek play! » I picked up the Nik stick in Asheville last year and it's a great option for little scrapes and bug bites. Here's some other honorable mentions for a summer bag: Neo to go l First Aid Kit  l Bug Bite Thing ⇐ I haven't tried that product yet, but I'm so curious about it. Let me know if you've tried it!
Happy Summer Planning!