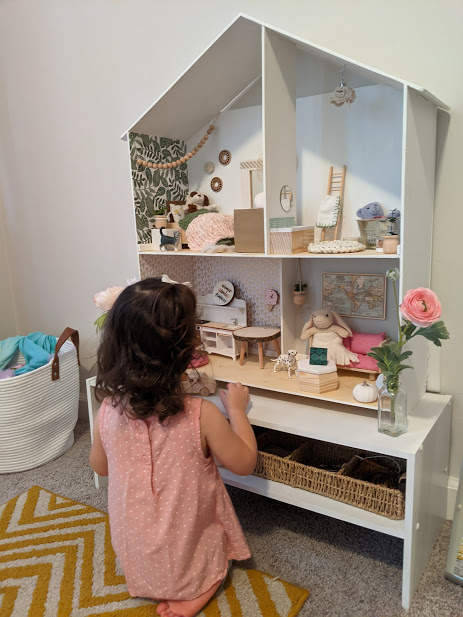 Last summer I found a few ideas to turn this ikea shelf into a dollhouse. After showing it to Brandon he was sure that he could build one himself. Since Ikea shipping was so delayed with everyone ordering work/school from home furniture I put my faith in Brandon and I'm so glad I did. The beautiful dollhouse that he built was our first collaborative project together and we're rather proud of it! We were often spending our evenings side by side tinkering in a room to get it just right, all while Felicity was sound asleep. It was a great way to spend our evenings in. Felicity's love for the dollhouse has made it all worth it and we hope that it can grow and change with her as she ages.
The Build

There was about as much detail that went into the build as the decor for this piece. We wanted to make sure it was lightweight, sturdy, and smooth. We sanded this thing to death, sealed it and painted the walls.

A little easter egg, the living room is the color of the walls in our real home! The rest is painted white. I used modpodge to paste scrapbook paper as a wallpaper in the bedroom and kitchen. I then superglued some tiles I found at the craft store in the bathroom and Brandon added baseboards! Brandon installed a battery powered light in the bathroom and I added magnets throughout to allow for interchangeable pieces.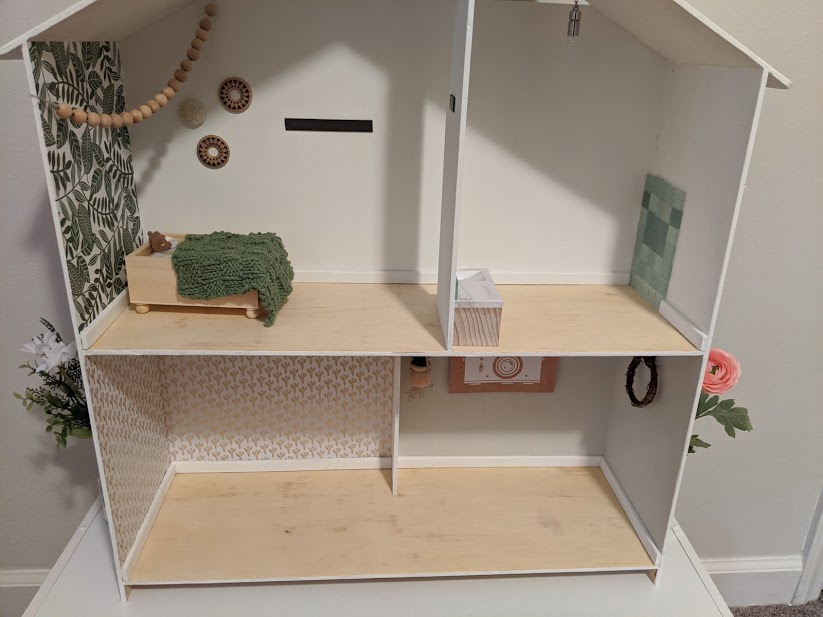 The Bathroom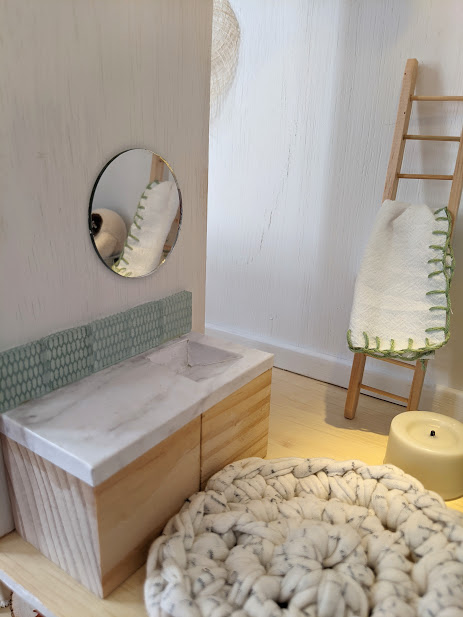 I'm so blown away by the bathroom sink that Brandon made. I had bought these little wooden blocks from the craft store not quite knowing what we could do with them. Brandon used his dremel to carve out the sink, then cut a piece of marble scrapbook paper and modpodged it on top. Once we secured the sink in place I superglued the tile backsplash and mirror above. We had so much superglue on our fingers during this project!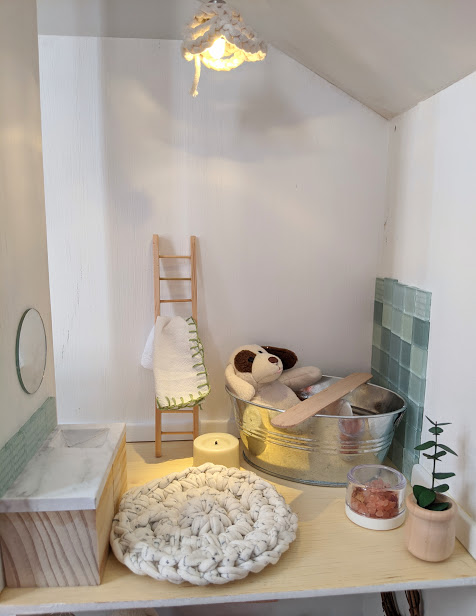 My sister crocheted the circular rugs and the lampshade. I cut a small corner of a tea towel and embroidered the edge for the bath towel. I came across this shop that had little fake dollhouse plants and decided to make my own with a piece of fake eucalyptus I had. I superglued it to the little wooden pot I'd found at hobby lobby.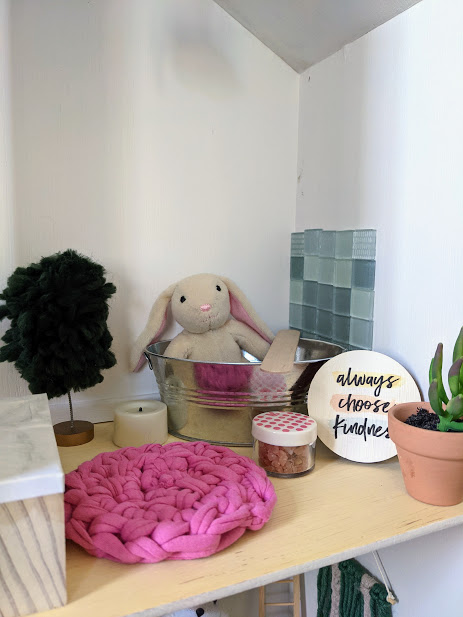 The Bedroom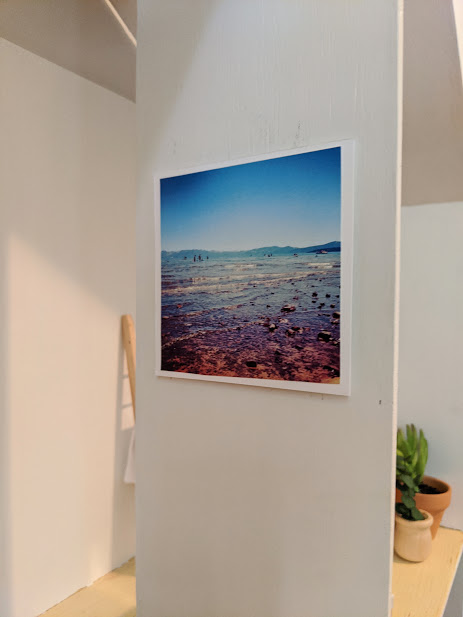 From the start I knew that I wanted Felicity to have the ability to change things out so that she could create a totally different style and feel to the dollhouse. I also thought it'd be a great opportunity for us to continue creating pieces. Right now we have quite a few interchangeable pictures on magnets for the half wall in the bedroom, including some lovely little canvases that Brandon painted.
The mirror is also on a magnet. I could not bring myself to ask Brandon to build a miniature dresser and all of the ones I found at the craft store were 1:12 scale which was too small. So I decided to glue these old jewelry boxes together and paste paper around them. A note on scale, our dollhouse is something between a 1:6 and 1:8 scale. 1:6 is barbie size, 1:12 is the typical miniature tiny stuff you find in the craft stores. We wanted it to be toddler friendly so we went with some larger pieces, but they don't all match each other's scale. At the end of the day we went with the scale of what we could find!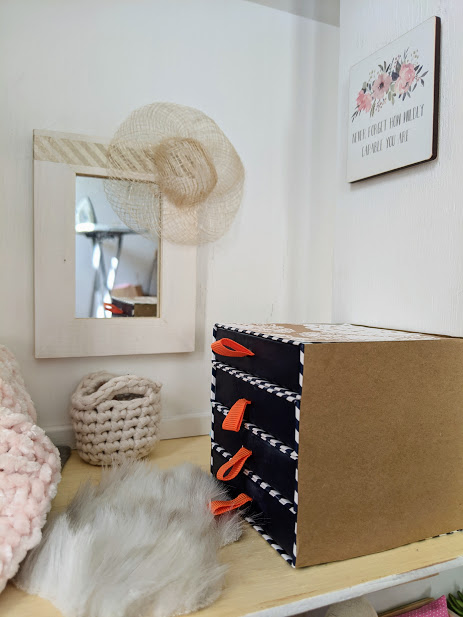 My sister crocheted the basket above which is filled with tiny flocked teddy bears. I cut a piece of faux fur for the bedroom rug, sewed the pillow, mattress, blankets and knit some blankets too. The bed is a wooden box that I found at Hobby Lobby, the lid to the box is actually the bedroom mirror, which I unscrewed, painted and mounted on the wall. I spent a long time in the craft store staring at what they had and thinking about what I could work with! I opened and closed that wooden box until it hit me. Aha, unscrew the hinge, now I have a bedframe and a mirror. Two for one. The headboard is a wooden floor sample that my sister in law and brother in law found at Home Depot!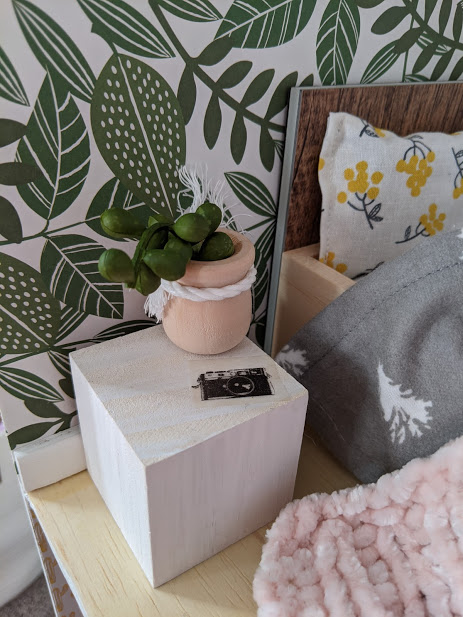 I snipped a piece off my artificial string of pearls and stuck it in another one of these wooden pots for my second houseplant. I painted this wooden block for the nightstand, and modpodged the little camera to the top from a vintage camera washi tape I had! The book you see on the dresser below ↓ was actually a jewelry piece from Hobby Lobby's fairy tale collection. I thought it was the perfect size. It's faux leather bound with real pages. It's always a hit with whoever is playing! Our niece Norah once opened it up and read Felicity a story she'd made up about a princess and a dragon. Now Felicity opens it up and says, "once upon a time, there was a dragon!!"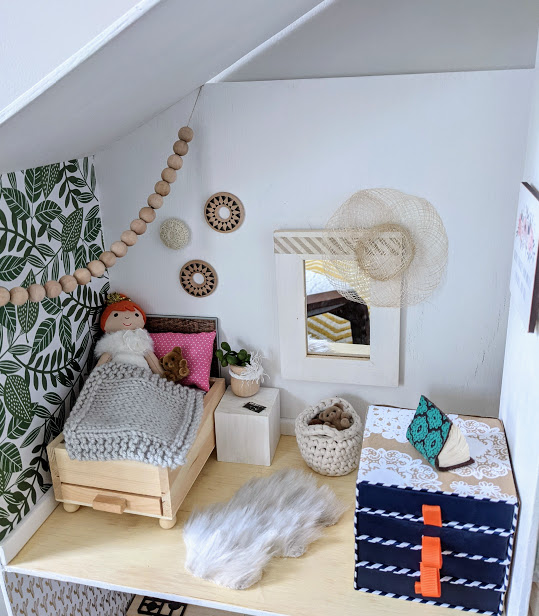 Living Room & Kitchen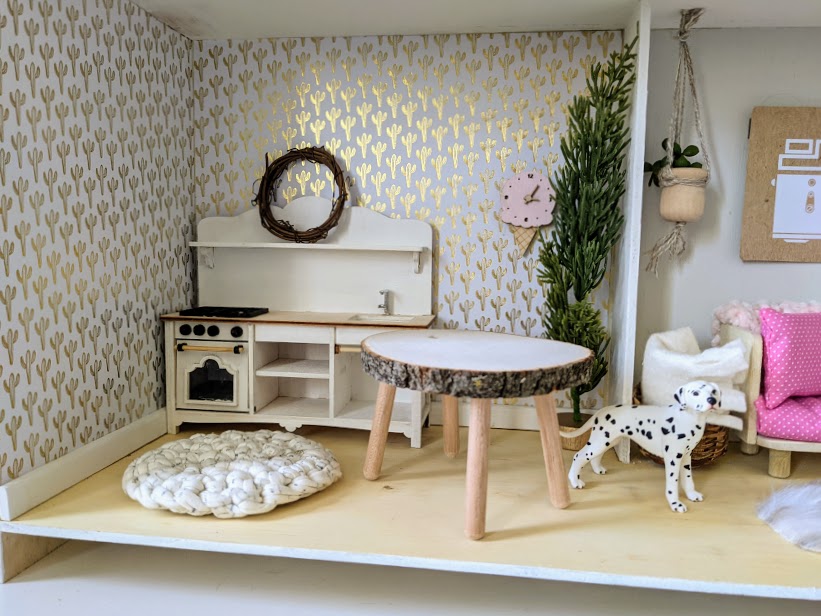 Brandon and I knew a full kitchen would be too much work to tackle so we decided to buy this kitchen from Etsy. It came as cut outs which Brandon put together and I painted. The ice cream cone clock is from the same shop which we ordered assembled and painted. Brandon cut, wood glued, and rounded dowel rods to add as legs to the kitchen table. The top to the table is a piece I found at Michaels.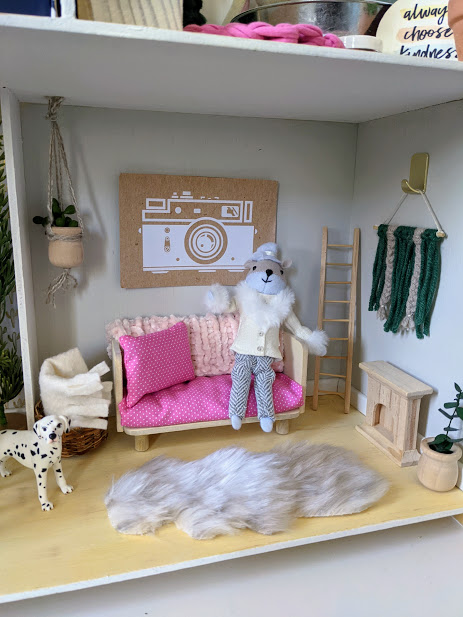 Is this not the cutest little couch you've ever seen? Brandon built it and sewed the cushions which was the sweetest thing to witness. He sat up in bed one night sewing these little pink cushions and I felt this overwhelming feeling that Felicity had no idea just how great her dad is.
That hanging plant took me a stupid long time to figure out. But I'm happy with the outcome! I embroidered those flowers on the wall hanging. There's lots of options for Lici to swap hangings out, I made a few yarn hangings and there's also a little twig wreath. The map postcard is on magnets and can be swapped out which you've seen by this point!
Laura and Ervin also found us some carpet samples from Home depot which we thought was fun to add sometimes for a cozy feel in the living room. I love decorating the dollhouse for the seasons. I added these little pumpkins for fall and a Christmas tree and presents in December.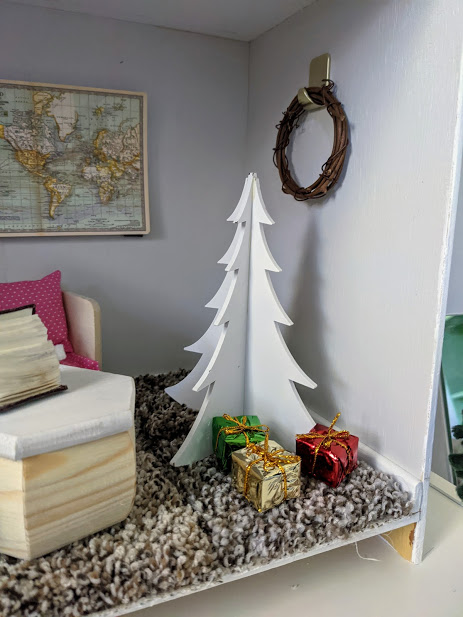 This project was a huge labor of love for our little girl. Plus it's pretty to look at! If you're looking to make your own dollhouse, please reach out to me! We learned alot about dollhouses and would be happy to share our wisdom! I also have a small dream to make custom pieces for dollhouses, like the blankets and wall hangings because they were such quick projects for me to whip up! Would love to chat about that if it's something you're looking for ♥