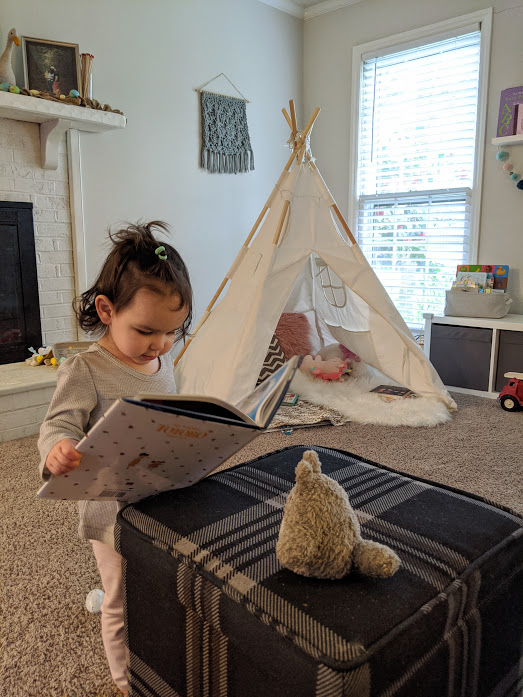 How on earth have we been keeping busy on our stay at home order? With an extra cup of morning coffee and whole lot of video calls to family. Not every day has been perfect but I'm trying to stay positive.
Zelda doesn't understand what all of our problems are. She thinks that life cozied up in the house all day every day is just perfect.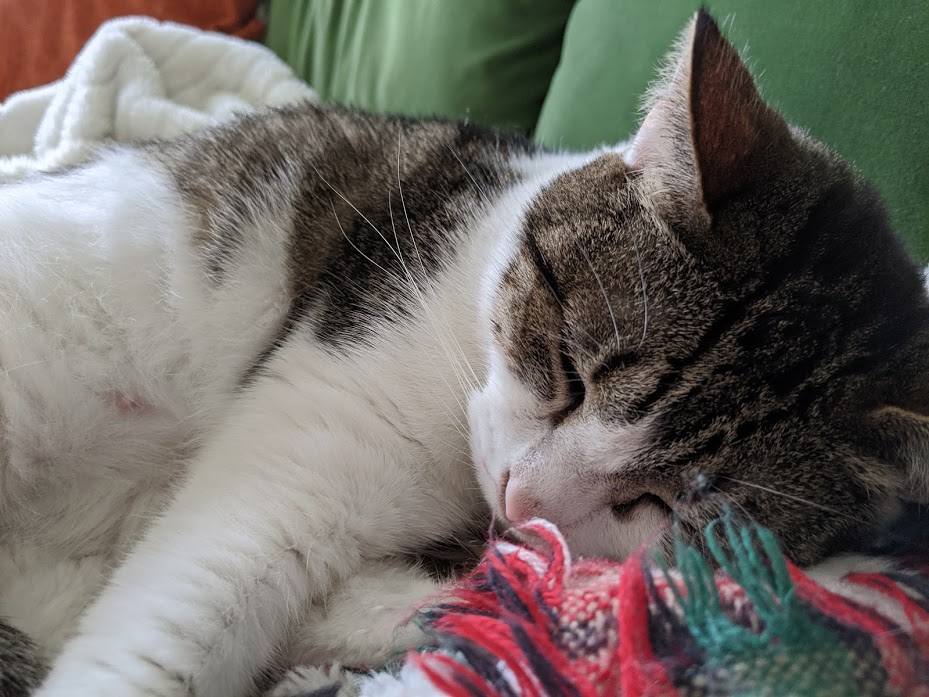 We've fallen into a rhythm around here, though I much preferred our old way of life. We keep busy reading or playing, Felicity is learning her shapes, Brandon is getting some house projects done and enjoying some much needed down time reorganizing his office. I've found some extra time to craft and whenever we're outside I'm pulling up the mounds of weeds in our driveway and yard. The house looks pretty good! Last weekend we went out to the airport overlook which I thought was a brilliant idea to get out of the house. Felicity loves airplanes and there was a surprising amount of take offs we were able to view all from the safety of our car.
Our library started doing storytime online which Felicity has enjoyed!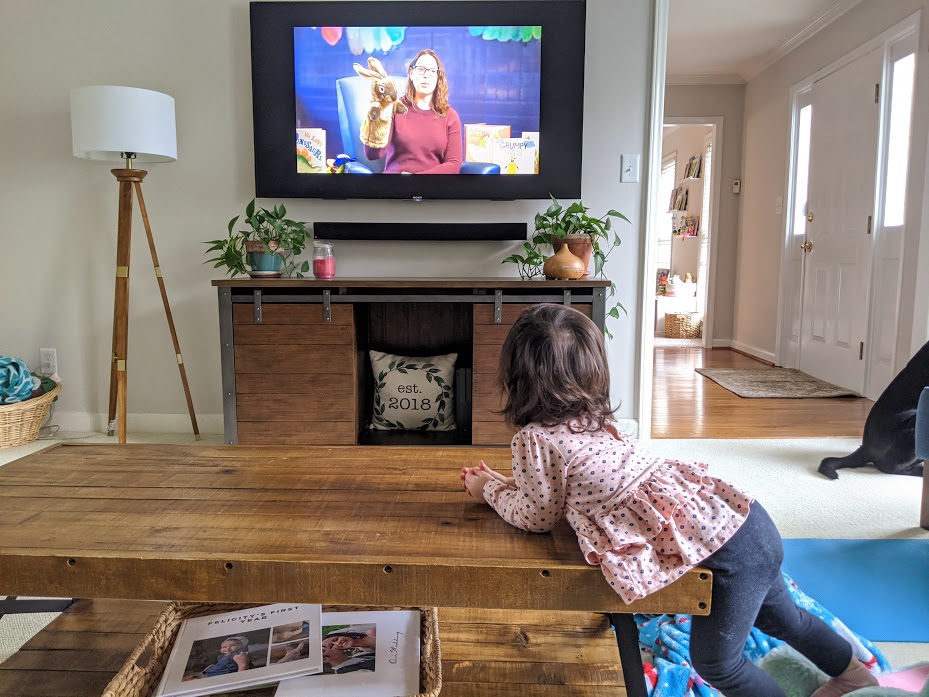 Our neighbors left flowers on our doorstep just to spread some cheer. I have to say how happy I am to have such lovely neighbors on both sides to be able to chat with on warm weather days where we are all inevitably seeking refuge outside.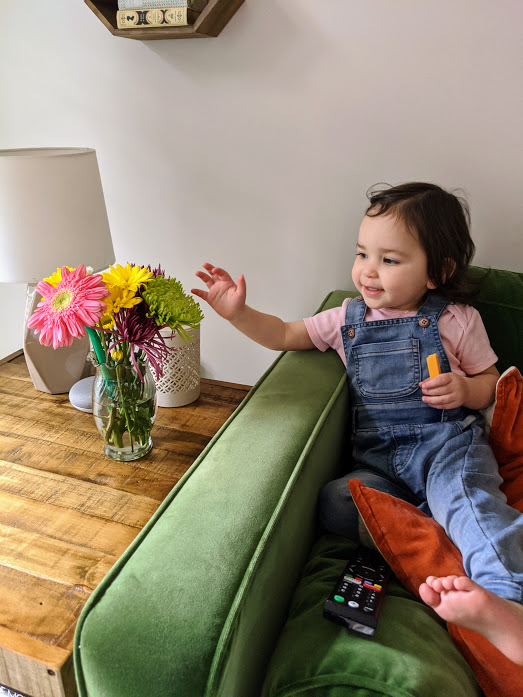 Walks are still happening nearly every day, along with the sandbox and the water table when it's warm enough. We've also taken it upon ourselves to continue supporting our favorite ice cream shop The Local Scoop, through curbside pickup. Because sometimes you need an excuse to eat ice cream.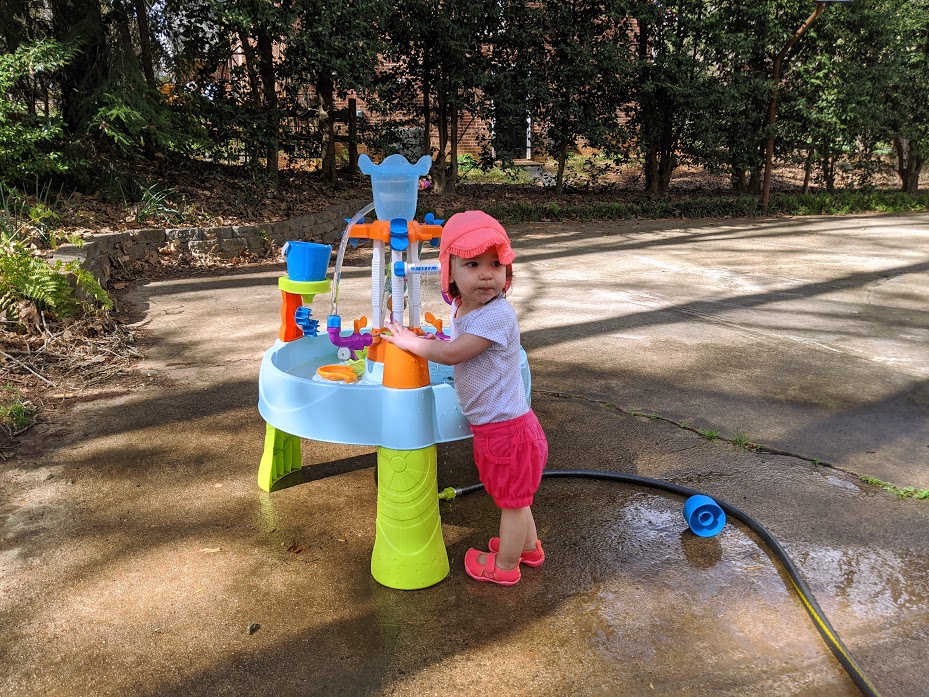 Brandon and Lici washed their cars this morning. You have to admit that this is the cutest thing you've seen all day.
Plus some dandelion picking and bike riding. Now just expect the next few posts for the next month to include photos of Lici on her bike, and Bingley looking bored.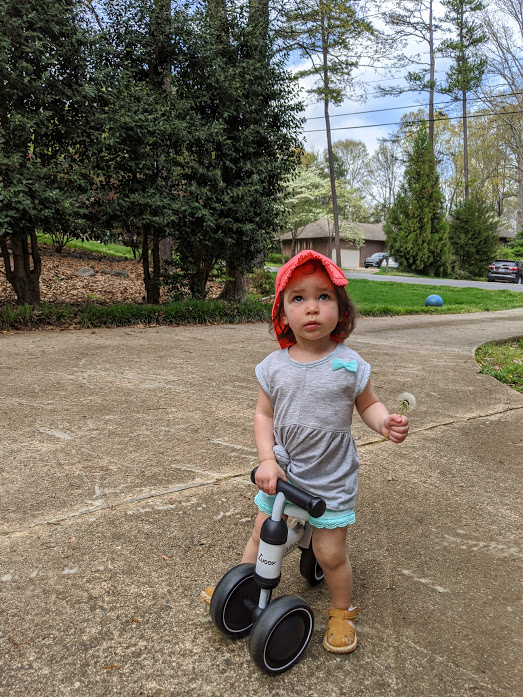 Though Brandon is more of a logical thinker than I am, we're both feelers. Brandon's got a nostalgia that you would not believe and I'm just flat out emotional. My is Enneagram is type 4 if you're wondering, the Individualist. Described as dramatic, sensitive, expressive and temperamental. It's not wrong.
We both understand that children are adaptable. We both know deep down that this time in Felicity's life isn't going to ruin her but that does not negate the fact that we are saddened for this lost time in her young life. We have through much effort fought to create a life for Felicity that she would thrive in. That life included growing friendships with other little ones, learning to share her belongings and become a generous person through this prime age for sharing. We wanted her to become an adventurer of her city, a lover of outings. The life we wanted for her very much included being outside of our home. But that privilege has been taken from us and it leaves us sad as parents to take an entire spring away from our child. This goes for every age, the teens who are having a hard time not seeing their friends, the preschooler who was enjoying structure to their day. Sure we're all making it work. Sure it's in everyone's best interest but I think it's ok to feel a little sad for lost time.
We will make new memories, we will forget the potential of what this spring could have been and we'll thank the Lord for our health. But for right now, in this moment I want to allow ourselves to feel all of the feelings. Felicity is allowed to walk into the garage, point to her door and say "Car?" She's so confused as to why we haven't gone out. I feel for her, simply put, I wish there was more I could do.