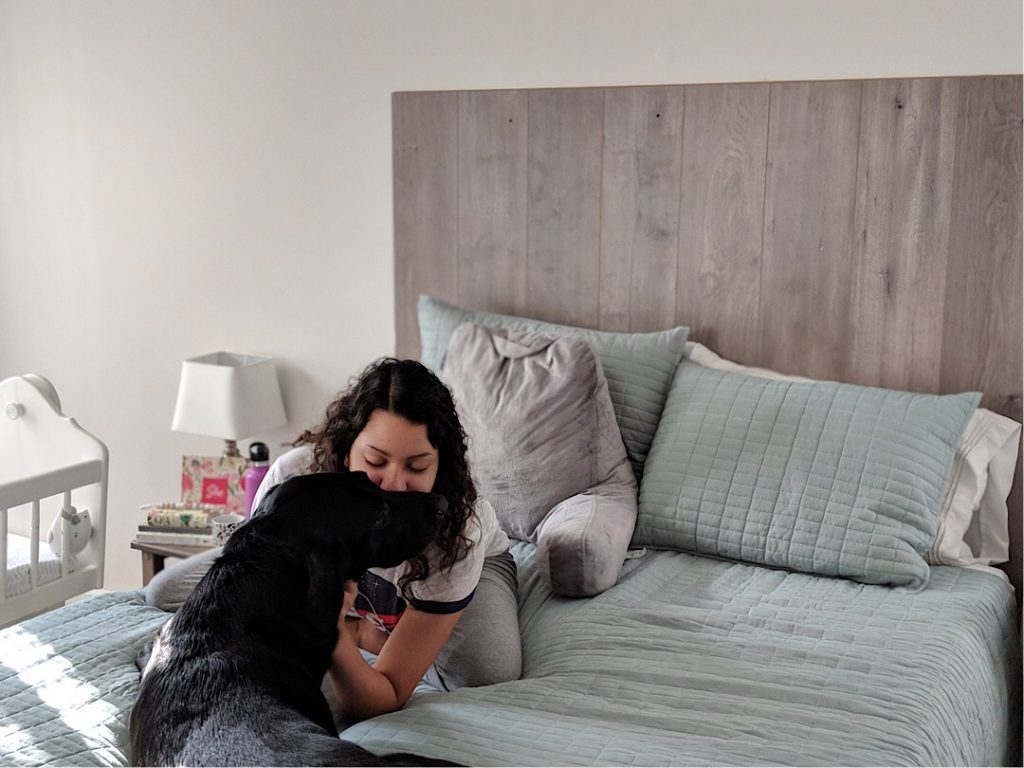 Some days I have it all together and some days I'm not out of my pajamas until a little before noon. Felicity and I have been getting out more which has been great but the more I try to do the more my mom brain gets the best of me. Frankly I always found it ridiculous when people talked about pregnancy brain or mom brain. It always sounded like a sorry excuse for forgetfulness to me. That was until I went to the store recently to buy a vacuum and realized I left my wallet in my purse at home. I forgot to toss it in the diaper bag for this trip. I turned the cart around, put Felicity in the car and cried. Normal.
We ran back home to grab my wallet and back out to get the vacuum. But you didn't come here to listen to me ramble about my new vacuum. You came here for Felicity updates didn't you? It's ok you can be honest.
Sidenote, Brandon installed our new headboard. Isn't it a dream?
Double sidenote, that reading pillow behind me has been the best middle of the night Amazon purchase yet. Also, don't believe Bingley when you come to visit and he acts like he's starved for attention because trust me he still gets plenty.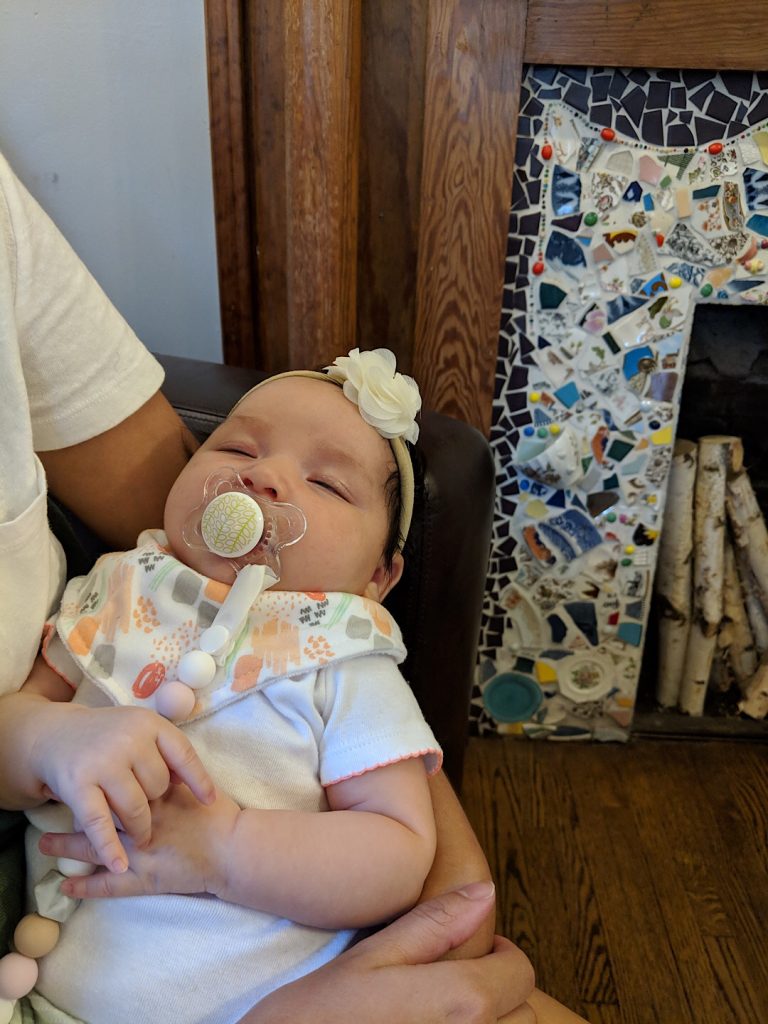 Felicity is still as adorable as ever. She loves being held close in this carrier. She loves baths. I mean really loves to splash and get her hair washed, such a girl. She's been to Lowes and Home Depot probably more than anywhere else as we continue house projects. She enjoys being outside listening to all of the birds and insects. She loves when we read books to her. She's discovered her hands and is trying her hardest to be a thumbsucker. She's also gaining more independence every day! At two months she's been sleeping in her own room in her own crib and sleeping wonderfully.
She also spent her first Sunday in eKidz a couple Sundays ago. It wasn't too hard to drop her off. I know she's in good hands and I also know how important it is for us all to be getting that soul care in church. That morning as I got her dressed I had such a surreal moment. I realized how grateful I was that Brandon and I had parents who brought us up in church. I'm happy that we're able to make this a priority and do the same with our daughter. I'm excited for her to be prayed over and loved on every week by our church's volunteers and I can't wait for her to learn about the love of Jesus as she grows.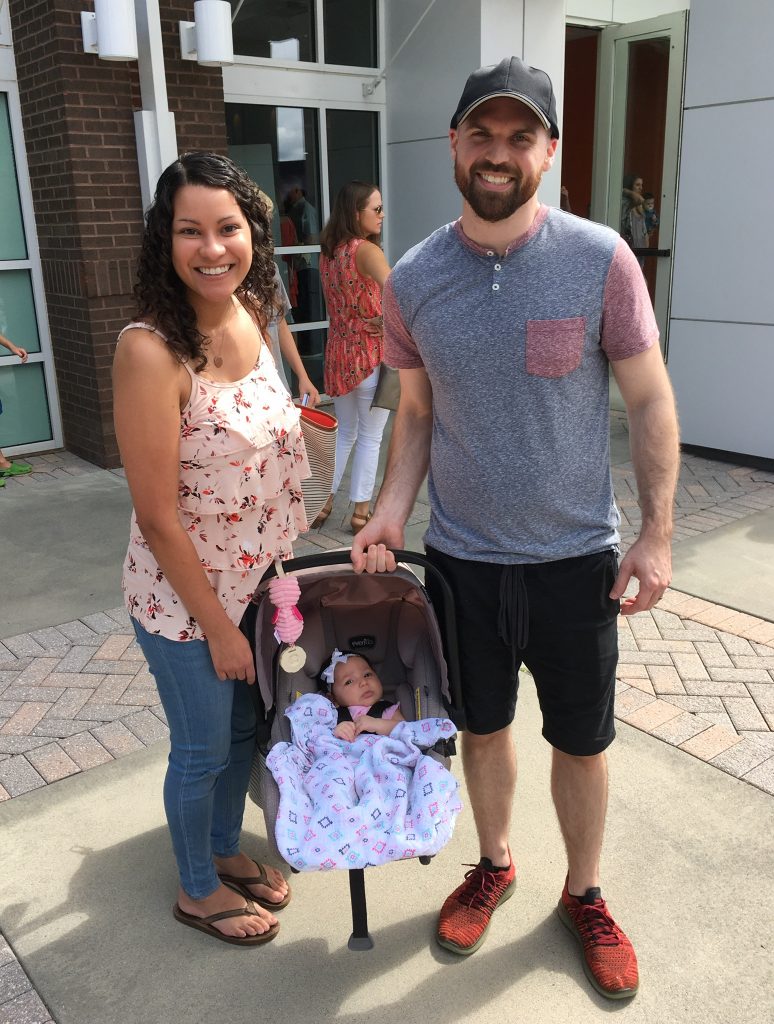 I've been enjoying motherhood overall. Some days are harder than others but that's just life isn't it?
I joined a new moms group at the birth center a few weeks ago which has proven to be a tremendous support system. There's around 11 of us when everyone is in attendance including Jenna. Brandon and I met Jenna and her husband in one of our birthing classes. We connected after finding out we live in the same area of Charlotte. Our little girls are only 4 days apart!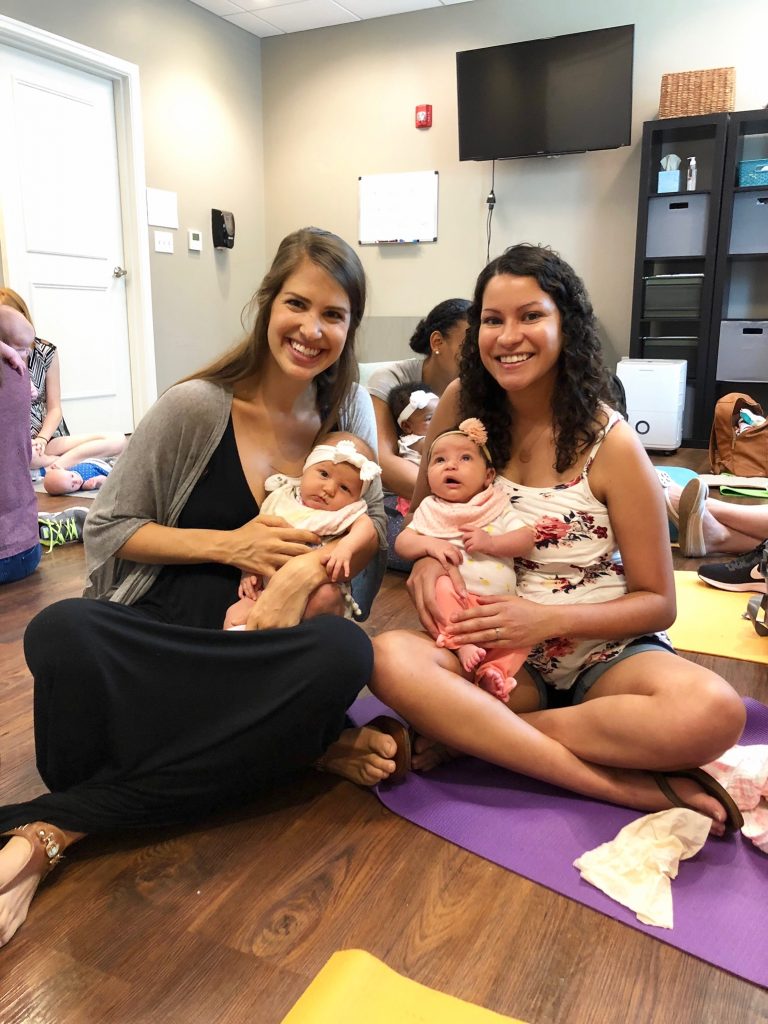 Our conversation is lead by an educator who is warm, honest and encouraging. Every week she asks us what we're doing for ourselves. It helps me to keep in mind that I should be doing something for myself, even if it's just taking the time to do a deep cleansing face wash at night. It's so encouraging to talk to other women who are right where I'm at, understanding fully the trauma that our bodies have gone through and the adjustments we've had to make to our lives. We sit on yoga mats and pillows. Some of us nursing our babies, some of us standing, instinctively bouncing our crying babies as we talk. Our group is a place where our stories are heard. We can be open and honest about our triumphs and our hardships. We laugh in agreement with one another. We cry when we share. We cry when others share. Or at least I do. Nothing makes me want to cry more than seeing another woman cry. Anyone with me on that? Especially when you know what she's going through.
We all have different stories but all of us new mamas have sensed a shift in our identities which is something I didn't realize would be so extreme. It's comforting to hear that I'm not the only one. I feel like a totally different woman since having Felicity. I hate to say we've gone through a traumatic experience because that word seems to have a negative connotation to it but birth, breastfeeding and early motherhood is traumatic for a new mom. It takes a while for things to feel like they're back to normal and while Brandon and I now feel like things are back to normal it's important to understand that it's a new normal. Like most life change the quicker you accept your new normal the better off you'll be.