This morning I made a discovery. I was listening to some blues on my way to work. Because it was one of those days. A cloudy morning, and a slow drive in. I like some good blues every now and then, you know.. deep soulful Otis Redding blues. I have to give it up to my brother in law Sean for sharing this wonderful taste in music with me. There I was listening to Redding refer to himself as Mr. Pitiful and I just started thinking. About this and about that, and my mind just began to wander all the way up the highway. Before I knew it I was at work. Those are the most wonderful drives, when you're lost in your own world. Apparently, blues does that for me.
These Arms of Mine began to play.. the deep strum of the bass pushing its way through the speakers of the car. That's when I started thinking. This song was runner up number 3 for our first dance. At Last by Etta James was a close second but I knew that song was a no go before I even really considered it. I love the song, but it seemed a little ridiculous to dance to a song stating "At last my love has come along." when I was only nineteen.. not typically a long time to have to wait for love. And then there was the fact that my sister chose an Etta James song for her first dance.
Don't tell me you're thinking what does that matter? Oh, it mattered.. at least, back then it mattered while I was desperately attempting to be unique. When looking at rings I didn't want the triple diamond because my cousin had that, I didn't want the cushion setting because my sister had that. I liked my oldest sister's ring but I wanted princess cut. Poor Brandon, I must have made his head spin. When looking at dresses I didn't want one that looked like any bride's dress I knew of in the past 3 years. "Why don't you get married here like so and so?" Someone asked. "Is that a joke?" I thought. "I don't want to hold a wedding that everyone just attended." Mortified, I moved to the next subject. Getting married can make you a bit… crazy and.. selfish.. entitled even. Something to do with being the center of attention. There I said it. I was so concerned about doing something different from everyone else, that now I wonder if I made decisions according to what I actually wanted.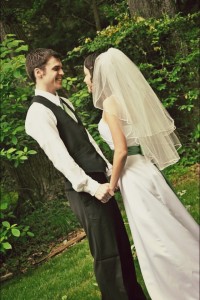 I loved my wedding day don't get me wrong. I just think I could have saved myself, and everyone else for that matter, alot of run around. In the end we decided to dance to "Can't Help Falling in Love with You" Ingrid Michaelson's version. It suited us perfectly, with the way we fell in love, and being young newlyweds. Not to mention it's always been one of my favorites. All these thoughts ran through my head this morning. As I was merging onto my exit pondering first dance songs I confessed to myself that the first dance was the most awkward moment of my wedding day. I really don't think that goes for everyone, especially the couples who practice. The only time I've ever danced with B was high school homecoming. I figured on our wedding it would just come to us. Now, I don't think we looked awkward or anything. It's just that the song seemed to last forever, and everyone stares at you. I mean when do couples have a chance to dance these days? Legitimate dancing, not the twirls we do randomly in the kitchen during dinner prep. Not often enough it seems. Am I alone on this?