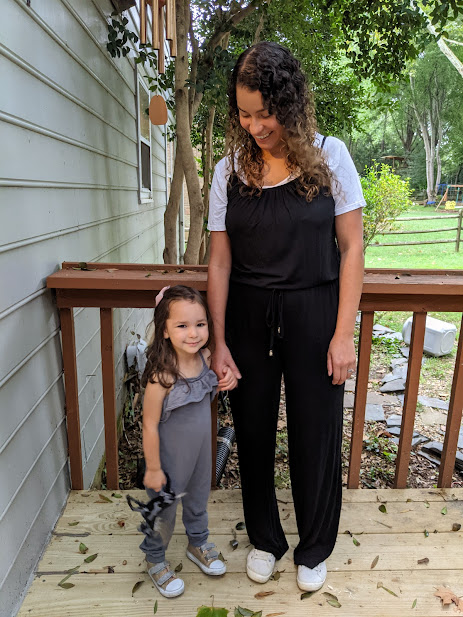 Felicity started preschool three mornings a week. She's eager to learn and we can tell that time away from us is so essential for her growth. When her preschool was looking for extra teachers I decided to apply. I thought that keeping busy while she was away would be a good thing. But after a few days I wasn't completely at peace with it. When I talked to a friend about it I realized that I was in a sense of denial over the fact that my little girl didn't need me those mornings and I thought that I'd be cradling another little baby by the time she went to preschool. I needed to feel needed. For the past 7 years there have been kiddos in my care that needed me. My friend encouraged me to be still and find where God was leading me during this time before I forced myself into something that I wasn't prepared for.
Even though I was used to caring for children daily, that didn't mean that that's what I had to be doing. So I backed out, but then as it goes in childcare, they were still in need so I opted to sub in the toddler room until they hired the right fit. Now I'm attached. I love pouring into children and I missed having co workers. Everyone there is so wonderful, kids and teachers. It's a lovely little family to be a part of, I couldn't walk away even though I sort of fell into it. Though I could have remained a sub for flexibility reasons I found that I was already committed, substitute or not. I decided to take a permanent position 1 day a week in the 2 year old class, helping the 2's teacher on a day that her class is fullest, and it feels right. I love that age group! They're sweet and curious and playful and I genuinely enjoy my time with them.
---
In other news, we bought a robot vacuum which is my new best friend. It shouldn't surprise you that after acquiring a few hours a week job I wanted help with the cleaning around the house. A clean home brings me joy. Nothing is better than the floors getting cleaned while we sleep! We call him Sharky. He helps keep the pet hair at bay. He gets into nooks and crannies I never did! No more tumbleweeds of Bingley hair! I strongly recommend getting one if you've been thinking about it. Especially if you have 2+ pets!
---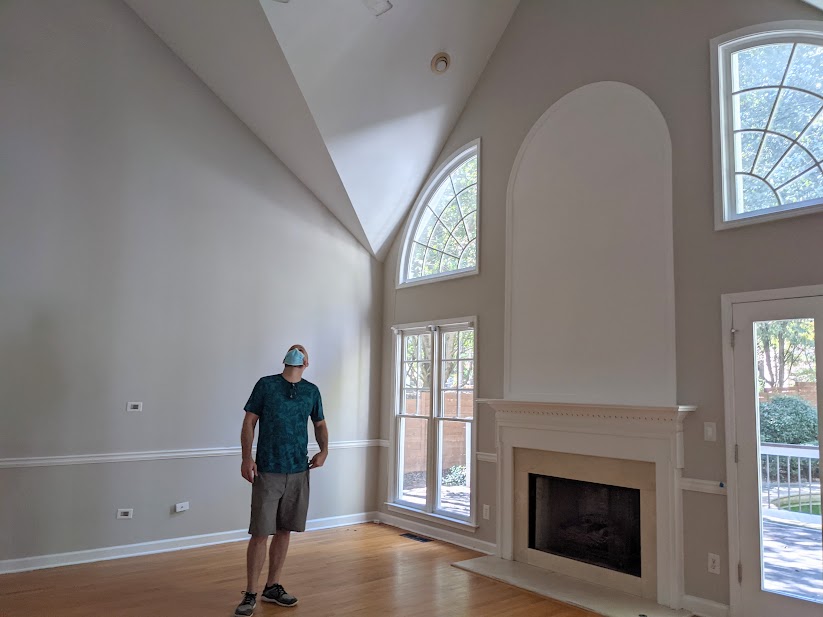 Last month we went on the shortest house hunt ever. Zillow sent us an offer on our house. We were so surprised by their offer we decided to have them to do an inspection. Their final offer was enough for us to wonder if we wanted to let go of our home and the renovations we've wanted to do for a newer already flipped home. Brandon has found that he enjoys making furniture and custom pieces for our home much more than full on home renos. Which is fine by me because he's dang good at building custom pieces. He just whipped out this beautiful yarn shelf for my craft room this weekend.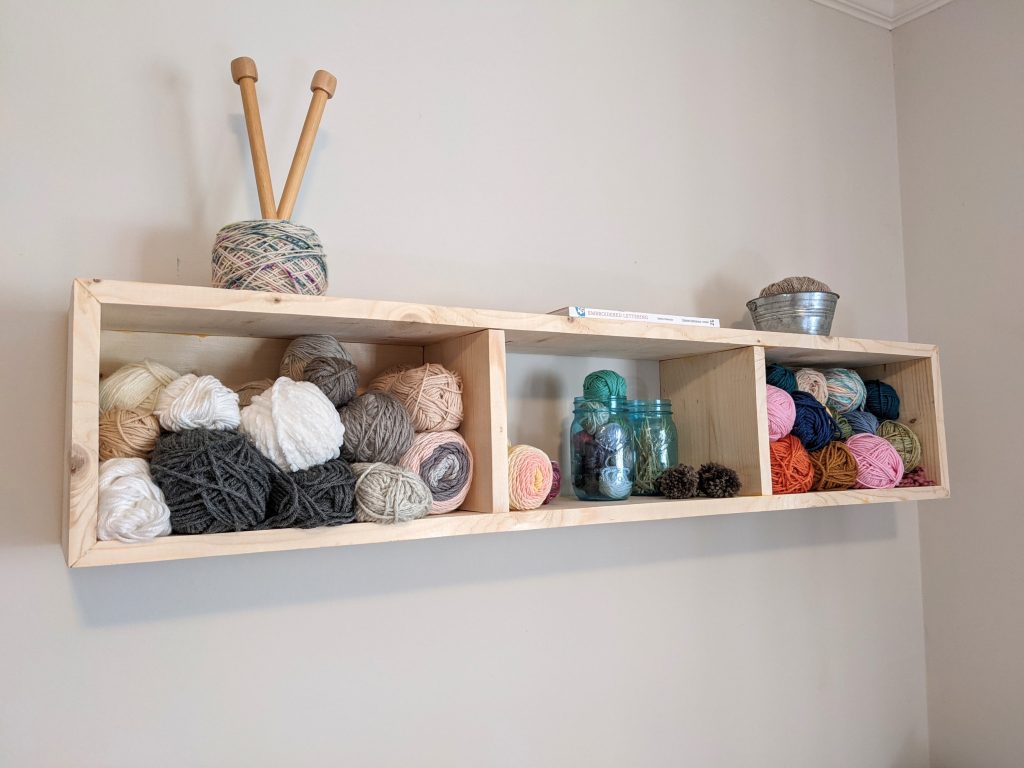 And this incredible art shelf for Felicity's playroom.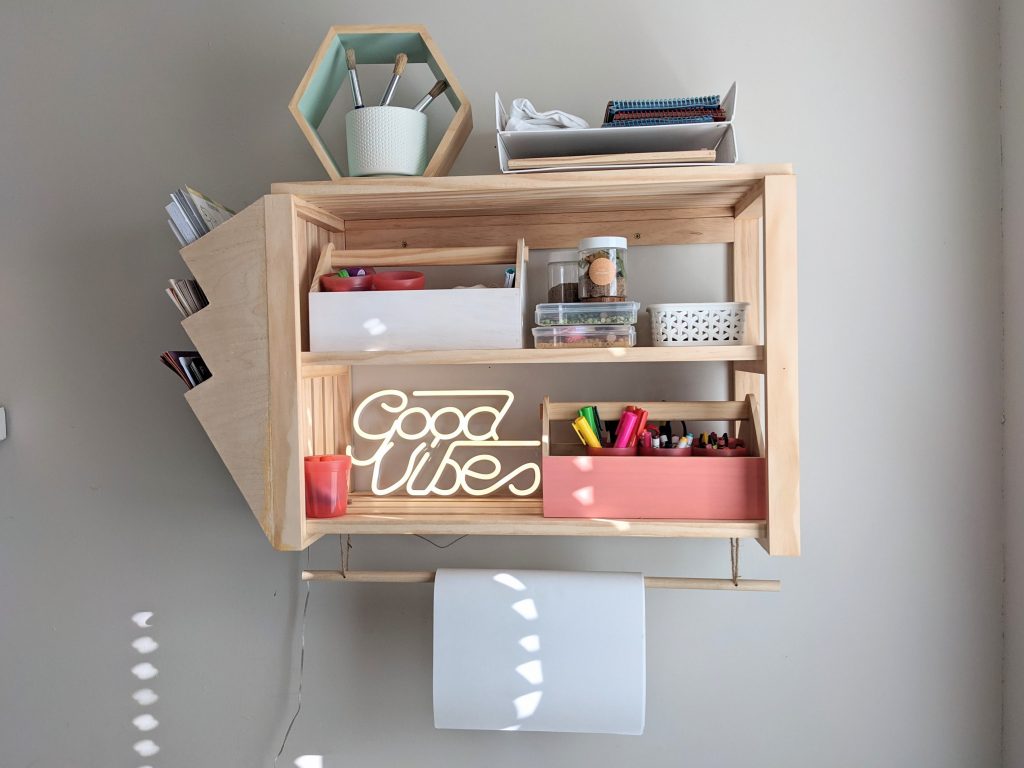 Which was based off of my hilariously awful crayon plans. Get ready to laugh ⇓ Clearly he's quite gifted.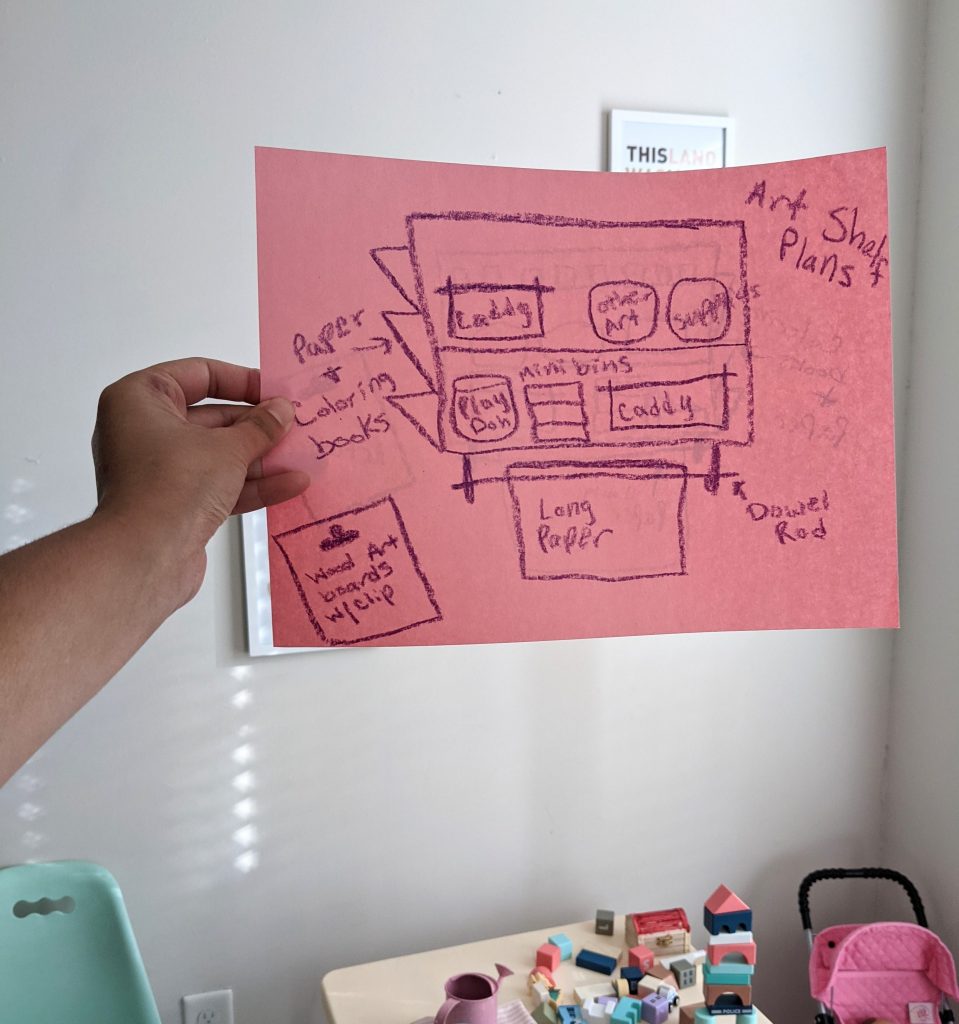 Any way we found that though our forest of trees are a load of maintenance we kind of love our little forest of trees. And though our home needs some work in our eyes it's still our cozy home that we love and works well for the flow of our family. We walked away from a couple gorgeous homes that were remodeled but they just didn't suit our style. We walked away from a couple of homes with pools! You guys, we said NO to homes with a POOL I said! Because though that would have been lovely it still wasn't our home that we'd come to realize we are apparently quite attached to. Above all our location is unbeatable, we couldn't find anything out there that was as close to everything we love. We decided to stay and we're more content in our space now I think. I am at least and I'm excited to see what we do here.
---
My shop has done well these past few months! I broke 50 sales in 7 and a half months. A large portion of that being local sales from local mamas! Lux has actually taken a turn that I was not expecting at all but I'm incredibly happy that God opened this door. In this blog post I mentioned that I had joined a FB group called Foster Village Charlotte Swap. It's a community of foster families and people local to Charlotte to donate gently used items to foster families in need. Over the summer I told Brandon that I was ready to give our baby things away, I would pray that if we were in need of them again once we were ready to foster then they would come back to me through this swap system. Just a week later a foster mom asked for a few big needs for 2 boys that had been placed in her care. She needed a playmat, a carrier and lots of other things. I pulled our playmat and ergo carrier out of the closet. The community rallied together and sent this family a truckload of items. It's hard to share this story without getting emotional. The foster mom later took a video of a room full of items from a toddler bed to clothes, toys, high chairs etc. and thanked everyone for their donation. I saw my items sitting in the pile and my heart was so full. In the video a little boy sat, his back to the camera, he was sifting through the toys and I was so proud of our community and wanted to do more to touch the lives of these foster children who deserve more.

I decided when I organized my shop closet that I would donate some of my old inventory to foster families. Ultimately I am a firm believer in the benefits of sensory play and I want to reach as many families as possible. I also want to make sure that children in foster care have access to those sensory tools as they are ones who could greatly use it to soothe themselves and succeed. I offered to donate a few bins to foster families and I found that there was a great need. There was so much interest I wanted to donate everything I had, but I also need a way to be sustainable so that I can continue to donate long term. I met up with a couple foster families and spoke to them briefly about their foster children's sensory needs. They were appreciative of my generosity, yet I wanted to do more. I felt like God was saying, "I'm not done."

Someone from the Foster Village's sensory program reached out to me and asked if I'd be willing to partner and donate more bins for the mass of interested families. Sensory play is a great and soothing outlet for children to regulate their emotions. It helps them find an escape through pretend play, share maybe something they might not have before through the safety of play. Desensitize them to textures or calm them enough to work through things that are difficult to process. Sensory helps children find positive associations and can help cope in the most difficult of traumas. So I said yes to this open door. Because at the end of the day I want to know that I made a change. I signed up for a charity vendor show in early November. I will be supporting The Foster Village Charlotte. I hope to put together multiple little sensory kits for people to donate to. As Christmas season quickly approaches I am looking for sponsors to come alongside me and help donate as many sensory kits as I can to the many foster families in need ♥