In the fall of 2012 I discovered that my oldest sister Nem was diagnosed with Lupus. I hadn't heard much about the auto immune disease but I knew it would be something very difficult for her to live with. All my life my sister has been this high energy, tightly scheduled, organized woman. She has always eaten healthy, and taken care of her body. How on earth could some illness come in and fight against her body the way that Lupus does? It's called the invisible illness, with good reason. She appears to be just as normal as anyone else, but inside she feels pain, weakness, and fatigue. She may not feel able to smile much anymore, or laugh as often, which breaks my heart. But I know that she is trying.
I will admit that I have been a selfish sister. Questioning why she no longer has the energy for small outings, or spontaneous get togethers. She has always been someone I looked up to and love dearly. How is it that this person I care for so much can be in so much pain? Through all of my questioning, and frustration with her I began to realize that she is strong enough for this. If anyone were to cope with Lupus it is her. She is selfless in her sacrifices. She has enough strong will to fight. She has enough discipline to keep the healthy lifestyle her body needs. When God places obstacles in our way it's so difficult to understand why. There is no doubt in my mind that my sister was chosen to fight this illness because she is strong enough. She has always been an inspiration to me, and that will never cease.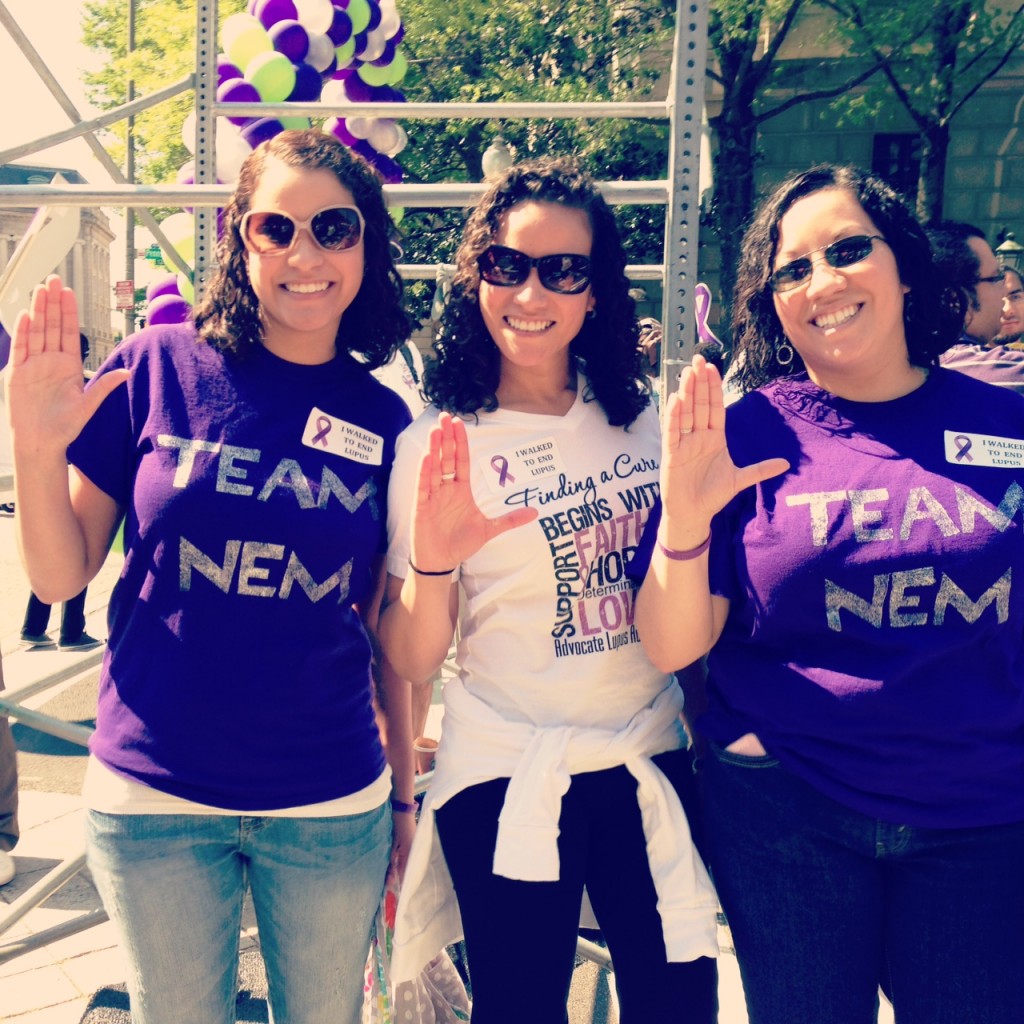 This past year I have struggled with finding a way to support Nem. What words would be pressing enough to give her comfort? There is not much that I can say to make her feel any better. She has had to sacrifice her diet, lifestyle, and put her future dreams on hold. . The best thing I can do, and anyone can do is teach people about this illness. Spreading the word is just the beginning. Last year our family stood around Nem in the busy streets of D.C. at the annual Walk to End Lupus. We raised money for the foundation to help find a cure. I'm happy to say that we had a blast last year, and we will be walking again this April.
My sister, I know you struggle in your classroom, grasping any bit of energy you can to teach a pack of 4th graders. I know you struggle as a wife, which carries so much weight and responsibility in a home. I know you struggle as a sister, and daughter feeling as if you have not given us enough. But let me tell you today, you are most possibly the strongest woman I know to date. You have never been more inspiring, or beautiful to me. I nub you!I love you in our sister language. Yes we have a language that only the three of us understand. We are extra special.
To learn more about Lupus visit this webpage.