Well it's November. In my mind that calls for a few really good cups of apple cider and caramel. One really bad change of weather head cold. Mittens and scarves, and a few loaves of homemade Pumpkin Bread for good measure. I've been abiding by all of these lately including the rather unfortunate cold. I've survived it ladies and gentleman, and have returned to tell you the tale. There was a whole lot of coughing, and sniffling. Tea, tissues, Nyquil and I even broke out the snuggie while resting up with some classics on Netflix. That was this past week in a nutshell. Me sadly making my own chicken soup, realizing I'd long past the age and independence where my mother would make it for me. What a sad day that was. She makes the best chicken soup. But I'm on to her, she adds an extra pinch of love I think. Here's the Chicken Soup Recipe.
Back to being ill. I was a mess.
I'm telling you, if you can find someone who loves you through the crusty nose, fatigue, and vicks vapor rub on your chest you've got it all. You don't vow in sickness and in health for nothing. Because I'd argue that when you're sick, you come closest to the truest version of yourself. Trading stye for comfort, loving for needy, and daily tasks for extra sleep. That's why it's so important to have a companion who's aware of the real you. Because no matter how independant we try to act it's nice to be taken care of every now and then.
Do you want to know a secret? I'm feeling better now, and I'm sort of bummed out because B has been learning through every sickness how to better care for me. He's been by my side just to keep me company. Reminding me to laugh at my severe congestion, and succumbing to most all of my silly requests. So yes, I'm going to miss it. Not only was it the extra hubby care but the snuggles with a pup who knows I'm not feeling well, and the 'Woe is me' on the couch talk that got me whatever I wanted. During this month of thanks I'm grateful for my health now, but even more grateful for a husband who's there when I need him most.
As for my plans for the rest of the month I'll be loading up on my chewable vitamin C, because as much fun as it is to cuddle with the kiddos at work while I'm sick it's even better to run around and play when I'm well.
B and I will be traveling to Fredericksburg to see the fam for Thanksgiving. We're signed up for green salad, and pumpkin bread this year, because I make a mean pumpkin bread. In fact, I'll even share my recipe with you…
Homemade Pumpkin Bread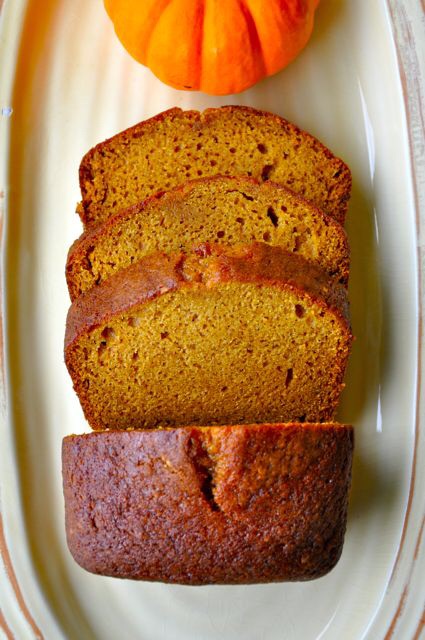 Ingredients:
1 can (15oz) Pumpkin Puree
4 Eggs
1 cup Vegetable Oil
2/3 cup Water
2 3/4 cups White Sugar
3 1/2 cups All Purpose Flour
2 tsp Baking Soda
1 1/2 tsp Salt
1 tsp Ground Cinnamon
1 tsp Ground Nutmeg
1 tsp Ground Allspice
1/4 tsp Ground Ginger
Glaze (Optional)
Directions:
Preheat oven to 350 degrees F. Grease and flour three 7x3in loaf pans.
In a large bowl mix pumpkin puree, eggs, oil, water and sugar until well blended. In a separate bowl whisk flour, baking soda, salt, cinnamon, nutmeg, allspice, and ginger. Stir dry ingredients into pumpkin mixture until blended. Pour into loaf pans.
Bake for 50 minutes in the preheated oven. Loaves are done when toothpick comes out clean.
In years past I've made this pumpkin bread as more of a dessert item adding a sugary  glaze to the top of the loaf. Either way turns out delicious! Enjoy!