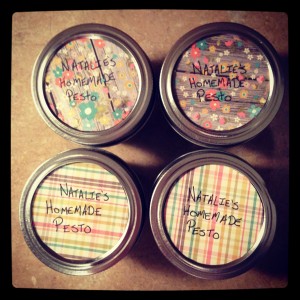 I came across a recipe in one of my cookbooks for Minestrone Soup a while ago that seemed perfect for the rainy cold day that it was. It's an easy soup to make, and it's very satisfying. The recipe called for pesto, and it didn't seem to big of a task to take on, so I tried it. The recipe is very simple, only calling for a few ingredients that are most likely sitting in your kitchen this very moment, waiting to be used.
Pesto

:
2/3c packed fresh basil leaves
1/4c grated parmesan
1/4c olive oil
1tbsp water
1tsp salt
All you have to do is blend  all of your ingredients together until smooth. I used a Ninja which I would highly recommend. The smaller piece worked perfectly for the pesto. I'm sure a magic bullet or small food processor would work just as well. That's it! Easier than you imagined right? If you plan on making extra, it stores well in the fridge. The only trick is to put a generous amount of olive oil at the top of your jar to keep it fresh. Try it in soup, with pasta, or on bread. Bon appétit!