As I've been married I've grown more of an appreciation for those who are able to maintain a relationship long distance. I don't know if appreciation is really the right term to use. Maybe fascination because I'm not so sure that I would ever be able to do it, and couldn't imagine having to make that type of sacrifice. I have two friends who are in this boat, and I've asked them to share their stories for me, and for all.
Casey is a marine wife.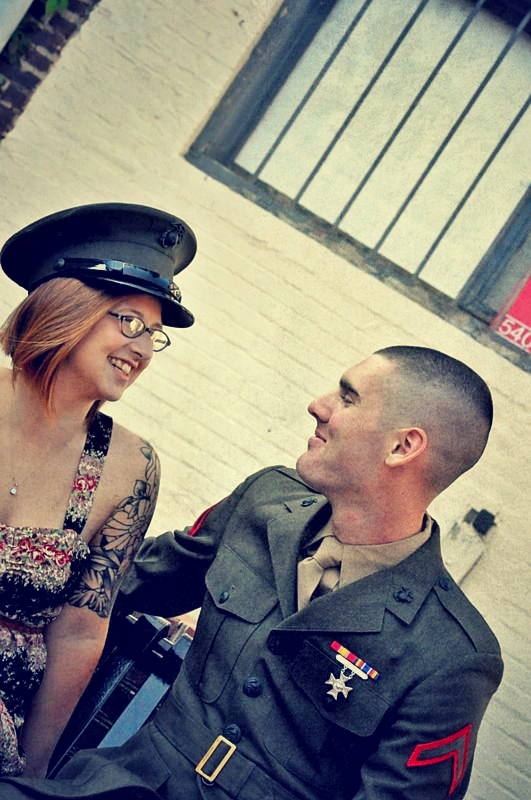 Her husband Ethan has recently come home from a 7 month deployment. They've been married for 2 years.
During his last month of deployment I kept track of her updates. She was preparing their home, and eagerly awaiting his return. As I myself was anxiously awaiting I thought for sure that he would be home any day, and when I asked she said that he wasn't due to be home until another couple weeks. If I'm on the other side of the country getting anxious about it, I can only imagine how she must feel as his wife. I've mentioned before that I have what Brandon calls light at the end of the tunnel syndrome. I'm telling you, I couldn't do it. To wait 7 long months husbandless, as a newlywed at that. Knowing all the wonderful joys that marriage brings, and then all of a sudden your husband goes off, and you're left to live your life by your lonesome. Those last couple weeks I'd curl up into a ball I tell you, unable to cope with the anxiety.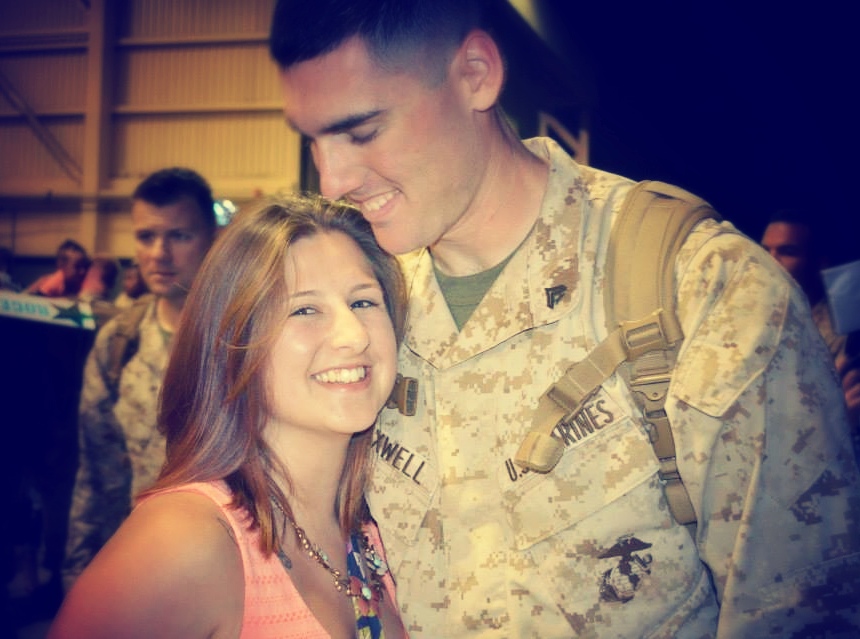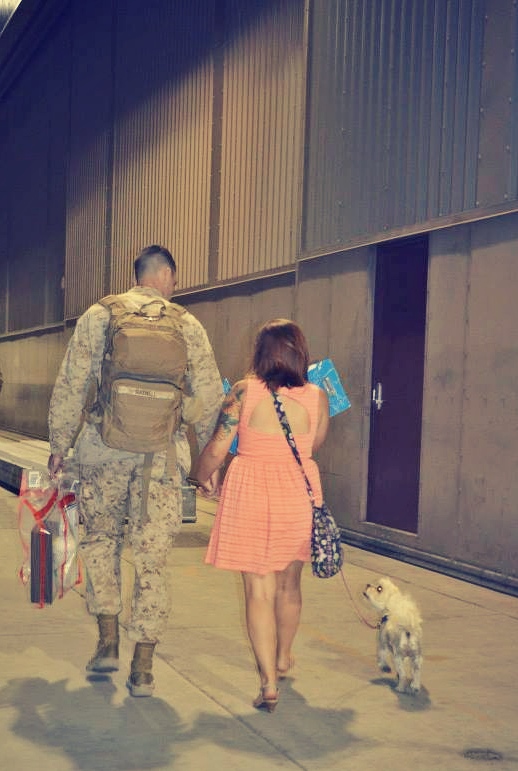 Casey's experience with long distance in her own words…
I have started this, erased it all, and started again nearly 100 times now. Each time I wrote out a page, it sounded so depressing and sad, and I didn't want it to be that way, because being in a long distance relationship, or in my case being married to an active duty marine is in fact easy, and not sad at all.

It's hard to explain to most, even fellow marine wives will give me a look like I am wearing one of those tinfoil 'hats' from the movie signs "What do you mean it's easy!?" They'll say.

It honestly is easy! Okay, I will admit that there have been a few rough times where I've sat in my room and had a good ugly cry for about 15 minutes, but I got up and went on with my day.

When I began dating my husband I knew within two weeks that I was madly in love with him. No, I was not a psycho or a stalker, he felt the same. He even had a romantic night planned to tell me, which I ruined when I couldn't even go two minutes without wanting to blurt out I love you.

Another thing that was different for us was that two weeks later he was gone, starting his journey in the Marines. So we really got to know each other better through letters, texts, phone calls, email and skype. 

In our relationship so far we have spent about 28 months apart. That's basically half of our relationship. To make it last we knew we had to put our best foot forward and just do it, clinging to the old quote "Absence makes the heart grow fonder." Honestly, I couldn't describe it any better myself. I knew I loved him before we began a distance relationship, but I fell even more in love with him through getting to know him from afar.

-Casey

---
Maggie has been dating her boyfriend Brad for just over a year and a half. They met in college, and after going their separate ways after graduation they found that living and hour and a half away from each other wasn't all so bad. They visit one another as much as possible, alternating weeks making the trip to the other's home. When work gets too busy and even the bi-weekly visits become difficult, they meet halfway for dinner and enjoy the presence of each other's company.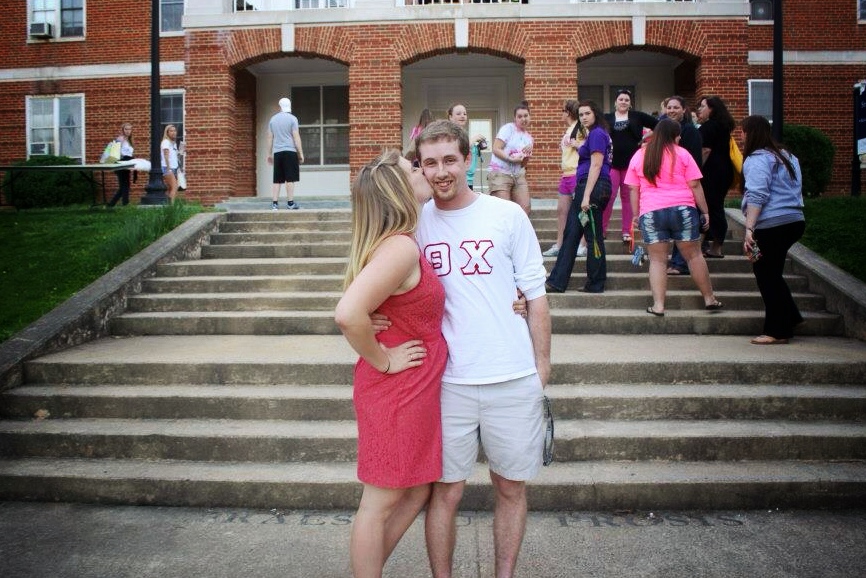 Maggie's experience with long distance in her own words.
My experience with long distance relationships is unique. I have seen so many friends in relationships with more miles between and harder circumstances, so I am grateful in so many ways for just seventy miles between us. There are days where that trip feels like a few neighborhoods over, and days—more often, nights, that turns the seventy miles into seven hundred. The unfortunate part about those miles, aside from being apart, is that anyone local understands that a lot of traffic can happen between Arlington and Spotsylvania. It took us a few tries last summer to understand how we could make visits work without taking too much time away from family, work, and most of all, savings. With the support of both of our families as we live at home for now, we have successfully managed alternating weeks to visit and understanding when life happens and visits can't.

In any difficult situation, I believe the most important, and quite often, the toughest part is staying positive. We are both so thankful for everything in our lives, and thankful that we are able to be together at all. I think that's when it struck me that this was going to be a serious commitment and change in the relationship.. and I wasn't scared. I was and am happier giving it my all an hour and a half away, and on those visits, than to be with someone else who is conveniently next door. Cheesey? Maybe, but I don't care. I can speak for both of us when I say that we will be happy when the gap between us is closed, and though I am not sure when that will be, I know in time I will be grateful for this last year in our commuter-relationship. The experience has made our relationship stronger, we value our time together in a different way now, and we can know now without a doubt that distance sucks — but it is able to be conquered.

-Margaret